---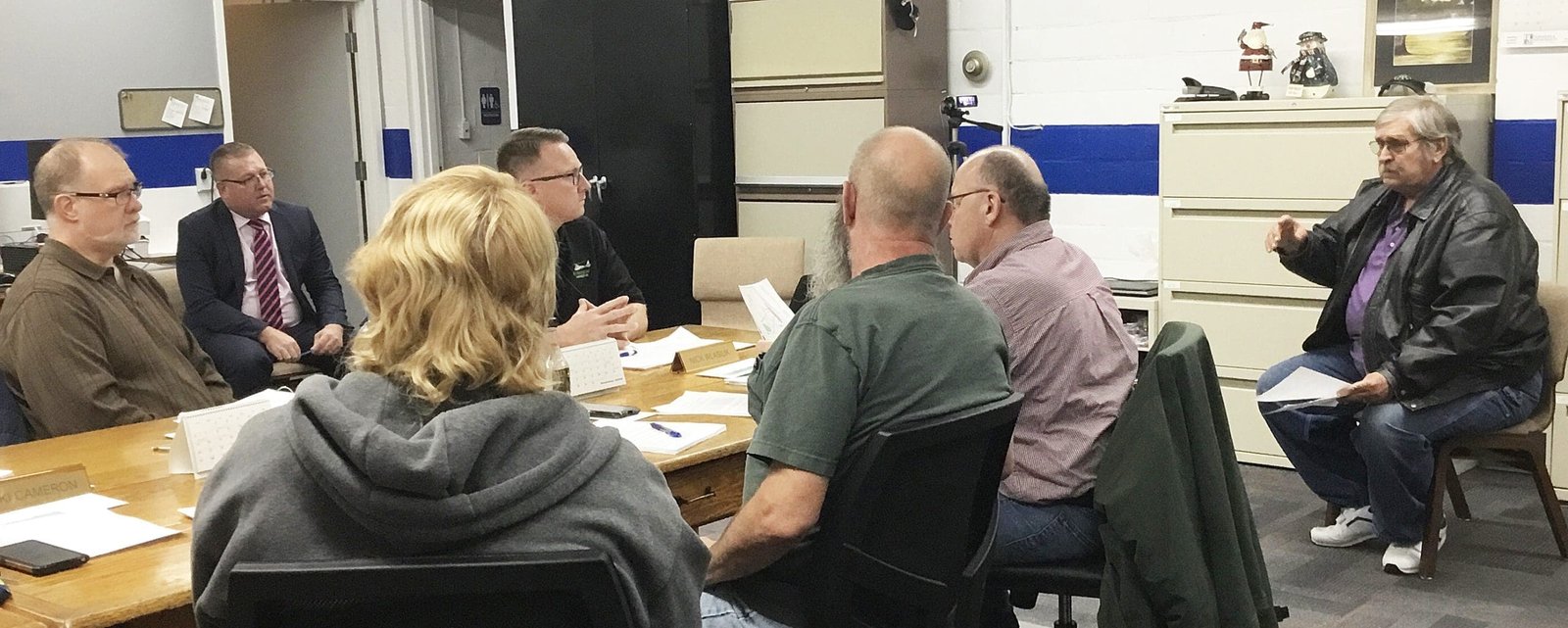 ROBB ROSEBROOK … In attendance at the November 21, 2022 Stryker Village Council was longtime owner of Riverside Greens Golf Course Robb Rosebrook. He was there to say thank you and to share his thoughts on the future of the relationship between the village and the new owner of the golf course property. Listening attentively are council member Sean Ingram, Village Solicitor Kevin Whitlock, and council member Dusty Potter on left of table, and on right are council members Vicki Cameron, Dave Benner and Nick Wlasiuk. (PHOTO BY REBECCA MILLER, STAFF)
---
By: Rebecca Miller
Following a prayer led by Patsy Mealer and the Pledge of Allegiance led by Jim Mealer, at the November 21, 2022 Stryker Village Council meeting, council heard from Riverside Greens Golf Course owner, Robb Rosebrook.
As he is selling the property, he came to thank the village for being "so great to me for forty-six years" and to let them know he is setting it up to the best of his knowledge for a good relationship to continue with future owners.
He shared a map of the drawing that is scheduled to be passed by Springfield Township trustees on December 21, 2022.
He spoke about the easement with the village and Solicitor Kevin Whitlock explained that it will always be covered over the years by an agreement called "running with the land."
Rosebrook recommended that all the homeowners and the village be included in road repair decisions in the coming years.
Mayor Joe Beck said that the village has been "very happy with the way it is now" and they hope it will continue with the new owners.
He also said that they hate to see Rosebrook leave, thanked him for all he brought to the village over the years and wished him well in his retirement.
Mayor Beck thanked councilor Dusty Potter, as "the driving force" behind the fall fest which was held in Springfield Township Park with a helicopter and monster truck for rides as well as delicious foods served by vendors.
Everyone agreed it was a huge success and Potter shared that all who provided entertainment and food has indicated strongly that they want to return next year.
The monster truck owner was shocked by the great response and as he earned over the $1500 it would have cost council to have him come, he sent a check for $250 to the village, a percentage from the overage earned from the $10 per ride fee that he charged that day.
Potter stated that he would like to donate that to the owner of the harvested field that was used for the monster truck rides, but Solicitor Whitlock said that they need to be careful how the money is used.
Mayor Beck asked Whitlock and Village Fiscal Officer Beth Rediger to check into how it can be used and to get back to council on that.
Potter also explained that if they plan to do this again next year, it might be best to keep it on the night that trick or treating is held.
To move it to the date of Stryker Heritage Day would mean the field may not have been harvested, making it usable for the monster truck and the helicopter could not come due to tents that are set up on that day.
It is in the policy of the helicopter that no tents are allowed when they are landing. This will be determined following further discussion next year.
Council approved:
Minutes of October 24, 2022 regular meeting
Finance report dated November 18, 2022
Finance/Judiciary Committee meeting minutes of October 24, 2022
Ordinance 2022-04 – (suspend and pass) edition and inclusion of certain ordinances as parts of the various component codes of the Codified Ordinances of Stryker, Ohio and declaring an emergency.
Ordinance 05 – (second reading) amending Chapter 505 of the Village of Stryker, Ohio. This concerns loose domesticated animals within village limits. Changes have been made to "penalties for violations, the quantity of dogs and cats permitted, expand the control of dogs, define duties and prohibitions for animal excrement, and to define who may feed stray dogs and cats within the Village of Stryker." Anyone desiring details, the ordinance may be seen on the Stryker Village website or attained at the village hall.
Ordinance 06 – revised 2022 permanent annual appropriations due to water tower project.
Resolution 11-2022-04 (suspend and pass) – amending section 4 of Resolution 8-2020-4, increasing the trash rate to cover Archbold Refuse Service (ARS)fuel surcharge, big trash pickup and compost dumpster. Mayor Beck spoke of how council had voted to cover the difference when ARS first added the surcharge, with the hope that it would go back down. As it has not, and the surcharge for the year was over $11,000, it now has to be passed on to the customers. Rediger shared the breakdown for the $1.80 per month that is being added to residents' bills: For the year it was $3,498 for fuel surcharge/ $5,946.60 for Big Trash pickup/ $1,749 for the Compost Dumpster. This breaks down, for 583 customers, to per month at $291.50/$495.55/$145.75; and per customer monthly bill to 50 cents/85 cents/25 cents. When Rediger figured in 3% inflation she added on another 20 cents per bill, making it a total of $1.80 increase per customer bill, for the village to break even. This change takes the monthly billing from $8.65 to $10.45 for refuse and stays the same at $3.75 for recycling and will go into effect on January 1, 2023.
Ordinance 07 – (suspend and pass) 2023 Permanent Annual Appropriation
Ordinance 08 – (suspend and pass) 2023 Payroll Ordinance – with raise for Village Fiscal Officer going from $1,858.75 to $1933.10 biweekly; Deputy Clerk from $19.31 to $2-.33 per hour biweekly; Police Chief from $2100.38 to $2184.40 biweekly; 1st full-time police officer from $21.81 to $22.68 per hour; 2nd full-time police officer in command from $20.32 to $21.13 per hour biweekly; Juneteenth added to list of paid holidays; effective December 18, 2022.
Council also held a lengthy discussion with Whitlock concerning an Indemnity and Hold Harmless Agreement that council needs to approve and sign to cover the time between the present and the purchase of the water tower which stands on property owned by Antek Madison Plastics Corporation, formerly known as Ferro.
Whitlock explained that this is a standard piece of paperwork that protects the seller in case anything happens to the tower before the sale.
He recommended that they approve it. Council agreed to give Village Administrator Al Riegsecker the authority to enter into the agreement as he sees fit, after Rediger checks with the insurance company to see if this paperwork will allow them to go ahead and get the "new" tower insured.
She said that at this point the insurance company has denied the purchase of insurance for it until the property is actually purchased.
Whitlock gave council and staff copies of the survey and council asked Riegsecker to go over the property and make sure it is what the village needs.
In his report to council, Riegsecker said that the water tower near the school has been painted incorrectly and he met with the contractor to go over a punch list of what needs to be done – corrections to the paint job, repair of broken sidewalk, put fence back up.
It was clarified that the $32,000 retainage will not be given to the company until all is satisfied on the project.
The Christmas light company who puts the lights up each year is running behind, but said they should have them up by Thanksgiving Day.
Riegsecker apologized to residents, especially veterans and family members of veterans on the banners, for the banners being taken down a half day early this year.
He said that he was under the impression that the Christmas décor was going to be put up the next day and due to that, he took them down in preparation on Friday afternoon.
"I apologize. That will not happen again," he said. Also in his report, Riegsecker shared that leaf pick-up will continue through December 1st and after that residents can take them to the dumpster which will be there until December 31st.
Rediger reported that five more banners have been ordered for next year, bringing the count to around 25.
The workers compensation audit will be held on November 30, which is a two-hour process. She also brought the employee Christmas gifting to the attention of council for their decision.
It has been standard for quite a few years to purchase something in the range of $50 per employee as a token of appreciation, but councilor Dave Benner asked if they could raise that.
Following a short discussion, it was agreed that Rediger and Whitlock should research what can be spent by the village legally, with the wording being "de minimis amounts not to exceed $100."
Police Chief Steve Schlosser reported that since the last meeting there were 49 calls, 13 traffic warnings, 1 citation and 2 adult arrests.
Councilor Vicki Cameron asked what had happened with the young man who asked for EMT Training assistance, before COVID.
She said they had agreed to help and then it got lost in the shuffle. Chief Schlosser said he has never seen the young man's name on any training rosters.
Mayor Beck pointed out that the village would have been notified if he took it.
With no further business, the meeting adjourned at 7:05 p.m.
Rebecca may be reached at rebecca@thevillagereporter.com
---