---
Click below for a free photo album of this event to view all the photos.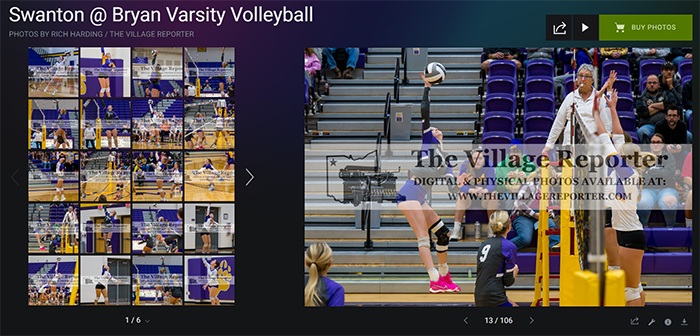 ---
Swanton 3 Bryan 0
BRYAN – Maddie Smith 35/38 hitting with 17 kills and Samantha Nelson notched 29 assists on 76/77 setting in Swanton's straight set win at Bryan.
Clare Stever paced Bryan with 14 digs and Ella Vansteenkiste delivered eight kills.
Swanton d. Bryan 25-22, 25-20, 25-12
Swanton (15-6, 4-3 NWOAL) – Maddie Smith: 35/38 hitting, 17 kills; Alexa Faber: 13/13 serving, 4 aces, 16 digs, 7 kills; Samantha Nelson: 76/77 setting, 29 assists, 8 digs; Lillyanna Valderas: 18/18 serving, 7 aces
Bryan (5-17, 0-7 NWOAL) – Clare Stever: 26/30 serve receiving, 14 digs; Ella Vansteenkiste: 13/15 hitting, 8 kills; Kenzie Wirth: 31/31 setting, 10 assists
Junior Varsity: Swanton, 25-16, 25-12
Freshman: Swanton: 25-17, 22-25, 25-12
---