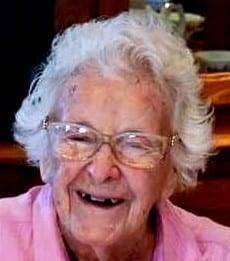 Violet Lucille Lemmon, age 101, of Edon, Ohio, passed away at 2:00 A.M. on Wednesday, April 25, 2018, at Lakeland Skilled Nursing and Rehabilitation Center in Angola, Indiana, after a brief illness. Mrs. Lemmon was a graduate of Edon High School and had worked as a nurse's aide at both Cameron Hospital in Angola, Indiana, and at Williams County General Hospital in Montpelier, Ohio.  She was a member of Nettle Lake United Brethren Church and was a devoted farm wife.  She enjoyed sewing, gardening, raising chickens, communicating with her numerous friends and relatives by sending cards, letters and calling them on the phone, and most of all praying for family and friends.  She was most proud of being able to live on her own and  managing her own affairs until recently.
Violet Lucille Lemmon was born on September 4, 1916, near Fremont in Steuben County, Indiana, the daughter of Clarence and Lucille (McDougle) Hassett.  She married R. Weir Lemmon on September 16, 1932, in Williams County and he preceded her in death on July 18, 1994.
Survivors include one son, Lamar (Shirley) Lemmon of Edon; seven grandchildren; numerous great- and great-great-grandchildren; and a daughter-in-law, Nancy Lemmon.  She was also preceded in death by one son, Cecil Lemmon; and four sisters, Thelma Word, Velma Keller, Charlett Clark and Williadean Miller .
Services will be held on Saturday, April 28, 2018, at 1:00 P.M. in Nettle Lake United Brethren Church with Pastor Mike Wilder and Lynn Lemmon officiating.  Visitation will be held in the church for two hours prior to the service, beginning at 11:00 A.M.  Interment will be in Columbia Cemetery.
Memorials are requested to Nettle Lake United Brethren Church. To sign the online register or to send condolences, please visit www.krillfuneralservice.com.