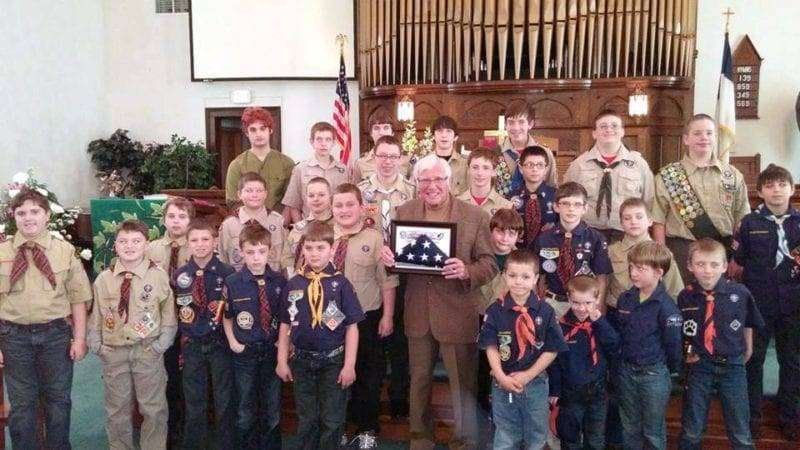 The Roos Family presented a combat flown flag to Boy Scout Troop 8 at Christ United Methodist Church Scout during Sunday service on February 8, 2015.
Tom Roos a 1948 Eagle Scout from Troop 8, Wauseon and the Roos Family presented Boy Scout Troop 8 a United States flag which had flown over Bagram Airbase in Afghanistan on January 1, 2004 during Operation Enduring Freedom while Tom's son, Lieutenant Colonel Richard Roos was stationed there.
In accepting the flag, Senior Patrol Leader Justin Freestone stated "On behalf of all Scouts in Troop 8, past, present and future, we accept this flag. This flag will be proudly displayed in our Troop meeting room as a constant reminder to all Scouts of doing our Duty to our Country as expressed in the Scout Oath. I also express the thanks of all Scouts to the Roos family for its service to Scouting and to our country."
Presently there are 5 Eagle Scouts in the Roos family. Brothers Jim (1946), Tom (1948), and Phil (1952), Tom's son Scott (1981) and Tom's grandson Connor (2014). Troop 8 and Pack 8 have been sponsored by Christ United Methodist Church in Wauseon since 1939.
INFORMATION PROVIDED