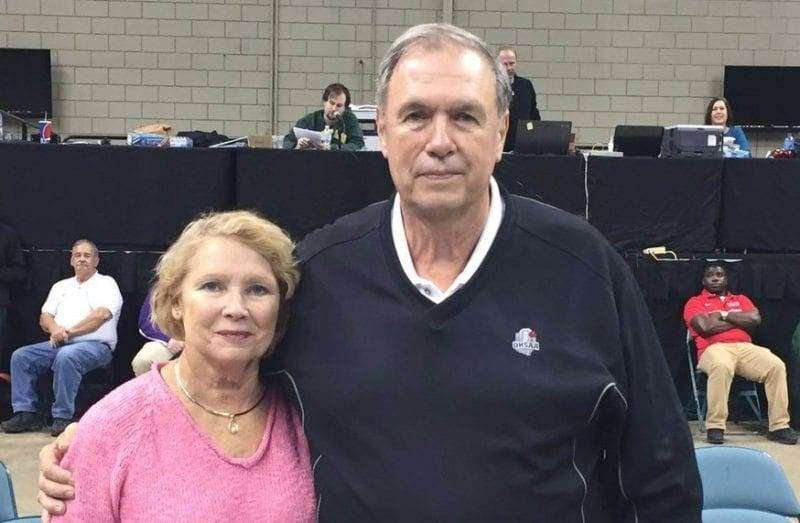 Gary Baumgartner graduated from Wauseon High School where he played football, basketball, and baseball and is a member of the Wauseon Athletic Hall of Fame. He began his teaching career at Middletown HS and was the head wrestling coach for 12 year. In 1971 he started the Middletown Invitational and has been managing wrestling tournaments for over 45 years.
In 1983 Gary wrote his own computer program to manage wrestling tournaments and that program was used in over 2500 tournaments. Gary has coordinated data entry, seeding, brackets, and scoring for the GMVWA since 1986. He has also helped with a multitude of other tournaments including the Medina Invitational, the Catholic Invitational, and numerous conference, sectional, and district tournaments. He was inducted into the Medina Invitational Wrestling Hall of Fame in 2007.
Gary has coordinated computer management of the OHSAA wrestling tournament since 1995 and still uses the original program. He now coordinates the OHSAA State Wrestling Tournament Series with online entry for the sectionals and transfer of qualifiers from sectional to district to state.
In 1999 he created baumspage.com as a service to coaches, athletes and families, and fans of wrestling. The goal was and still remains to provide quick and accurate posting of results and other miscellaneous tournament information. In 2001 he created an Online Entry System to facilitate data entry for wrestling and the next year adapted it for track, cross country, and golf.
Currently, the OHSAA requires online registration through the Baumspage online entry system for all District Track and Cross Country Tournaments, all Sectional Wrestling and Golf Tournaments, and the OHSAA Dual Team Tournaments. Baumspage provides a seeding and voting for the OHSAA Dual Team Tournament. That system has been adapted to also provide the seeding and voting for the team tournaments in soccer, volleyball, baseball, softball, and golf in several OHSAA District Boards.
Currently, Gary and the Baumspage staff are responsible for online entries and movement of data from the sectional or district to regional and state for Track and Field, Cross Country, Golf, and both the Individual and Dual Team Wrestling Tournaments.
Three years ago, Gary helped his son, Toby adapt the original computer program to a browser-based Mobile Application for Wrestling that runs in most web browsers. It is used in a variety of pool and bracketed tournaments. Last season, over 130 regular and league tournaments, 41 sectionals, 9 districts, and the OHSAA State Tournament used some version of the Mobile Application or the original Computer Wrestling Program.
Gary retired from the Edgewood City School District as technology coordinator and he and his wife, Pauline live in Middletown and spend most of the winter in Sarasota, Florida.
INFORMATION PROVIDED