---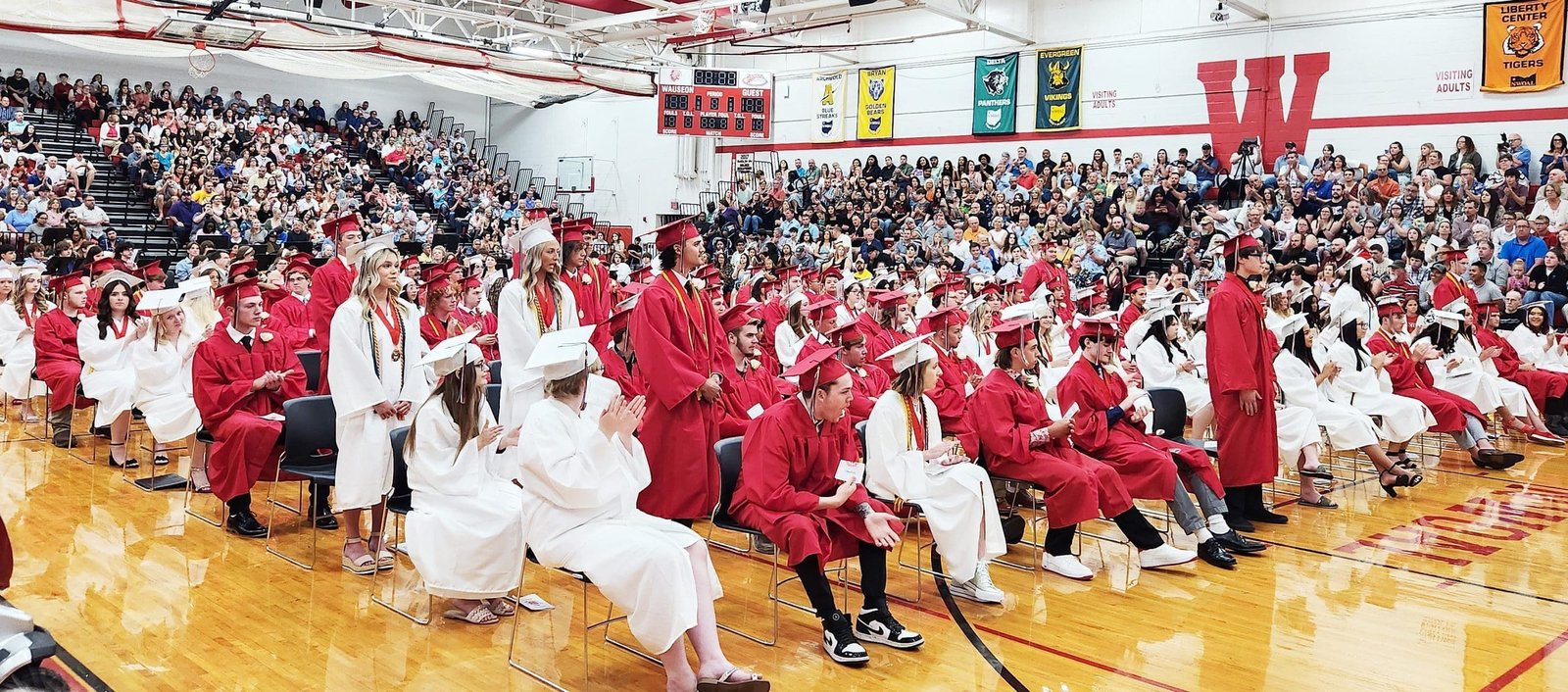 ---
By: Jesse Davis
Wauseon High School held its 143rd graduation ceremony Sunday with 141 students receiving their diplomas.
Graduates were welcomed by Class of 2023 President Jack Leatherman in between a WHS Concert Band performance of "Pomp and Circumstance" (during their entrance) and a WHS Choir Ensemble performance of Andy Beck's "Carry the Light."
The school's 6 co-valedictorians were then announced and introduced. They were Parker Black, Joshua Freestone, Macy Gerig, Grace Rhoades, Samuel Smith Jr., and Zaden Torres. Academic Hall of Fame inductees were also recognized.
Addyson Case and Ashton Meraz each gave a speech to their fellow graduating seniors. Case focused on two parts of their school experience – cultural experiences ranging from being a part of the so-called "iPad generation" to the Whip and Nae Nae dances, as well as more serious matters like the impact of and learning to live with COVID.
"You can't change the past, so live every day like it's your first," she said in closing.
Meraz kept his speech brief, telling his cohorts to have fun. "Because it's hard to actually feel alive if you're not having fun," Meraz said, later ending with a shouted "Go Indians!"
Also recognized was Class of 1988 graduate Keith Robinson. At the time of his own class graduation, Robinson had already begun his military service, and was thus unable to receive his diploma directly. On Sunday, he finally received that honor.
The band performed Tracy Behrman's "Allegiance" before Principal Keith Leatherman presented the class, who were then awarded their diplomas by Board of Education President Amy Fisher.
Jackson Callan and Eli Delgado, the class' secretary and treasurer, respectively, presented the class gift – a $2,150 donation to the school's Academic Hall of Fame program.
Closing remarks were given by Class of 2023 Vice President Zaden Torres.
The 2023 class motto was "Live, Laugh, Love," its colors were black and gold, and its flower was the Black Dahlia.
Jesse can be reached at publisher@thevillagereporter.com
---