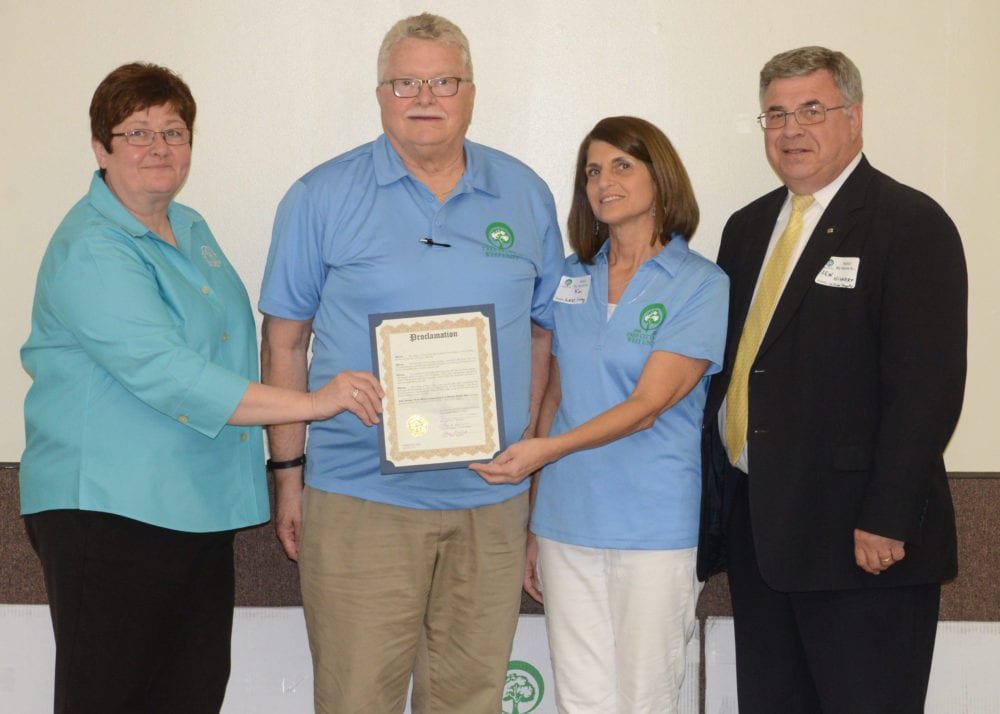 The Kissell Building in West Unity was packed to the rafters with representatives and civic leaders of communities from all over the northwestern region of Ohio on the morning of April 20. Everyone had converged on Cadet Country for the 2016 Tree City USA Ohio Regional Awards Ceremony.
West Unity Mayor, Peg Bernath, welcomed the attendees, and described what went into the preparations for the event, saying, "Some of you may have heard the saying, 'It takes a village to raise a child.' Well, it also takes a village to host a Tree City Award Ceremony."
Mayor Bernath continued, "Council appropriated funds to remodel our building. The Tree Commission Committee met to plan and make decisions regarding today's event. Village employees cleaned the building, set up tables and placed directional signs. Members from the Chamber of Commerce assisted in serving breakfast. Students from the high school prepared buckeyes for our treats, and members of the Committee did quality control. Other communities would give you a commemorative mug…we're giving you chocolate. Madeleine McKinney, as part of her senior project, assisted with the mailings. Students from the local Community College will be preparing and serving our meal. Area businesses, civic clubs and individuals have provided door prizes. Our own local beauty queens will be assisting in distributing the door prizes, and last but not least…there's Kim (Grime – Village Fiscal Officer) and Katie (Baltosser – Village Clerk). Every community needs a Kim and Katie to organize all the details, and make sure everyone is on track."
Williams County Commissioner and West Unity native, Lew Hilkert, came to the podium to speak of the significance of trees, to commend the efforts of Tree City USA, and to read an official proclamation from the Williams County Commissioners, declaring April 20 as 'West Unity – Tree City USA Day', in honor of the 30th anniversary of West Unity being a member of Tree City USA.
Stephanie Foster-Miller, the Regional Urban Forester of the Ohio Department of Natural Resources Division of Forestry came forward to speak, and introduce the guest speakers. She noted that 2016 marks the 40th anniversary of the Ohio Tree City program, and thanked West Unity for a well planned and prepared ceremony. "The Tree City program sets you apart from other communities with the four basic requirements to be a Tree City. Tree City is beyond political appointments, and it provides the framework for healthy, sustainable urban forests. It says a lot about you…that you are committed to the environmental, economic and human health of your community, and the quality of life for your residents. You are the ones who make your communities and your programs great." "Trees," she added, "…create economic stimulus. Did you know that if somebody has to walk under a tree between their car and a business, they will pay 11 percent more for the product? 11 percent more. They take economic cues off of the tree canopy. They see it as a higher value, and you as a business owner as a higher quality business and business owner."
Ms. Miller introduced J. Eric Smith, the President and CEO of the TREE Fund. The purpose of the TREE Fund is to sustain the world's urban forests by providing funding for scientific research, scholarships, education and community engagement programs, and scholarships related to arboriculture and urban forestry. It was through one of their Community Engagement Grants that the TREE Fund was able to help finance the documentary, 'Trees in Trouble', by award winning documentary and public television producer, Andrea Torrice. Mr. Smith introduced Ms. Torrice, who came forward to discuss her documentary film, prior to screening it to a captivated audience.
"I'm a city girl," Ms. Torrice said. "I grew up in New York City. My parents moved to the suburbs when I was older, but I always thought of trees as just 'pretty objects' until three years ago, when I lived in Cincinnati, Ohio. There was a windstorm, and it took down a 35-foot tree in my back yard…but not all the way down. It took a week to find someone who could bring the tree all the way down, and when I asked what kind of tree it was, he said it was an ash." As it turned out, the tree was compromised before the storm…near death from an attack of an invasive parasitical insect, the emerald ash borer. Andrea's perception of trees, as well as her life, was that moment, changed irrevocably.
Her neighbor had ten ash trees, and lost them all to the insect. Realizing that this was a story that needed to be told, she set about the making of the documentary film that was then shown to the community leaders and representatives in attendance.
The film lived up to its title, bringing to bear the full extent of the extensive research conducted by Ms. Torrice. Focusing extensively on the emerald ash borer, it was noted that the insects, roughly the size of a Tic-Tac, have spread to cover an area from Michigan to Kentucky and Tennessee, and have recently been discovered in New Hampshire. American ash trees have no natural defense mechanisms against these imports from the Orient, and at the current rate of propagation, it is believed that the emerald ash borer will have infested all of the native areas where for centuries, ash trees have grown. Left unchecked, the results will be catastrophic, both environmentally and economically.
"This is certainly not going to be the last invasive species that we have; it's not going to be our last ecological disaster. We're discovering new, invasive species all the time," the film said. "In Ohio alone, we're dealing with beech bark disease. The vibernum leaf beetle, which is killing all the native vibernum. The Asian longhorn beatle, which is threatening the native maples." The film painted a dark portrait of the future, unless proper tree management is put into place.
After a lunch break, Stephanie Foster-Miller returned to the podium to recognize the regional Tree City USA communities, as well as the communities whose proactive approaches to tree management earned them a 2016 Growth Award. Locally, Bryan and Wauseon were recognized as winners of the Growth Award. Local communities being recognized for their years as members of Tree City USA included Archbold (33 years), Bryan (27 years), Edgerton (25 years), Montpelier (24 years), Swanton (2 years), Wauseon (23 years), and West Unity (30 years).
Timothy Kays can be reached at
tim@thevillagereporter.com