---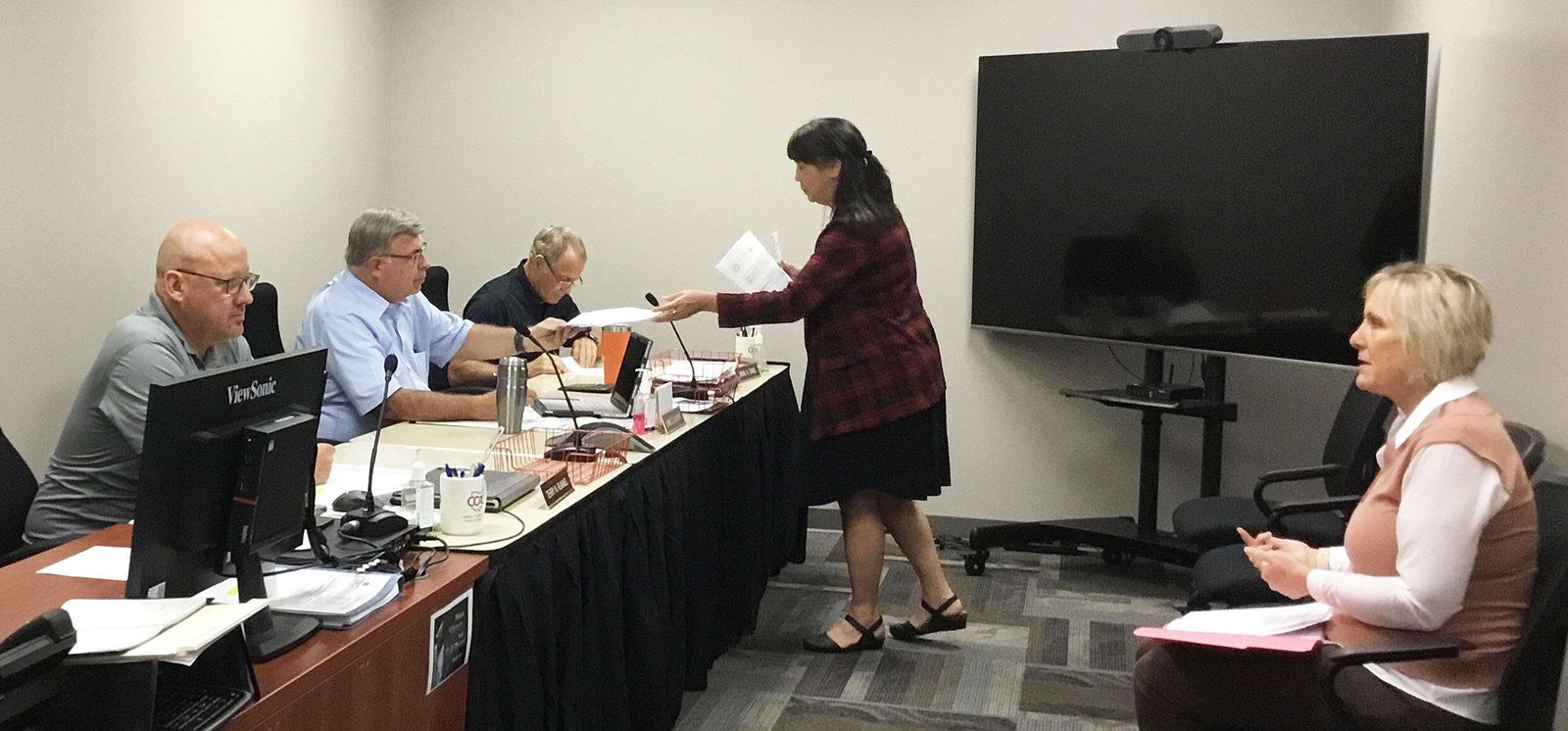 CHIP INFORMATION … Dottie Vollmar from Maumee Valley Planning Organization handed out paperwork to the Williams County Commissioners during the MVPO presentation on September 19, 2022. Liz Keel explained the situation to the commissioners concerning the need for lead abatement in area houses, and the commissioners approved a resolution for making an application for money to pay for it. (PHOTO BY REBECCA MILLER, STAFF)
---
By: Rebecca Miller
During a short regular session on Monday morning, September 19, 2022, the Williams County Commissioners approved the following:
Resolution 245 a transfer resolution on behalf of Board of Elections and WC Engineer
Resolution 247 Accepting resignation of employee from Job and Family Services
Resolution 248 Approving emergency purchase from Frost Roofing out of Wapakoneta. Darrell Moore, Executive Director of Hillside Country Living had shared numerous roofing issues that need repair. Cost not to exceed $213,172. (The commissioners commented that is noteworthy to address it as an emergency as it is a mold issue and as it is on a health care facility.)
Also signed: travel for Fred Lord to attend a PCSAO conference; change order 1 regarding West Unity East Church St. Water replacement, sent by MVPO
Minutes of previous meeting and payment of bills
Following a short recess, the commissioners met with Liz Keel and Dottie Vollmar of Maumee Valley Planning Organization (MVPO) for a public hearing for CHIP-LAP (Community Housing Impact & Preservation – Lead Abatement Program).
Keel explained that the state has rolled out this program, the Lead Abatement Program, which will allow them to help clean up some of the homes they were unable to do previously.
They were beginning with $30,000, an amount that the state "knows they can spend" to eliminate lead-based paint hazards in homes currently receiving CHIP program assistance.
Dottie explained the use of the finances, saying the most money was spent in Williams County/City of Bryan on the removal of lead, in their five-county area.
The application to get another grant is due on October 1st with work completion set for April 2024.
Besides the resolution they also said they are working on a MOU for ownership of the equipment that is used to remove the lead.
They are applying for a grant for that through another community. Lew Hilkert asked how they will get the word out to consumers.
Keel said they will get the word to all who are already in the CHIP program and she is looking forward to revisiting the homes that they were unable to help previously.
The money is not committed, but they do have a pre application list. Once a home is done, there is a clearance certification for them and they are given education to not add lead back into the environment. "Encapsulating and removal" are what the program does for them.
Resolution 246 was approved – Authorizing and directing the president of the Board of Commissioners to submit Community Housing and Preservation lead abatement program for an application to the Ohio Department of Development office of Community Development.
Further clarifying information from Keel in an email, "The CHIP-LAP grant is offered by the Ohio Department of Development with funds from the Ohio Department of Health to eliminate lead-based paint hazards in homes currently receiving CHIP Program Assistance.
This program will be in addition to the CHIP Program funds. The Williams County Commissioners submitted an application for PY 2022 CHIP funds on behalf of the County and the City of Bryan in the amount of $700,000 on June 22, 2022.
The PY 2022 CHIP program awards will be announced soon. If Williams County is awarded a CHIP grant and CHIP-LAP funds, it will allow MVPO to address homes that may not have received funding due to the amount of lead paint present in their home.
Maumee Valley Planning Organization (MVPO) administers the CHIP Programs for Williams County, as well as Defiance, Henry, Fulton and Paulding Counties.
The cities of Bryan, Defiance, Napoleon and Wauseon are also included in the CHIP housing consortiums.
For more information or to submit a pre-application – visit https://www.mvpo.org/housing-programs hear the details for Resolution 246."  The funds will be available at a later date.
Rebecca can be reached at rebecca@thevillgereporter.com
---