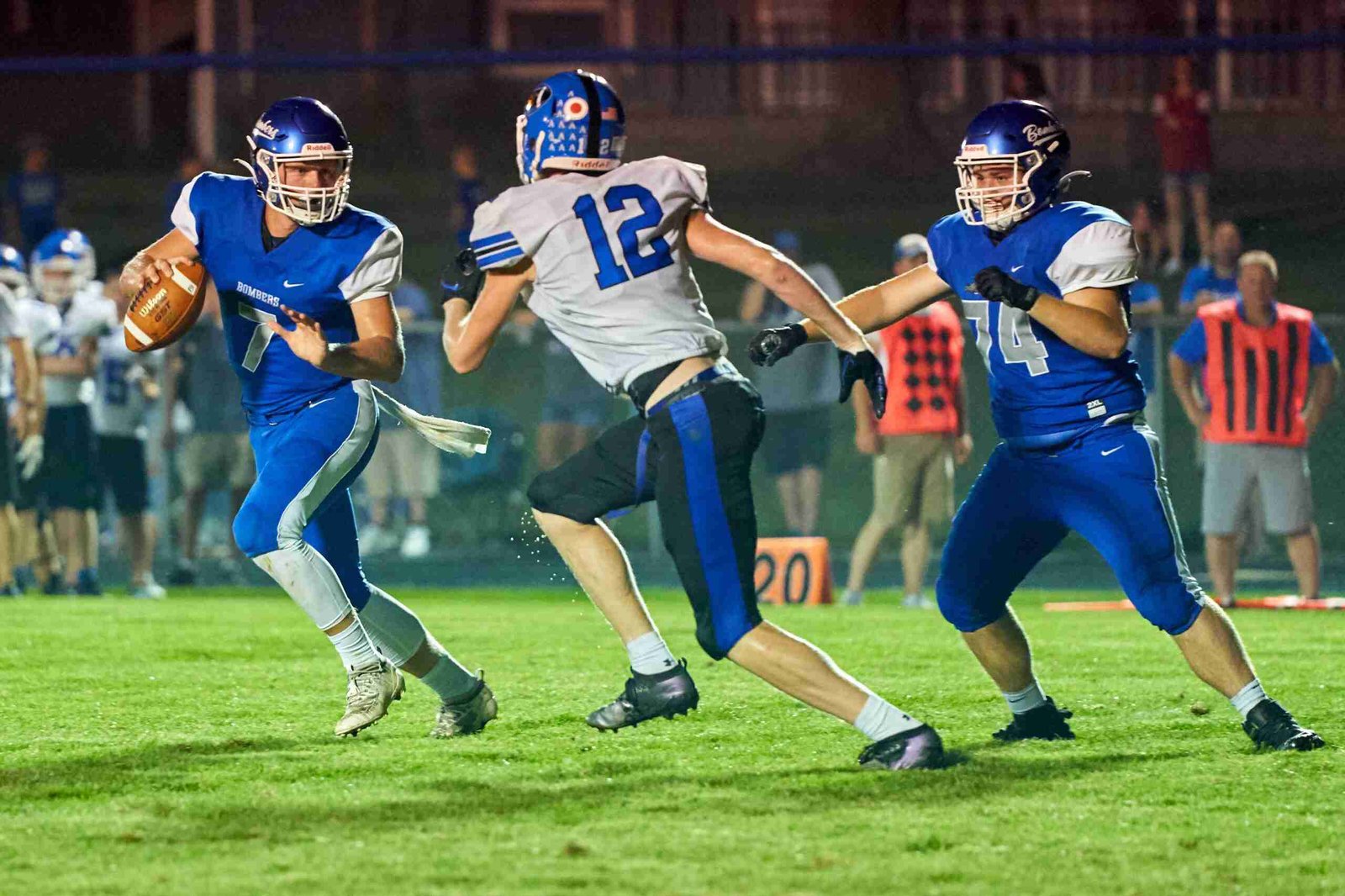 UNDER PRESSURE … Edon signal caller Drew Gallehue eludes the pressure of Antwerp's Jagger Landers. (PHOTOS BY RICH HARDING, STAFF)
---
By: Daniel Cooley
Two of the area's top quarterbacks went at it, with the two combining for 690 yards passing. But while Antwerp's Carson Altimus threw for three touchdowns and ran for another in a 307 yard passing performance, Edon's Drew Gallehue was even better.
The Bomber signal caller passed for 387 yards (26 completions in 37 attempts) and six touchdowns to four different receivers, in Edon's 41-26 win.
"All my receivers are great athletes," Gallehue said. "They make plays in the open field and make me look good."
Most of the fireworks in this one came in the second half, particularly in the fourth quarter. Edon led 13-7 at halftime, but the two squads combined teams combined to tally 47 points in the second half. That , included 34 points in the fourth quarter.
With Edon leading by just 19-14 after three quarters, the Bombers outscored Antwerp 22-12 in the final stanza, to come away with the 15 point win.
Edon jumped out to a 13-0 lead early on, thanks to Gallehue's long touchdown passes to Caden Nester, of 40 and 39 yards, respectively.
Antwerp then got on the board with a long sustained drive that covered 10 plays and 79 yards. Altimus's eight-yard TD pass to Stephon Walker sliced Edon's lead to 13-7, with 7:28 to go in the first half.
Edon had a chance to take a two touchdown lead, but Antwerp's Landon Brewer intercepted a Gallehue pass in the end zone. Antwerp then had a chance to take a halftime lead, but Edon's Nester returned the favor by intercepting an Altimus pass in the end zone. The play came with less than a minute remaining in the first half.
Edon took the second half kickoff and put together a long drive of its own, going 66 yards in 10 plays. The Bombers then took a 19-7 lead on Gallehue's 13-yard touchdown pass to Gannon Ripke.
Antwerp came right back, taking just two plays, to cut Edon's lead to 19-14. Reid Lichty returned Edon's kickoff 65 yards to the Edon 10. Altimus then found paydirt on the very next play, with his 10-yard scamper.
Gallehue then had his second pass intercepted at the Antwerp eight  yard line by Altimus. However, five plays later, Antwerp had to punt and Edon took advantage.
"As the game went on, their defense had figured some things out against us and were playing us tight," Gallehue said. "We knew we were going to have to execute better. The guys had to run their routes longer and I was going to have to throw the ball better than I ever have before."
Gallehue began to execute better, putting Edon up, 25-14, with a long, sustained drive that started on Edon's own 25-yard line. Taking 11 plays, Gallehue then hit Henley Dye with a five-yard TD strike.
Edon had a chance to take a three touchdown lead when Ripke intercepted an Altimus pass and returned it to the Antwerp three-yard line.
But Edon failed to score, netting one yard on a run play and three incompletions. "We're going to have to work on goalvline offense in practice and continue to get better," Gallehue said.
Six plays later, though, Edon responded. After Antwerp failed to pick up a first down from its own 42, Gallehue found Ethan Steinke on the first play of the drive, for a 42-yard TD. When Nester caught Gallehue's two point conversion pass, Edon was able to extend its lead to 33-14, with 7:13 left in the game.
The two teams then traded touchdowns, bringing the final margin to 41-26.
Antwerp's Altimus found Parker Moore for a seven-yard TD pass and Edon's Gallehue then found Dye for his second TD reception, from 31 yards out. Ripke than caught Gallehue's two point conversion toss, to up Edon's lead to 41-20.
Altimus responded by hitting Jagger Landers with a 33-yard TD pass, with 1:42 left in the game. Edon than recovered Antwerp's squib kick and ran out the clock, to go to 2-0 on the season. Antwerp fell to 1-1.
"We like to play a little faster than we did tonight on offense, but with the heat and all our receivers doing a lot of running around, we played a little slower than normal," said Edon head coach Bob Olwin. "But the guys dug down and found a way to score some points. I'm really proud of the kids for digging down."
"We have five kids who can catch passes (all five caught at least three passes), plus (wide receiver/running back Wade) Parrish who can come in, so we're in good shape offensively," Olwin added.
Parrish ran four times for 24 yards and caught one pass, for five yards. Gallehue led Antwerp with 49 yards rushing and Dye led the receivers with six catches for 103 yards.
STATS         Antwerp      Edon
First downs      19             24
Rushes-yards 20-70        27-108
Passing yards   307         387
Passing            24-40-2    26-37-2
Fumbles-lost     1-1           1-0
Penalties-yards 7-50         2-20
SCORE BY QUARTERS
Antwerp   0   7   7   12 – 26
Edon      13    0  6   22 – 41
E – Nester 40 pass from Gallehue (Gallehue kick)
E – Nester 39 pass from Gallehue (kick failed)
A – Walker 8 pass from Altimus (Walker kick)
E – Ripke 13 pass from Gallehue (pass failed)
A – Altimus 10 run (Walker kick)
E – H. Dye 5 pass from Gallehue (pass failed)
E – Steinke 42 pass from Gallehue (Nester pass from Gallehue)
A – Moore 7 pass from Altimus (kick failed)
E – H. Dye 31 pass from Gallehue (Ripke pass from Gallehue)
A – Landers 33 pass from Altimus (pass failed)
Dan can be reached at publisher@thevllagereporter.com
---