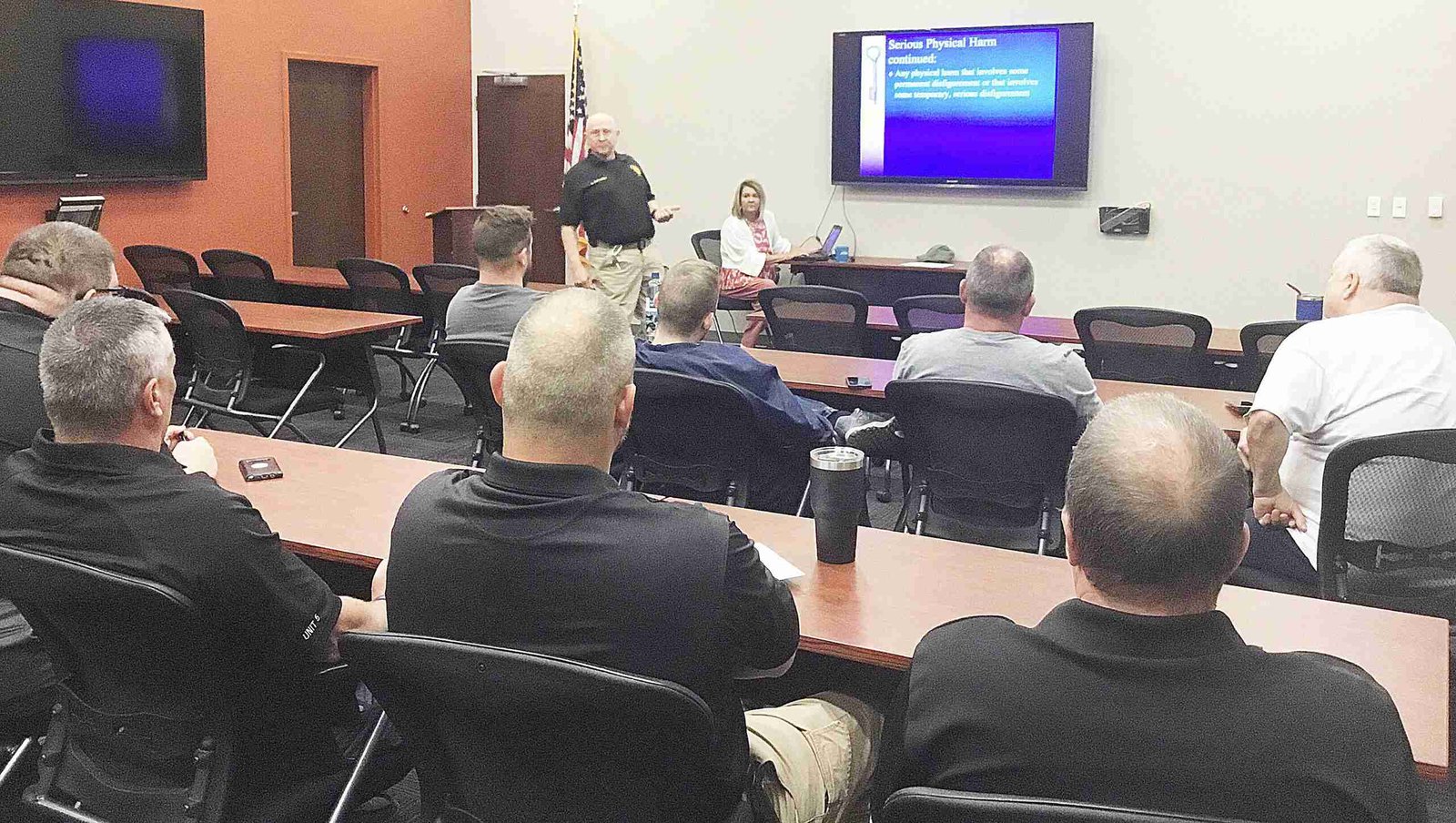 LAW ENFORCEMENT TRAINING … Sgt. Steve Suchocki from Edgerton Police Department was busy leading the training on "Responding to Domestic Violence" early Tuesday morning, May 10, 2022. The trainings are being held in the Voinovich Auditorium, conference room, at the East Annex, from 8 a.m. to 4:30 p.m. Assisting that morning was Kim Nossaman, Director of Williams County Victims Assistance. (PHOTO BY REBECCA MILLER, STAFF)
---
By: Rebecca Miller
Chief Deputy Jeff Lehman at the Williams County Sheriff's Department is pleased with the Law Enforcement Training taking place during the months of May and June, 2022, at the East Annex in Bryan.
Each year the training needed is determined by the state, and local law enforcement agencies and Certified peace officers are responsible to get them covered.
With the cost of gas right now, Lehman felt it would be a good idea to offer the training "in house" and make it available to any other agencies in the area. Officers from Putnam, Fulton, and
Defiance counties are attending as well as one from OBCI (Ohio Bureau of Criminal Identification and Investigations) and three from Ohio DNR (Department of Natural Resources).
Every sworn, commissioned officer in the state is required to get these hours, so opening it to all in the area seemed a good thing to do. The number of hours required for 2022 is twenty-four and the WC Sheriff's office in conjunction with Northwest State community College and it's Campus Police Department are hosting.
The Training topics this year are "Responding to Mental Health", "Legal Updates", "Responding to Sexual Assaults", "Domestic Violence" and "Diversity, Inclusion and Equity" as well as one four-hour block on "Cultural Humility."
The training is being conducted by Ohio Certified Peace Officers and licensed professionals and was offered free of charge. The purpose of the training is to learn something new and to correct bad habits.
Lehman and Sheriff Tom Kochert are very much unity oriented and have a desire for all law enforcement agencies in Williams County to work together in unity for the betterment of the community.
In that light, Lehman invited instructors from a number of communities and departments. Sgt.Steve Suchocki from Edgerton, Chief Tim Livengood from Pioneer, Chief Deputy Sheriff Jeff Lehman, Chief Dave Mack and Detective Jamie Mendez from Napoleon Police Dept., and Sharla Young MSN,RN,SANE (Sexual Assault Nurse Examiner) of Montpelier are all instructors for these classes.
Many officers in the county are taking advantage of this opportunity to get in their training hours for the year. The sessions have been and are being held on May 7,10, 11,25, 26 and June 4.
Rebecca can be reached at rebecca@thevillagereporter.com
---