---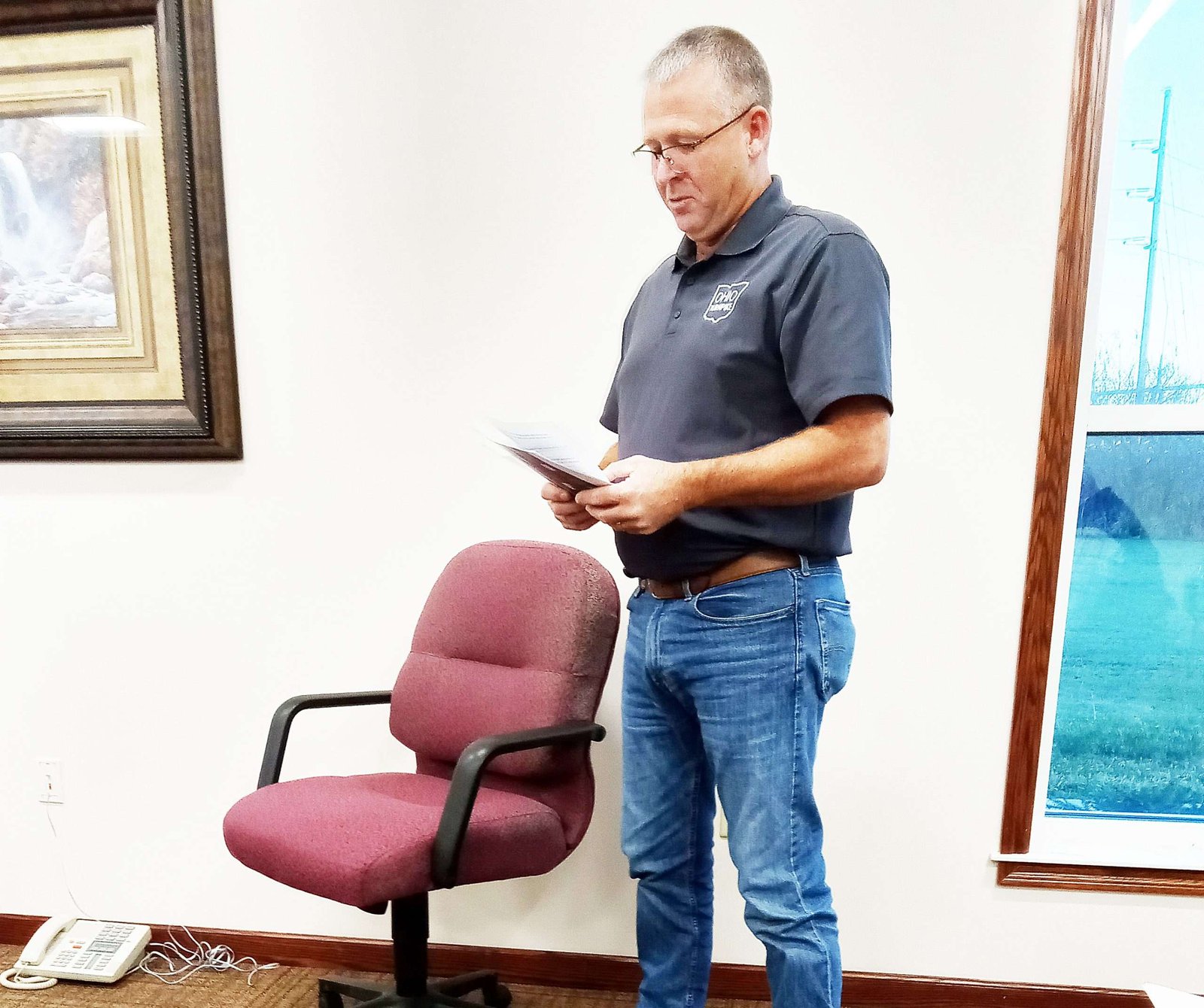 TURNPIKE'S FUTURE … Jeff Landel talks to Williams County Mayors about Ohio Turnpike plans in Williams County. (PHOTO BY DANIEL COOLEY, STAFF)
---
By: Daniel Cooley
The Williams County Mayors Association meeting of October 19 began with the Pledge of Allegiance, followed by roll call. Seven of the nine county mayors, Robert Day of Edgerton, Pam Clark of Holiday City, Don Leu of West Unity, Linda Muehlfeld of Blakeslee, Duane Thiel of Edon, Carrie Schlade of Bryan and Ed Kidston of Pioneer, were in attendance.
First, the mayors approved the minutes from the September 21 meeting. The mayors then approved the financial report from September and October. The balance, as of October 19, was $3,477.72.
The guest speakers for the night were Jeff Landel, Ohio Turnpike Commission Division Superintendent and Adam Greenslade, Ohio Turnpike Commission Director of Governmental Affairs, Marketing and Communications.
Landel reported that in Williams County, turnpike work on miles 8.2 to 2.8, was near completion. Along with repairs, they also had to do some work on a Wetlands Area. Involving accidents that took place in the area, the turnpike worked diligently with first responders.
Next summer there will be construction from Route 49 to the Indiana line, on both east and west bound lanes. There will also be a possibility of resurfacing from mile 14.7 to 27.5.
There are also plans to start removing the old Westgate toll and then start with a new one.
Greenslade said that they took a survey and 85% of respondents favored open road tolling. With that in mind, all toll entrances will be done away with. There will be credit card payments or EZ Pass, along with a video toll rate. Here, a driver sends in his payment, based on what the video states. This is the most expensive rate. The updated Ohio Turnpike website will have information on how to make payments.
Currently, Greenslade said that 70% of drivers and 90% of truckers use EZ Pass. EZ Pass can be purchased online, at AAA, Speedway and Main Stop.
The most productive area for the turnpike is between mile markers 49 and 211. Greenslade stated that he believes within the next 10 years, all payments on the turnpike will be cashless.
With the conclusion of both speakers, the mayors voted to adjourn the meeting.
Dan can be reached at publisher@thevillagereporter.com