---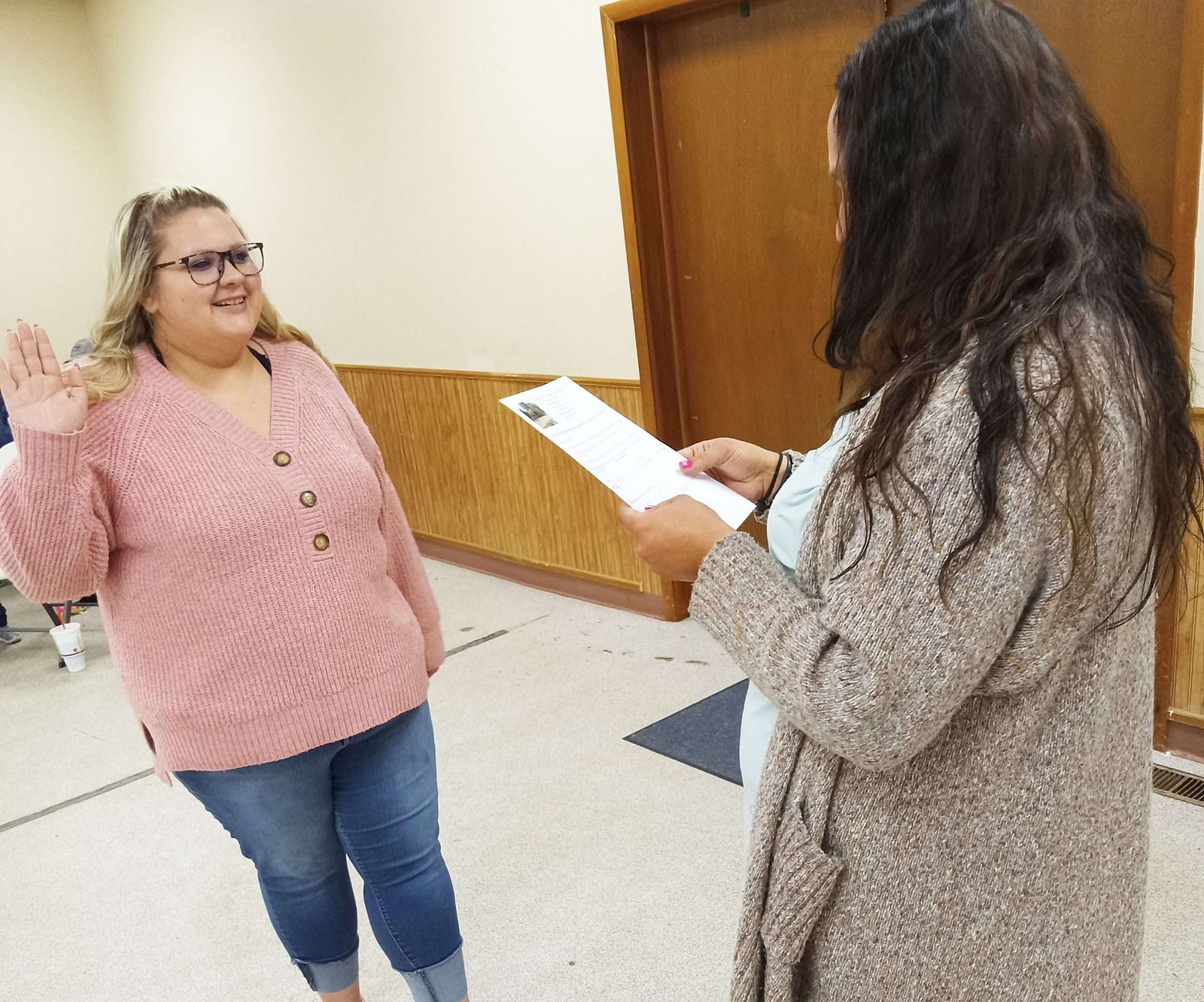 SWEARING IN … New board director Kaitlyn Saul is sworn in by Secretary Summer Owens. (PHOTOBY DANIELCOOLEY, STAFF)
---
By: Daniel Cooley
The Williams County Fair Board October 20 meeting began with the Pledge of Allegiance, followed by roll call. Ten of the 13 directors were in attendance.
In the first order of business, the board approved the minutes from the September meeting.
Next, the board approved of Summer Owens' treasury report. The balance as of September 30 was $116,959.20.
The board then went into executive session. Upon return, the board approved to remove the Bo Zuver petition.
Next, the board approved the date of the fundraising banquet as February 11. The board then approved the date of the Spring Thaw Sale of the Treasurer's, as February 24, 25 and 26.
That was followed by the board approving of the date of the swap meet as March 10, 11 and 12.
Next, after discussion, in regards to the five board members attending the OFMA Convention, the board decided to write a check for the five members' rooms and registration.
The board then approved of the fair date for 2023 as September 9-16.
No name was submitted for the Fair Supporter application, but board members will have until November 1 to submit a name.
That was followed by the submission of the following forms to the Ohio Department of Agriculture: application for 2023 Ohio Fairs Fund Money (due November 1) and the annual report.
This included the Junior Fair Affidavit, the Junior Fair Report, the annual meeting information, fair information, delegate authorization form, annual election information, abstract publication, board members for 2022, 2023 officer information, 2022 horse racing, auditor financial sheet and treasure's affidavit (due January 13, 2023).
Next, the board approved the membership price for the Williams County Agriculture Society as $1.00 and to order tickets.
Next, new board director Kaitlyn Saul was sworn in by Owens.
That was followed by the following elections: Pam Goll was reelected as president, Tom Fry was elected as vice president, Owens was reelected as secretary, Dave Page was voted in as a delegate and Matt Kennedy will serve as an alternate.
Katrina Winebernner was voted in as an auxiliary director and Loretta Burkhart's auxiliary director application was accepted.
Next, the Open Goat Show was approved for the first Saturday in July in 2023 and approval was made for a dog trainer to use the Gilette Building on a weekly basis.
The board then voted to adjourn the meeting.
Dan can be reached at publisher@thevillagereporter.com
---