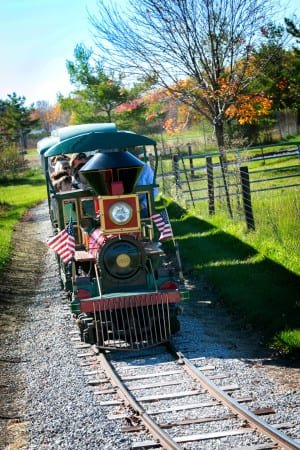 Archbold, OH – Whether you are an avid train collector or just a kid at heart, the Sauder Village "All Aboard" Train Event will provide a fun-filled and memorable way to celebrate fall in Northwest Ohio. The weekend event will include train displays, special train themed prize, rides on the Erie Express train and plenty of time to explore Ohio's historic past.
Again this year, the Swanton Area Railroad and Model Club will have a variety of model trains set-up at Sauder Village. There will also be a garden-scale train display set-up for guests to watch. Guests of all ages will enjoy looking at these detailed displays, visiting with the train club members and watching the trains travel around the tracks.
Throughout the weekend guests can also register for a chance to be a "guest conductor" on the Erie Express train or to win toy trains. There will be drawings held each day for the "guest conductor" and toy train prizes.
A visit to Sauder Village would not be complete without a ride on the Erie Express. The Erie Express is the 24-gauge "big boy train" that replaced the small train that was in the Historic Village since 1976. A replica of the C.P. Huntington, the Erie Express has five train cars, including one car that is wheelchair accessible. Guests can ride the train not only for fun but also as a way to travel to Pioneer Settlement to visit historic homes, the log school, church, jail and more!
There are many fall activities planned at Historic Sauder Village through the end of October. Some of the special events include Fall on the Farm and Scout Day October 10, Community Health Day/Fulton County Appreciation Day October 17, Preparing the Farm for Winter October 24, and Woodcarver's Show & Sale October 24 and 25.
For more information phone 1-800-590-9755, visit www.saudervillage.org, like Sauder Village on Facebook or follow us on Twitter and Instagram.
INFORMATION PROVIDED