---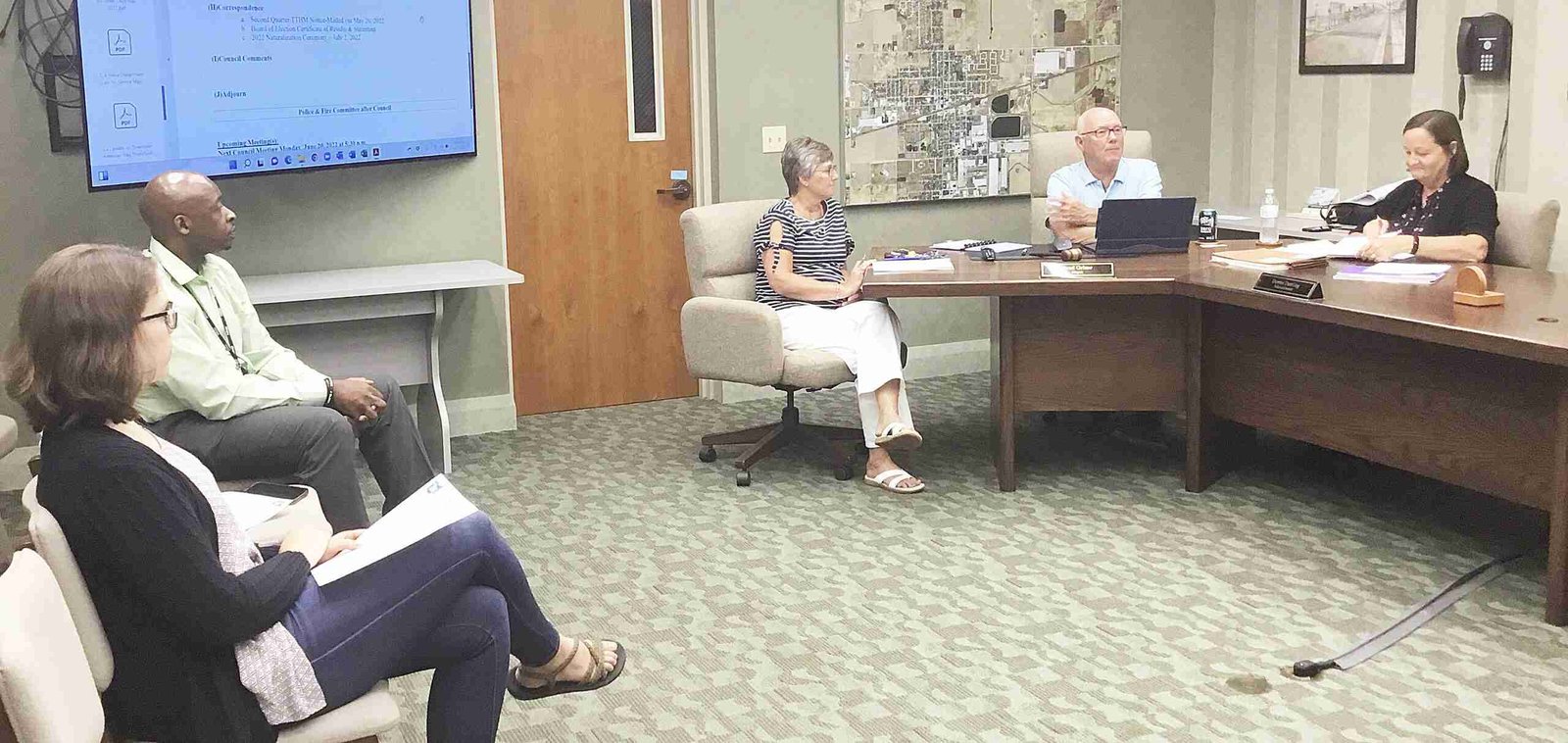 COUNCIL MEETS NEW REP AND CLERK NOMINEE … Robert Langeford, the new representative for Toledo Edison/First Energy and Cassie Storrer, Mayor Brad Grime's nominee to fill the position of Village Clerk, were introduced at the Archbold Village Council meeting on June 6, 2022. Seated at the desk is outgoing Director of Finance, Kathy Rupp, Mayor Brad Grime and Village Administrator, Donna Dettling. (PHOTO BY REBECCA MILLER, STAFF)
---
By: Rebecca Miller
Many items were covered in the hour that Archbold Council met on June 6, 2022. Approval was given for:
-Minutes for May 16, 2022
-Bills and payroll in the amount of $868,928.78
-May 2022 Monthly Financial reports
-Resolution 2022-40 Revising Section 302 of the Employee Handbook – Vacation Benefits (suspended 3 readings, and passed)
-Resolution 41 Accepting the Bid of $188,750 from Gerken Paving, Contract 4-2022 for Miscellaneous Street resurfacing project (emergency reading) Estimate was $165,000 but due to the rise in fuel costs, this was the lowest that Gerken could bid. There were no other bids sent in for this project.
-Finance Committee of May 26, 2022 minutes
-Park Board of May 26, 2022 minutes (Splash pad is held up due to trouble getting parts)
Concerning the vacation benefits resolution, Village Administrator Donna Dettling explained that the May 26 finance committee was mostly about this topic.
Vacation benefits have been the same since the early '80's, and they looked at a number of communities to see how they compared. Archbold has been behind the times so they recommended the proposal to change the benefits section of the handbook.
The following is now in the handbook: Section 1. That the following Vacation Earning Schedule will be effective with the 2022 vacation accrual period and there will be no retroactive vacation adjustments regardless of when an employee's years of service would have changed their accrual level on the new vacation schedule. 0-5 Years of Service (YOS) – Accrual weeks (AW) 2, Accrual Days (AD) 10, Accrual Hours (AH) 80, and 24 Hours Shift Accrual (24 HAS) 84; 6-11 YOS – AW 3, AD 15, AH 120, and 24 HAS 126; 12-19 YOS – AW 4, AD 20, AH 160, and 24 HAS 168; 20 or more YOS – AW 5, AD 25, AH 200, and 24 HAS 210.
Section 2. That all employees may carry over vacation not used by the end of the benefit year up to 40- hours maximum.
Section 3. That employee having completed six (6) years of service may request a cash-out of a maximum of 40-hours of unused vacation.
Section 4. It is hereby found and determined that all formal actions of this Council concerning and relating to the passage of this Resolution were adopted in an open meeting of the Council, and that all deliberations of this Council and any of its committees that resulted in such formal action were in meetings open to the public, in compliance with all legal requirements including Section 121.22 of the Ohio Revised Code.
Section 5: This Resolution is hereby declared to be an emergency necessary for the preservation of the public peace, health, safety, and welfare, to wit the necessity to revise employee vacation benefits immediately to enhance retention and recruitment efforts. This Resolution shall take effect and be in full force upon proper passage by Council and signed by the Mayor.
Also accepted were reports on Income Tax Receipts for May which were up 12.3%; Fire and EMS report for May; May Street Department Labor and Fleet Report; Police Department Calls for Service for May; and an Update on the Downtown American Flag project which is being done in conjunction with The Rotary.
Dettling spoke about the prototype that has been put up and expressed her pleasure with how this project is spurring an interest from businesses.
Jake Wyse at the Street Department created the holders, keeping the cost way down. They plan to have flags up for the 4th of July.
Mayor Brad Grime introduced Cassie Storrer, his nominee for Village Clerk, who will be voted on by council at the next meeting. Kathy Rupp will finish out the month of June and if approved, Storrer will step into the position in July.
Grime also introduced Robert Langeford, who was present to meet council. Langeford is the new representative for Toledo Edison, Regional External Affairs Consultant, and replaces Tim Suter who had served Archbold. He covers a four-county area.
In Correspondence, the village mailed out the Second Quarter TTHM notice on May 26, 2022; the Board of Election Certificate of Results and Statement were received; and a letter was mentioned for 2022 Naturalization Ceremony on July 2, 2022.
Sauder Village will host the 2022 Naturalization Ceremony on Saturday, July 2 at 11 a.m. outside on the Village Green, weather permitting, and the council members were invited to attend with their families.
Village Administrator, Donna Dettling, informed council that Scott Dominique passed his class 2. She also scheduled with them to hold a Work Session immediately after the next meeting on June 20, 2022 and shared a detailed explanation about the financial increase which was seen in May.
It looks great, but everyone needs to remember that in the future they will need to return some of that money as it was paid based on estimates. She said she is excited that the businesses are doing so well, and hopes it continues.
A lengthy discussion was held concerning the frustration of trains being stopped across more than one crossing for long periods of time.
Mayor Grime said that he had gotten an email from Congressman Bob Latta's office that afternoon and they are "setting up another meeting that should be soon."
It was mentioned how in the past they had considered putting beacons up at CR 24 like Springfield has done. How to get notifications was discussed and Village Engineer, Dexter Krueger, shared that two years ago they were looking into "a system that would require the village to connect in with the railroad circuitry."
He continued, "That would make it possible to know if a train is coming or if it is stopped. Since then, I have been notified that there is a company that has created a system that will tie into texting, emails and other methods of communication. It doesn't require the same sort of infrastructure and you don't have to contact the railroad at all."
The village would need to buy this company's hardware and software, at which point the company would come to Archbold, do a study and analyze what it would take, "even looking at our signalized intersections that are closed, possibly the timings of our signals, etc."
He told council that this is an option they can pursue if they choose to. It won't solve the trains being stopped, the great lack of safety for children crawling through the trains to get across, or the semi drivers losing hours off their travel time.
Mayor Grime said that in the past, the former Norfolk Southern representative said there was no reason for a train to ever be across a track for more than 10 or 15 minutes.
The discussion included the possibility of an underpass or overpass, staff shortages for the train companies, the fact that other towns never have their tracks blocked like they are in Archbold, the hope that Congressman Latta can help the situation and the thought that maybe they should meet every three months to keep it rolling.
It was agreed that they need to check into "available monies" to resolve this situation, and possibly pursue doing an overpass or underpass.
With no further business, council adjourned at 6:30.
Rebecca can be reached at rebecca@thevillagereporter.com
---