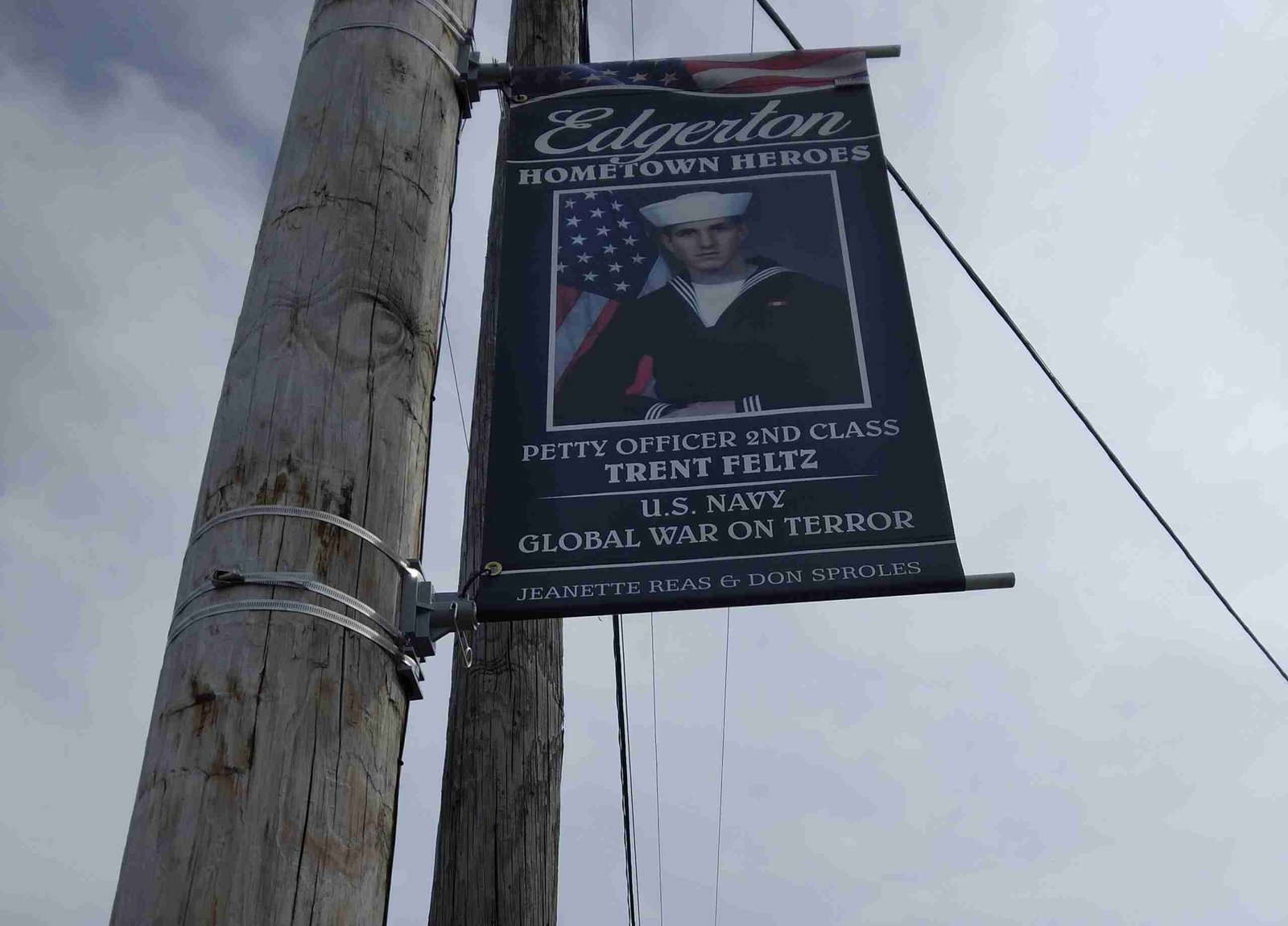 MILITARY BANNERS … This photo displays Trent Feltz, who currently serves with the U.S. Navy. (PHOTO BY DANIEL COOLEY, STAFF)
---
By: Daniel Cooley
If you've driven through or walked through Edgerton recently, there is something new that catches your eye. On display on 73 telephone poles, most of those on Michigan Avenue, are banners.
These banners show Edgerton's military, past and present. Most of the banners were put up in the past week.
"There are 18 more that need to go up before Memorial Day," said Tomara Rhoden, who is in charge of the project.
Rhoden said that the idea for the project originally came from her husband, Roger Rhoden.
"He's a truck driver and saw banners displayed in several places and he thought it was a good idea to do here," Rhoden said. "There are a lot of different ways you could go with those banners, but we decided to go with people in the military."
First, Rhoden did some research and found the Holiday Outdoor Decor, who makes such banners.
Rhoden then approached Mayor Robert Day with her idea and then met with the Edgerton Village Council.
"They told me they liked the idea, but they needed someone to be in charge of the project," Rhoden said. "I told them I would take on the responsibility. Little did I know how much work would be involved."
First, flyers were sent out to residents in January, along with their utility bills. The residents were given instructions that any information on military residents, along with pictures, had to be sent back by the end of February. Quick responses followed, as Tomara was able to put together 91 total banners.
"The photos are precious, so with a lot of carefulness, I put them in the right envelopes with the right names," Rhoden said. "I had to put everything in a spread sheet and then sent them off to Holiday. They then sent the proofs back."
Once Rhoden rechecked everything, she then sent everything off to Holiday, located in Pennsylvania. Rhoden received everything back within three weeks, with everything the way she wanted it. She then dropped everything off to Village Hall and the employees put up the banners.
"They put them up a lot faster than I thought they would, 73 of them and I now have the final 18 to give them to put up," Rhoden said.
There are three veterans in the Rhoden family. Son Christopher Rhoden served for 20 years and then was medically discharged.
Another son, Nathan, served six years and daughter Dawn LaPorte served for two years. Of the banners, Rhoden believes there are three from Edgerton who are currently serving in the military.
Rhoden said that the plan is to keep all the banners up until Veterans Day. They will then be taken down, with the idea of putting them up again next year, before Memorial Day.
"I am amazed at the positive responses I've been getting from people," Rhoden said. "It's patriotic to walk or drive through and see the banners. It's heartwarming."
Dan can be reached at publisher@thevillagereporter.com
---