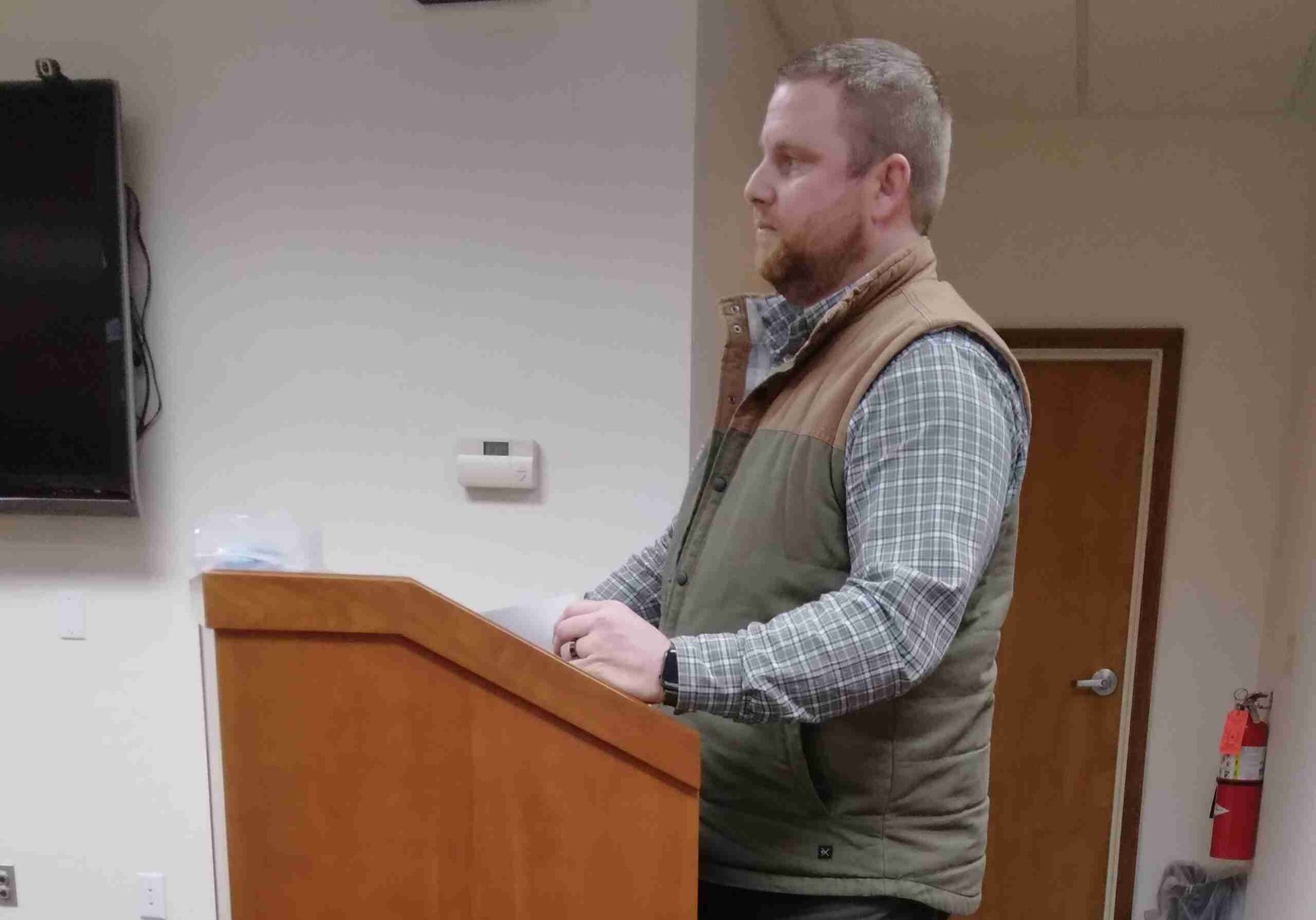 LAND REQUEST … Operations director Derek Schultz requested a parcel of land be leased for agricultural purposes. The request was approved by the BPA. (PHOTO BY DANIEL COOLEY, STAFF)
---
By: Daniel Cooley
The Board of Public Affairs' (BPA) January 18th meeting began with the Pledge of Allegiance. Four of the five BPA members, Jim Salsbury, Dick Long, Karen Ford and Tom Sprow, were present. Annette Schreiner was absent.
In the first order of business, the BPA approved the minutes of the January 4, 2022 BPA meeting.
In a somber moment, director of utilities Nathan Gardner mentioned the loss of utilities employee Shelly Armstrong, who was killed in a car accident, while driving to work. "She was well respected and will be missed, greatly," Gardner said.
The BPA then approved the clerk-treasurer's financial report from December 31, 2021.
Next, the BPA approved Resolution 2. This one represented the transfer of two million dollars from the 501 Electric Fund to the 515 Electric Capital Fund, for the purpose of capital improvements.
That was followed by the approval of Resolution 3, a $620,000 transfer from the 502 Water fund to the 525 Water Capital Fund. This will provide funding for water capital.
Next, the BPA approved of Resolution 4 In this one, operations manager Derek Schultz asked for permission to lease 60 acres located east of the Bryan Solar Field, for agricultural purposes. It will be a three year agreement, in which beans and corn will be planted.
Next on the agenda, the BPA approved the request to reclassify Kody McClure from network engineer to probationary senior network engineer.
The BPA then approved the reclassification of two employees. In the first, Heath Grim was reclassified from help desk support to probationary network engineer.
In the other, Lisa Morman was reclassified from probationary status as payroll clerk/assistant office manager to regular employment status, effective on January 19.
Next, in regards to the semi-monthly disbursements, The BPA then made approval to pay the bills.
In comments from the board members, Sprow extended congratulations to employees McClure, Grim and Morman. Long mentioned that Armstrong will be missed terribly. Salsbury recalled that when he was a new employee several years ago, Armstrong was very helpful to him.
By unanimous approval, the meeting was then adjourned.
Dan can be reached at publisher@thevillagereporter.com
---