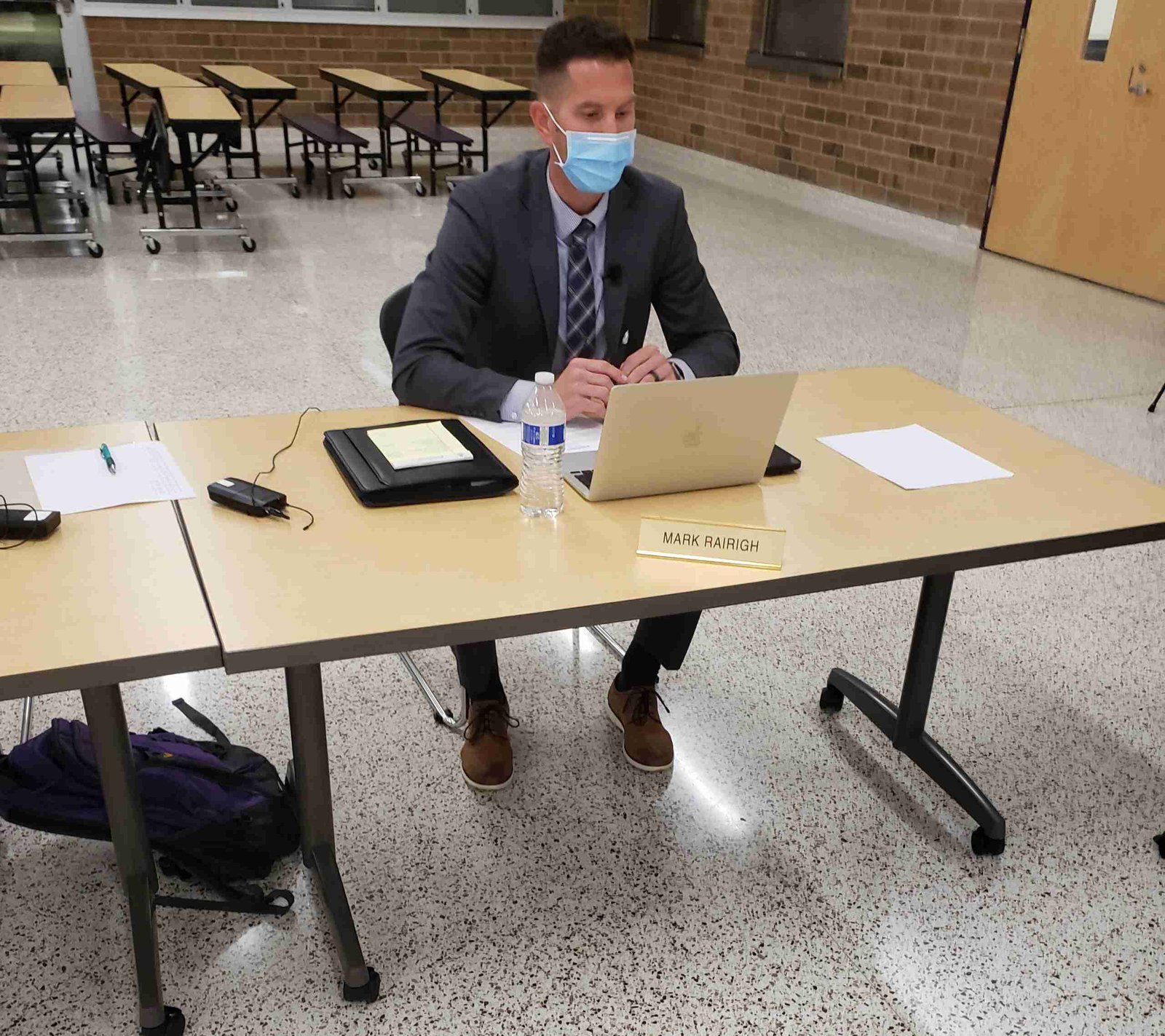 COVID REPORT … Bryan Schools Superintendent Mark Rairigh talked about the positive, dramatic drop of COVID cases among students, since the beginning of the school year. Cases were lowered to one per day since September 8 and have dropped even lower in October. They have not had to quarantine any students in the last several weeks. (PHOTO BY DANIEL COOLEY, STAFF)
---
By: Daniel Cooley
The Monday, Oct. 11 Bryan School Board meeting began with the call to order and then the Pledge of Allegiance.
That was followed by roll call, with all five board members, Scott Benedict, Ben Camarillo, Debra Opdycke, Dustin Schlachter and Michael Stockman, in attendance.
The meeting got underway with a unanimous approval of the September regular meeting minutes.
It was reported that Four County is off to a great start, with 910 students enrolled. Also, for those interested in being firemen, those students got to meet with the Ridgeville Fire Department.
Next, Chad Savage gave a report on high school athletics. The football team is off to a 4-4 start, volleyball is 4-2 in the NWOAL, boys soccer is 3-2 in the league and girls soccer is 14-0-1 overall and 4-0-1 in the league, with one league game remaining.
Girls tennis is 23-0 and recently won a district semifinal contest. In addition, five individuals qualified for districts. Also, the boys golf team qualified for state and there will be sendoff for them on Thursday morning.
As far as winter sports, earliest practices are for girls basketball, beginning October 20. The latest is wrestling, with practices beginning November 12.
In addition, there will be a father-daughter dance on October 16. Weather permitting, it will be an indoor-outdoor event.
Next, elementary principal Kasey Thormeier reported that there will be a mid term academic test coming up. There will be a book fair this week and a barn dance coming up, which is a 25 year tradition.
In addition, coming up soon is a parent teachers conference, the annual pumpkin day and a visit to the Johnston's Fruit Farm.
Bryan High School principal Stephen Alspaugh gave the Middle School/High School report. The seventh grade is holding "escape the vape" and the eighth grade is looking for a school wide campaign against vaping.
October 2 was picture retake day, while sophomores met with Jostens to order class rings. Seniors will be meeting with Jostens regarding caps and gowns.
Both middle and high schools are promoting the "Go B" program, like go b a friend, go b a student, etc. All seventh through 12th grades are recognizing students of the month. For the sixth grade, life skill students are being recognized.
Assistant superintendent Chad Bassett reported that there will be a presentation on bike safety and wearing a helmet and all the students will be presented with a helmet.
Coming up will be a teacher in service day and state testing next week for third graders. There will also be a test for second and fifth graders on cognitive ability. Teaching and learning director Karyn Cox reported that there is a new social studies curriculum and the Wonder Series for reading.
Also, in talking to teachers, they are getting comfortable with the new curriculum, but expressed the need for more guidance.
In addition, there are plans for the next school year to have screenings and intervention for students in K-third grade who display characteristics of dyslexia. For intervention in reading, each teacher needs 18 hours of training.
Next, in the treasurer's report, Kevin Schafer stated that there is a 2.1 million dollar revenue that will go into the general fund. He is implementing a budget for that, but needed approval for the appropriations for that. Those appropriations were approved unanimously.
Bryan Schools superintendent Mark Rairigh then spoke about old business. First, on the upcoming substitute levy, Rairigh stated that it is a renewal of the 2002 levy. The fixed overall rate is 1.9 million and that will not be expected to change.
Rairigh then spoke about a positive development regarding COVID. "The number of students with COVID has drastically reduced," Rairigh said. "As of September 8, the numbers reduced to one case per day, which is much lower than it was at the beginning of the school year."
"The numbers have gone down a lot more in October and we have not had to quarantine anyone." There will be a review on COVID in eight to 10 days, to see if masks are still mandated in the Bryan school buildings.
Rairigh also reported that there has been a sale of the old high school property on Portland Street, to the Community Hospital and Wellness Center.They hope to have a closing date soon.
In moving to the Superintendent's recommendations, in administrative recommendations, seniors Jerrica Gillett and Morgan Snider have met all graduation requirements and will graduate early. Also, approval of the YMCA agreement with the swim team was needed. Both recommendations met with unanimous approval.
In personnel recommendations, there is new classified staff, Shari Robison, aide non special ed. for middle and high schools and a bus driver; Joe Echler, a bus driver and Dayton Keller, bus driver and PK-5 dishroom.
Next, there was a transfer of classified staff, Kady Schafer aide non special ed. for middle and high schools; as well as a classified staff change in hours for Donna Mann and Lori Grim. Both are aides special ed. for middle and high schools.
Up next was approval of certified and classified substitutes for the school year: Cassondra Clarke, Diane Elchinger, Mary Lloyd, Laura Schultz, Katie Ferguson, Becky Penrod, Bobby Woodard, Kirsten Reid and Lynette Skiles.
That was followed by approval needed for winter supplementals, regarding all coaching and extracurricular activities; resignations for Annie Lower and Kirsten Reid for aide special ed. for high and middle schools and non-renew substitute Sara Link.All were met with unanimous approval votes.
Next, Rairigh briefly discussed the first reading of policy changes as set forth by the Northeast Ohio Learning Association. Rairigh stressed that board members take the time to look at them. The second reading will come at a later date.
Those areas of policy changes are: public participation at board meetings, evaluation of principals and other administrators, weapons, college credit plus program, career advising, eligibility of resident/nonresident students, educational opportunity for military children, attendance, student mental health and suicide prevention, early high school graduation, student hazing, positive behavior intervention and supports and limited use, school-sponsored publications and productions, cost principles, disposition of real property/personal property, proerty inventory, student records, school safety, student abuse and neglect, transportation, nonroutine use of school buses and bonding.
Next, in points of information, first, Rairigh announced that motivational speaker Bethany Hamilton, a pro surfer who lost an arm to a shark bite, will be speaking to Bryan students on Oct. 19.
She will also be doing a community event that evening at 7 p.m., at Bryan's Arts Auditorium. Rairigh said thanks goes out to the Bryan Area Foundation, for getting Hamilton.
Rairigh said that the future Board meeting dates are the Ohio School Board Associates meeting on November 7-9 and the Board of Education meeting on November 15, at 7 p.m. in the Bryan Elementary Commons.
Next, the business advisory council meeting dates are slated for Wednesday, November 17, Wednesday, February 16 and Wednesday, May 18. All three meetings are scheduled to start at 7:15 a.m.
The board meeting then joined for an executive session meeting, which is not open to the public.
Dan can be reached at publisher@thevillagereporter.com
---