BUCKEYE BORDER FCA … Members of the Buckeye Border FCA stand at a table directing players where to go next and giving out their gifts. Pictured are: Volunteer Alex Moore, Board Member Mike Colon, Local FCA Director Rex Stump, Board Member Cabe Cordy. (PHOTOS BY JACOB KESSLER, STAFF)
---
By: Jacob Kessler
The Buckeye Border Fellowship of Christian Athletes held a Golf Scramble on Saturday, September 11th at the Eagle Rock Golf Club in Defiance.
The Organizations ministry focuses on seven counties with five being in Northwest Ohio and two in Southwest Michigan. The Buckeye Border office is located in Wauseon but supports all ministry operations in the seven counties.
Teams signed up to play 18 holes of golf against each other to win prizes. Golfing started at 8:00 a.m. with a lunch and award/raffle give away taking place at 12:30 p.m.
Proceeds from the outing go to support the FCA Leadership Camp for kids that was held earlier this year in July. This camp is the only FCA Leadership Camp in Ohio or Michigan.
The golf outing for the Buckeye Border organization has been taking place for around fifteen years with six of those years having the money go to support the camp.
The camp usually draws in 80 to 100 kids with around 20 college students normally volunteering to be counselors.
"The kids get spiritually trained up. With schools going less and less with having religious organizations in them, I just feel as though I should do what I can to help kids be strong with their faith," said Rex Stump who is the area FCA Director.
This year, the golf outing also took place on the 20th anniversary of the September 11th Attacks. With a group present from the Wauseon Fire Department and the Toledo Police Department, the group wanted to do something special in remembrance for the lives that were lost on that day.
An air horn blew throughout the morning to signify times when lives were lost either in New York, Washington D.C. or in Pennsylvania. Groups stopped what they were doing to give a moment of silence during each horn blew.
When the golfing was finished, golfers returned to the stand to claim their prizes and receive a lunch. Prizes ranged from gift cards to golf balls and a Blackstone Griddle for the raffle.
The most important part though was the donations that were raised to support the FCA Leadership Camp next year.
Keeping the camp going will help the organization to follow their vision to "see the world transformed by Jesus Christ through the influence of coaches and athletes" and to "lead every coach and athlete into growing a relationship with Jesus Christ and their Church."
Jacob can be reached at jacob@thevillagereporter.com
---
WAUSEON FIRE… Members of the Wauseon Fire Department played during the FCA golf meet to support the organization. Teams members included: Scott Anderson, Eric Parker, Wauseon Fire Department 2nd Assistant Chief Jeremy Shirkey, Wauseon Fire Captain Jason Fisher.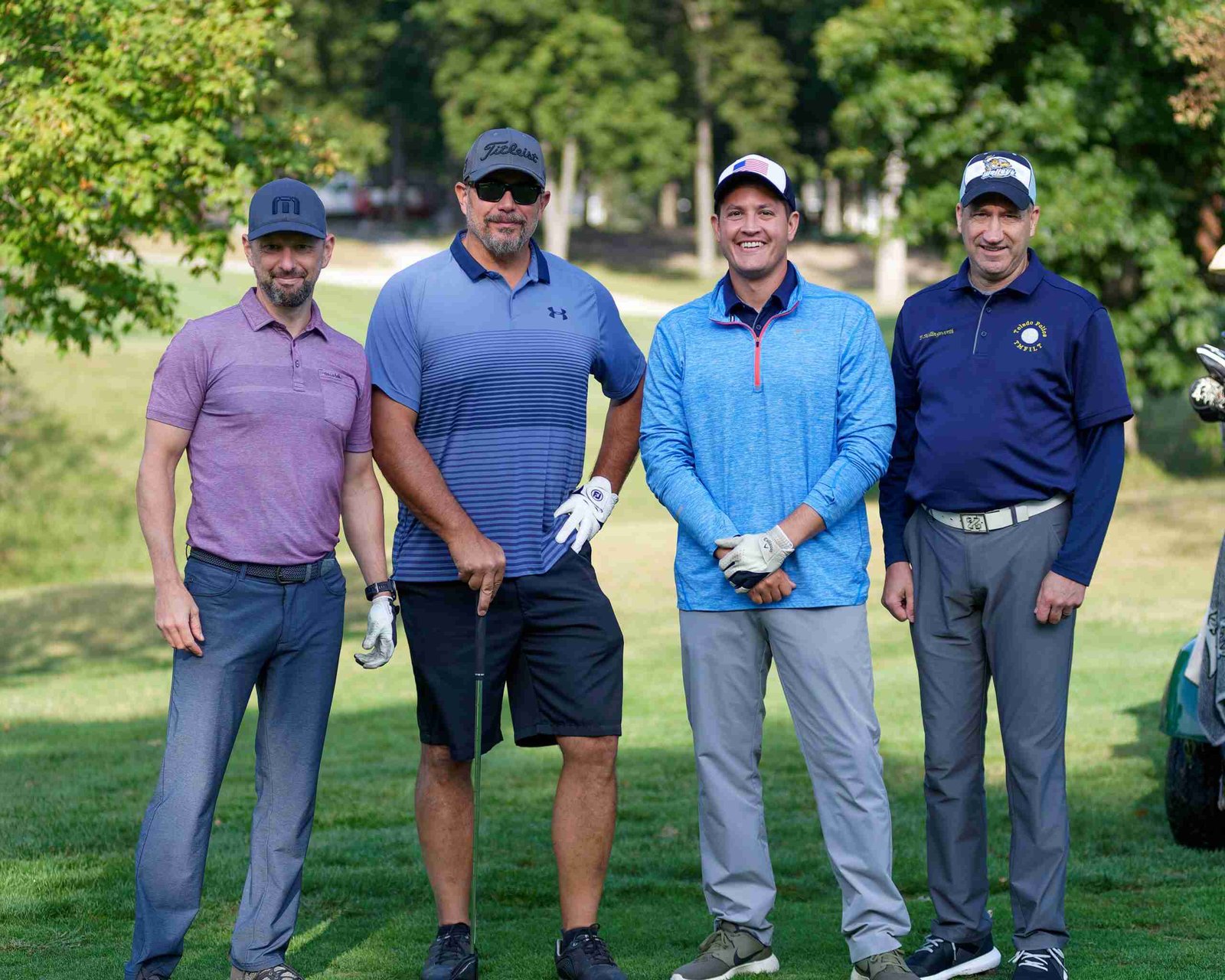 TOLEDO POLICE … Members of the Toledo Police Department played during the FCA golf meet to support the organization. Shown are: Sgt. Chip Holland, Sgt. Bill Bragg, Sgt. Adam Fish, Captain Bryan Hollingsworth.
---