---
PRINCESS … The Esterline's furry family member, Princess brings much joy to their lives. (PHOTO PROVIDED / THE VILLAGE REPORTER)
---
By: Amy Wendt
In the heart of the Pioneer, a love story has unfolded over the past six and a half decades. Meet Mr. and Mrs. Max and Gracie Esterline, a remarkable couple who will be celebrating their 68th wedding anniversary in September.
Max, son of Emmit and Helen Esterline, and Gracie, daughter of A.V. and Maudie Harrington met in while attending Pioneer School, now known as North Central.
"We started liking each other in the 7th grade," recalled Gracie. Before becoming a couple, the two often crossed paths at school and church functions so it was difficult for the two of them to recollect the exact details of their first date.
Gracie shared that even in junior high, Max stood out from the rest of the boys in her school.
"That's what I noticed about him when we were kids. He acted different than the other boys and he didn't talk the way they did. I was drawn to him by his actions," remembered Gracie.
The couple realized they wanted to spend the rest of their lives together while they were still in High School.
Max and Gracie were married on September 24, 1955, at Rev. Don Baney's parsonage.
In the years following their marriage, their church, Lakeview United Brethren, became a strong pillar of their relationship for the lifelong UB members. "We've always gone to church," Max shared.
To this day, Gracie creates handmade greeting cards for Lakeview to distribute as a part of her ministry.
Over the years, the hard-working couple tapped into their individual talents and went on to build not just one home…but three.
Max, a former construction business owner, employed his skills to make all three homes take shape and Gracie used her flair for designing to create the floor plans for the latter two houses.
After living in the country for years, the couple decided it was time to downsize and built their most recent abode within the Pioneer Village limits.
The charming property occupies a plot adorned with a meandering creek and a scenic line of trees along the back side of the property.
All three of the Esterlines' sons worked alongside Max in his construction business during their younger years.
Their son, Dave later opened Cornerstone Flooring Outlet where Gracie worked by day. In the evenings, Gracie sold Home Interiors decor.
Over the years, the couple found a love for traveling and created some of their most treasured memories.
They have journeyed to Hawaii, the Caribbean, St. Thomas, and the Bahamas. Arizona is a destination that the Esterline's enjoy visiting nearly every year in the wintertime.
As for the most memorable trip, the couple especially enjoyed spending time with their son Danny and grandson Zachary in Lake Tahoe during one of their yearly Arizona stays.
Challenges are something all couples face from time to time. When inquired about the biggest challenge over their 67 years of marriage, the Esterlines recalled a somewhat recent situation that was very difficult for them as parents.
Nearly three years ago, their son Jim, was cutting down a birch tree and fell down 15 feet to the ground sustaining serious injuries.
While recovery has been a long process, Max and Gracie credit God for the healing of their son, as well as getting them through the ordeal.
Max and Gracie have been blessed with five children: David (Judy) Esterline, Jim (Denise) Esterline, Dawn (Robert) Sammons, Judy (Shawn) Miller, and Dan (Elisa) Esterline. They also have 14 grandchildren and 23 great-grandchildren.
For the couple's Golden wedding anniversary nearly eighteen years ago, their children hosted a reception for them at Lakeview UB church.
Max and Gracie then celebrated their 60th anniversary, by taking a trip to Pigeon Forge and Gatlinburg, Tennessee.
While together at home, the couple enjoys the company of their rescued pup, Princess, who has become a part of the family.
You can also often find them sitting on their back deck appreciating the birds and their beautiful backyard.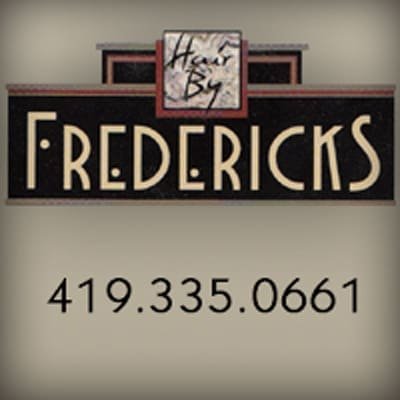 When prompted to share the most important lesson they have gleaned from their marital journey, Max responded jokingly with a chuckle, "I could say, but I won't."
They both began laughing and Gracie said, "He picks on me all the time…The day he quits picking, that's the day I start worrying. We laugh all the time,"
It's evident that laughter and light-heartedness are some of the key ingredients to their long-term marriage.
The most important piece of advice that the Esterlines can offer young married couples starting out is this…get to know the Lord.
Gracy added, "That is probably the most important part of our lives. "That's what brought us together, and I think that's what's kept us together."
Amy can be reached at amy@thevillagereporter.com
——–
Editor's Note – Do you have a local couple with a connection to the greater Williams County – Fulton County areas of Northwest Ohio that you would like to nominate for this feature? Please email your suggestion to: publisher@thevillagereporter.com
---