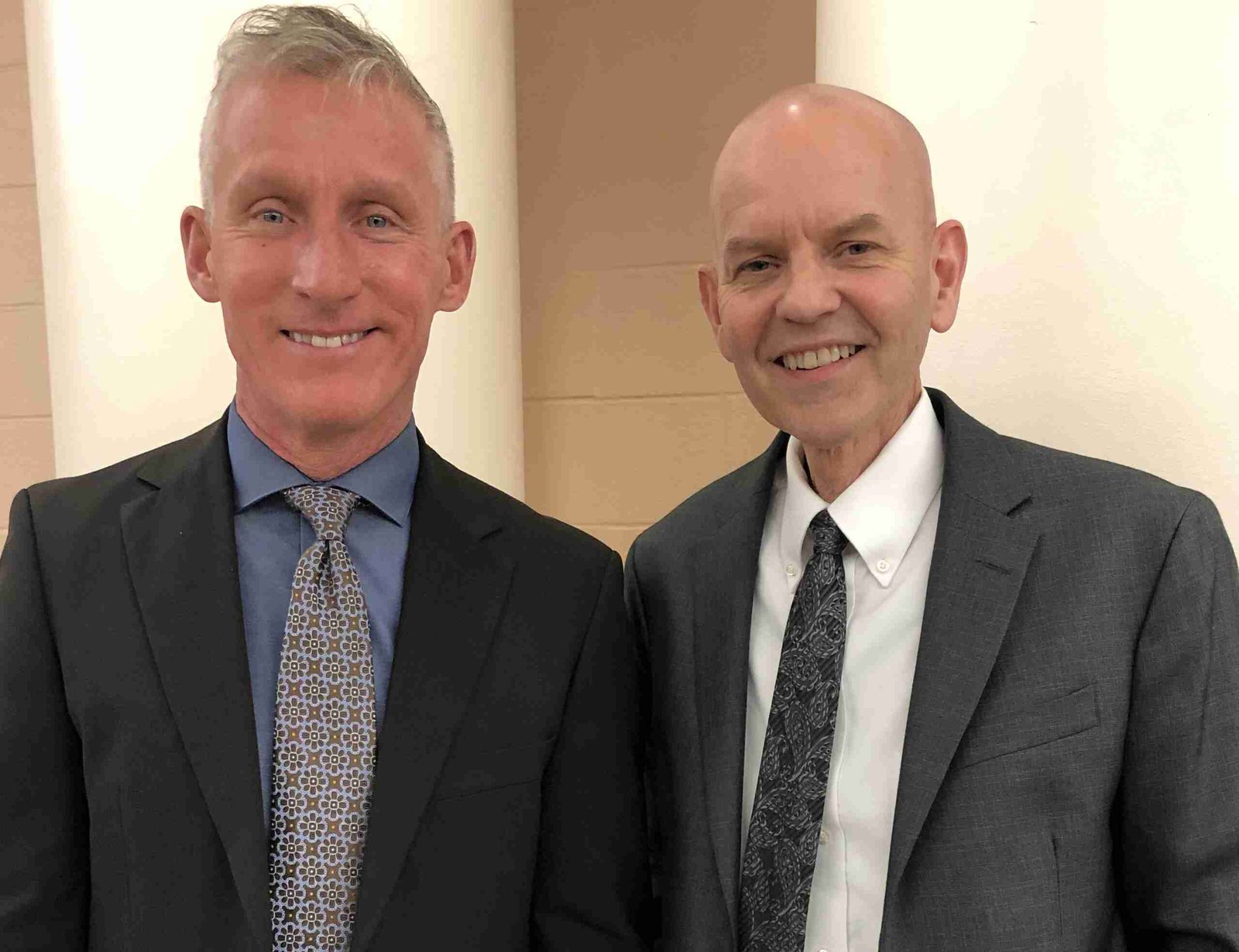 CPC BENEFIT … Director Mark Pitman and keynote speaker Mike Spencer took a moment for a picture following the powerfully thought-provoking meeting held for the Spring benefit, titled "Pro-Life and Unashamed." (PHOTO BY REBECCA MILLER, STAFF)
---
By: Rebecca Miller
Tuesday, April 26, 2022 found a couple hundred faithful supporters of Northwest Ohio Community Pregnancy Centers gathered at Archbold Highschool for the yearly fund raiser.
The large atrium/hall was lined with tables full of a wide variety of items for the Silent Auction. Down near the west end of the hall were smaller tables loaded with elegant displays of delectable finger foods from breads and spreads, to mini cakes and cookies.
Those in attendance filled little plates with treats and wandered the atrium, signing up for the things they would like to purchase.
All the while, quiet live background piano music was being played. It was a lovely, friendly setting, with folks stopping to visit with others and catch up on each other's news.
Around 7 p.m., those in attendance were welcomed to find a seat in the auditorium for the official gathering. Dr. Timothy Hogan, Board Chair, welcomed everyone and opened in prayer. CPC overview was given by Executive Director Mark Pitman.
2021 At a Glance: 605 distinct clients; 27 Bella Alerts were sent; 364 pregnancy tests administered; 248 STD tests, 2,619 visits to the Material Assistance Rooms; 10% more services provided to clients in 2021 than in 202; 249 ultrasounds (All FREE); 1,232 spiritual discussions; and 129 births.
80% of the funds that support CPC come from individual donors; 7% from businesses and organizations; 3% from grants and foundations; and 11% from churches and church groups.
Pitman is passionate about CPC and the work that is done by all the volunteers, board and staff. He welcomed Nurse manager, Julie Hagen to the stage to share two clinic stories. Hagen spoke of two women who have been affected by the "abortion pill" which is now available.
She shared how both of them were traumatized by finding a perfectly formed tiny baby, 8 weeks old, when it was forced out by the contractions the second pill causes, as it is a two-pill treatment.
A video was also shown with nurses Lori Yoder, Julie Hageman, volunteer Brenda Oyer and Project Respect Director Levi Suffel, giving reports of how the ministry is affecting the community in so many great ways. A young woman also spoke about how CPC has helped her to become a better mother.
The Keynote Speaker for the evening was Mike Spencer from Celina, Ohio, who has a ministry of traveling to speak, against abortion and for life, all over the United States.
Spencer spoke with fervor, knowledge and wisdom about this topic which is uppermost in his heart. He not only shared facts about abortion and its' horrors, but strongly admonished all believers and followers of Christ to fight against it.
"It is not enough to believe it is wrong and that it is murder. One must speak out and do something about what you believe," Spencer said. He exhorted pastors to preach it from their pulpits.
"Pastors, speak up for the unborn! Don't be a silent shepherd! Be faithful to the gospel. Where are the Daniels, the Elijahs and the Esthers? Pastors must light their pulpits on fire to speak out against this evil!!"
Other profound thoughts he said included, "When we are silent, we are saying to our culture that either abortion is not so bad or the gospel is not so good."
"It is criminal that precious unborn children cannot find safety in the church today. We should all be praying for the unborn." Spencer said that he is proud of the counselors at CPC who are breaking that silence.
One last thing he addressed is the accusation that Christians who speak against abortion are "not pro-life, but are just pro birth".
He clarified this by explaining that many believe that pro-lifers just want to save the baby but don't care about it's life after it is born.
"Nothing is further from the truth," Spencer said. Many churches as well as the CPC and other organizations are rising up to do everything they can to help to make the quality of life good for the children whose parents choose not to abort them.
CPC does not minister only before birth, but during and after as well, providing mothers and couples with excellent counseling and provisions to make life better.
"Nobody does tolerance better than the body of Christ!" The church exercises its "profound power of the gospel influence in the battle for life in the community."
It involves loving your neighbor, ministering with love to those who have had an abortion, being there for the hurting and guiding people as they struggle with decisions.
Spencer said that he had asked for permission to be the one who invited all present to fill out the giving envelopes. He asked everyone there to go further than they had planned to give, that this great ministry might continue.
Board Member, Jason Demland, closed the meeting in prayer and bidders gathered the items to take home, which they had won with the highest bid.
Spencer chatted with any who stopped by his book table to purchase his book and get his autograph.
Rebecca can be reached at rebecca@thevillagereporter.com
---