---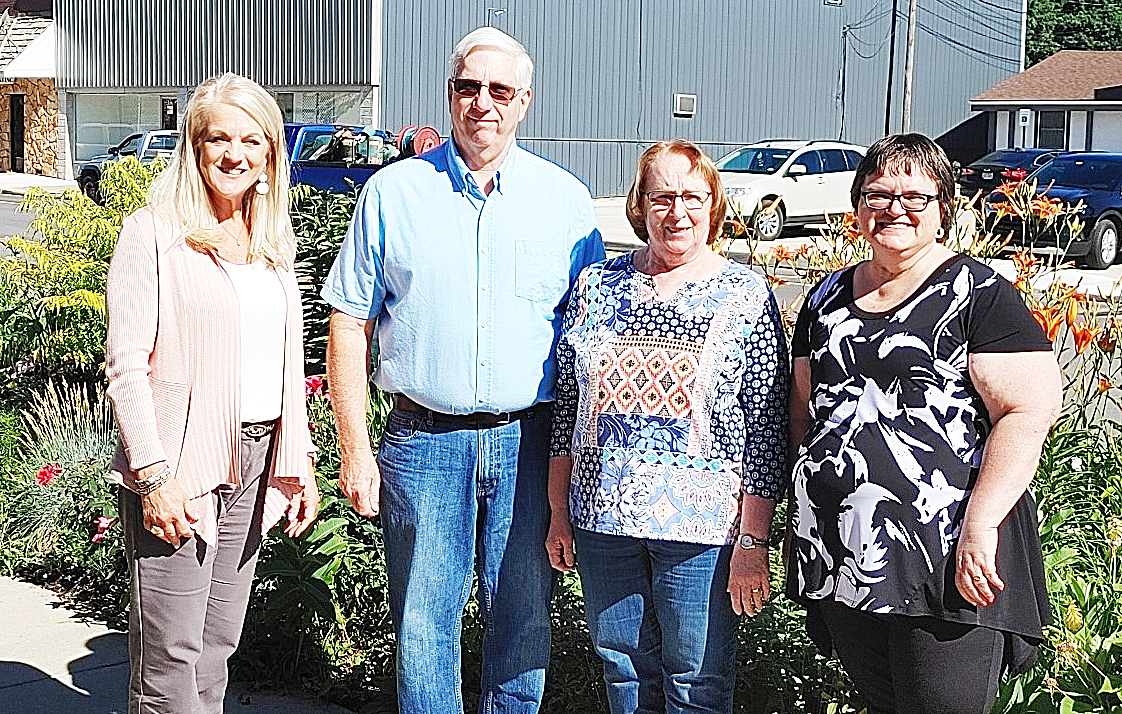 CITIZENS OF THE YEAR … Pictured are recipients Steve and Teresa Shelt in the middle along with Chamber President Candy Baird, Delta Public Library (Right) and Vice-President Elizabeth Reynolds, First Fed Delta (Left). (PHOTO PROVIDED)
---
(PRESS RELEASE) The Delta Area Chamber of Commerce is thrilled to announce the 2022 Citizens of the year, Steve and Teresa Shelt.
Each year the Delta Area Chamber of Commerce accepts nominations from the community for the Citizen of the Year. Nominees demonstrate outstanding community commitment, impact and/or leadership.
Steve and Teresa Shelt grow up in Delta as neighbors. They attended Delta schools and while in high school, served as class officers. Steve's first job was delivering milk and ice cream treats with Pine Tree Dairy. Teresa worked at the A&W restaurant which was on the East part of town.
Teresa later worked many years with Fulton County Health Center in Cardiac Rehab. Steve retired from Sun Oil Company as an Environmental Engineer.
They enjoy and celebrate small town living by biking around town, walking the Wabash Cannonball Trail and attending various sporting events.
Steve and Teresa show others what's great about Delta and show the community what pride really is by showing up and giving back. Throughout the past 50 years Steve and Teresa have been very active in the Delta Community.
Along with their active involvement with the Delta American Legion and Delta United Methodist Church, they enjoy the Delta Chicken Fest.
They have volunteered and led various stations including the Hamburger Stand, Chicken Dinners, Big 6 Wheel and Bingo.
Helping out with area events like the Delta Chamber's Dancin' in the Street and Apple Dumpling Festival.
Remembering how important it is to connect to your past, they have organized reunions for both of their graduation classes.
Their love for Pike Delta York continues today with owning and maintaining the building that houses the current preschool.
Teresa has helped with PDY athletic departments physical and serving lunches in the summer with Open Door of Delta. She has been a troop leader for Girl Scouts and led classes for babysitting at the Delta Public Library.
Steve has been a troop leader for the boy scouts, serves on the board of the Delta Public Library and multiple leadership positions with Delta United Methodist Church.
Steve has offered financial guidance to community members, transports community members to doctor's appointments and AA meetings, helps with yard work, and is there when someone is in need.
They love the people, businesses, organizations and schools, along with everything Delta has to offer!
"My mom is excited to be in the parade! I hope that at the 2022 Chicken Festival Parade the community will cheer on my parents as Delta Citizen of the Year, just as they have sat together on Wood Street cheering on the parade for many years", said Kelly Grattan, daughter of Steve and Teresa.
She stated every year there are about 30 members of Steve and Teresa's family gathering for the Chicken Fest parade.
---