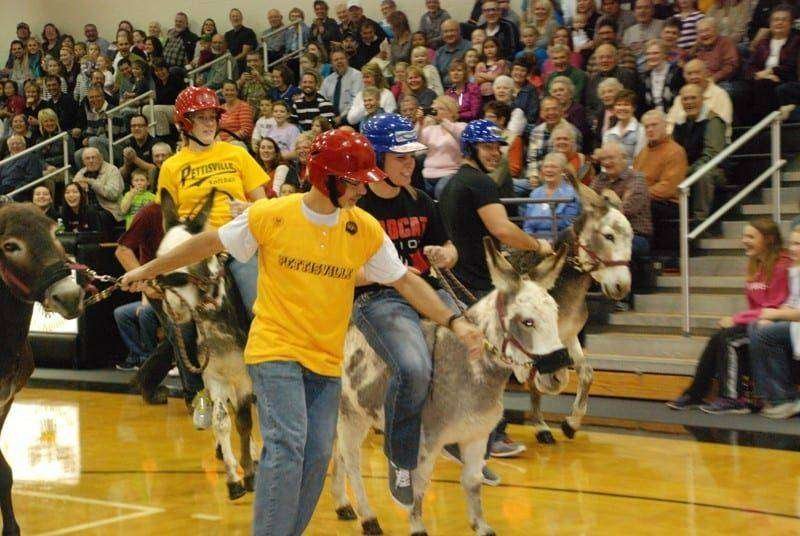 As a fund raising favorite, the Pettisville Blackbirds ladies basketball team sold over 550 tickets to watch local favorites brave the basketball court on the backs of feisty donkeys. As the game between the orange, gold, black and white teams carried on, so did their 4-legged friends.
The evening was hosted by Buckeye Donkey Ball Llc. from Mt. Sterling, Ohio.
Team members consisted of Coach Greg Nafziger, special education teacher Sarah Frankenfield, 30-year bus driver Diane Nafziger, Pastor Jeff Kauffman, of Zion Mennonite Church, school secretary Christi Miller, Pettisville alumni Tim Klopfenstein, Pastor Kent Norr of Pettisville Missionary Church, "Lunch Lady Band", accounts receivable Natalie King, Pastor Trey Sonnenberg of Archbold Evangelical Church, Feed Mill man Ryan Wyse, Mr. Architect Rick Graber, Tyler Roth, co-owner of RD Custom Apparel, "broke-college student" Brady Avina, student Kaitlin Nofziger, teachers aide Mary Sauder, teacher Jim Hoops, teacher Shannon Borton, teacher Lacee Lovins, Pastor Jess Engle of West Clinton Mennonite Church, teacher Barb Stuckey, teacher Lisa Aeschliman, teacher Jason Mansfield, bus driver Tammy Burkholder, Phil King, Marketing Coordinator at Rupp Seeds, Justin Rufenacht of Tri-Flo Propane and Fertilizer, teacher Kendra Stahl, Coach Scott Rupp, "poor college student" Kayla King, school board member Chris Lee and Ashlyn Bontrager, special needs caregiver.
As the game commenced, the announcer of Buckeye Donkey Ball Llc. asked the audience to "help" the players by being rowdy. Loud cheers "help" the donkeys: either for the players, or against them. Little did the players know, the announcer did little to help the players achieve their goal. But, it did make for some fantastic water cooler talk at work the next day!
Some players had a hard time staying on their respective donkey as it seemed that not all of the donkeys wanted to play. Some slid off their back sides, a few were bowed off of the tops of their heads, some simply just could not stay on. And a few just didn't try to brave the ride. Either way, fun was had by all, whether at their expense or just plain comical relief by the donkeys that seemed to have their job down to a science.
With every folly of the basketball pass, with every roar of laughter from the crowd, the event was a supreme success.