---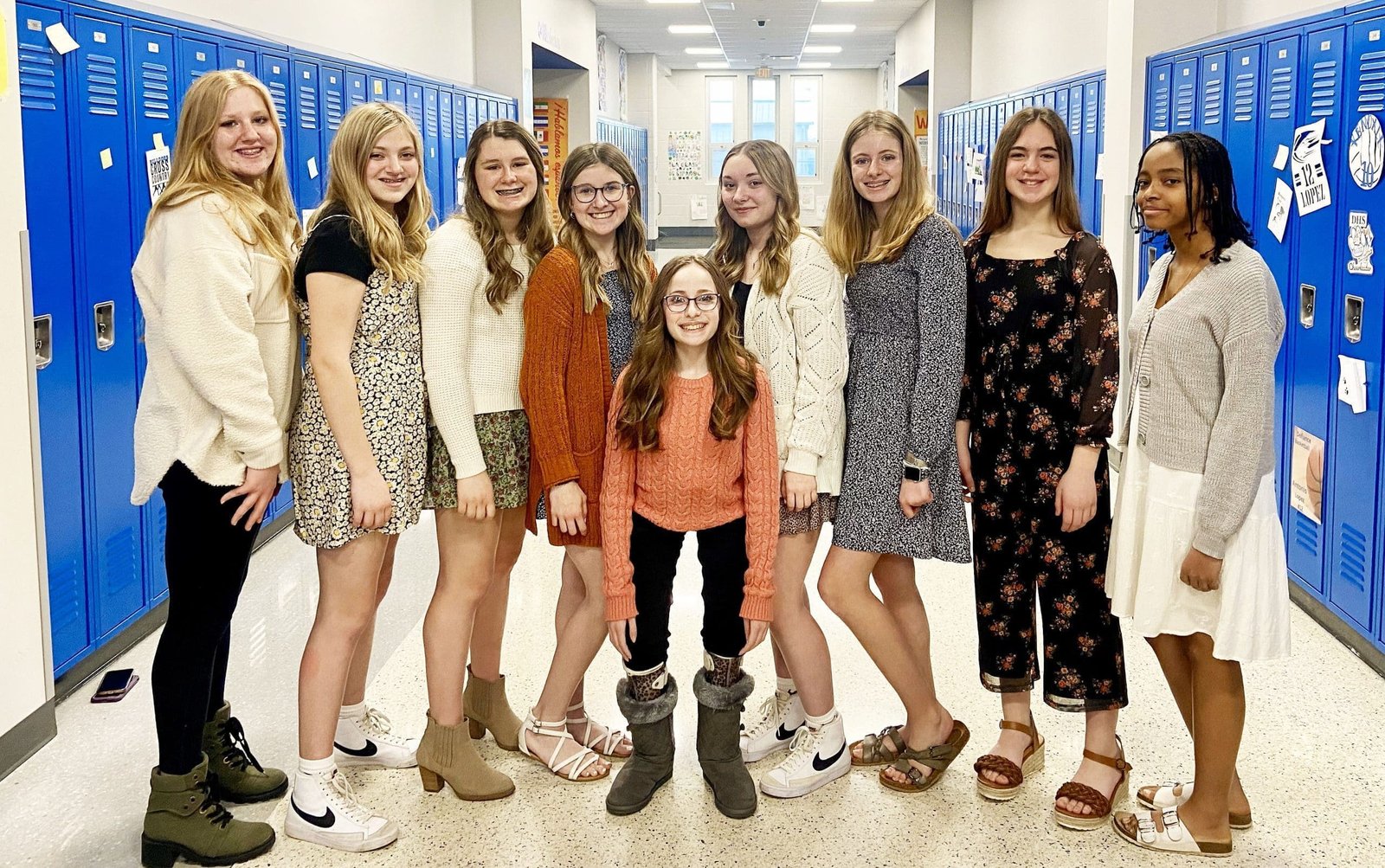 EDON JUNIOR HIGH WOMAN'S ENSEMBLE … The Edon Women's Ensemble earned the highest rating of Superior (I) at the annual OMEA District I Junior High Solo and Ensemble Contest held Saturday, April 1, 2023 at Defiance High School. Performing the vocal selection "The Breeze and the Birdsong"  were, from left: Lexie Hay, Riley Hay, Kyla Rummel, Avyonna Hamrick, Natalie Siebenaler, Lillie Collins, Mia Hawkins, Abby Juhasz, and Calaine Ximines. (PHOTO PROVIDED)
---
The Edon Music Department participated in the Ohio Music Education Associations Junior High School Solo and Ensemble Contest held Saturday, April 1. 2023 at Defiance High School.
Over the past months, band and choir students diligently prepared their musical selections to perform before contest adjudicators throughout the day-long event.
Students are under the instruction of Cathy Frastaci, Choir Director and Sarah Kipfer, Band Director.  Assisting them in preparing the musicians as well as accompanying them at the contest were Trish Tingley, Nancy Gallehue and Melody Nofziger.
Results for Edon musicians are as follows:
Superior Rating (I) – Solo Performances
Zoe Favourite- Alto Sax
Isaiah Green- Baritone
Mia Hawkins –Clarinet
Abby Juhasz – Voice
Lilyann McBride – Piano
Cayden Thiel – Voice
Kara Wiegand- Voice
Superior Rating (I)- Ensemble Performances
Flute Quartet –Lexi Hay, Rylee Randall, Alysa Smith, Becca Waters
Woodwind Duet- Abby Juhasz, Chloe Owens
Trumpet Duet  – Peyton Robinett, Adam Wicker
Edon Women's Ensemble – Lillie Collins, Avyonna Hamrick, Mia Hawkins, Lexie Hay, Riley Hay, Abby Juhasz, Kyla Rummel, Natalie Siebenaler, Calaine Ximines
Edon Singers –Bailey Harding, Mia Hawkins, Abby Juhasz, Lila Oberlin, Autumn Owens, Chloe Owens, Annalynn Duckson Rochenbaugh-Groh, Dillon Slone, Cayden Thiel, Becca Waters, Skyler Whitney, Kara Wiegand
Excellent Rating (II) – Solo Performances
Mia Hawkins –Voice
Bailey Harding-Voice
Autumn Owens-Voice
Annalynn Duckson, Rochenbaugh-Groh – Voice
Dillon Slone – Voice
Becca Waters  – Flute
Successful Festival – Solo Performances
Lila Oberlin – Voice
---