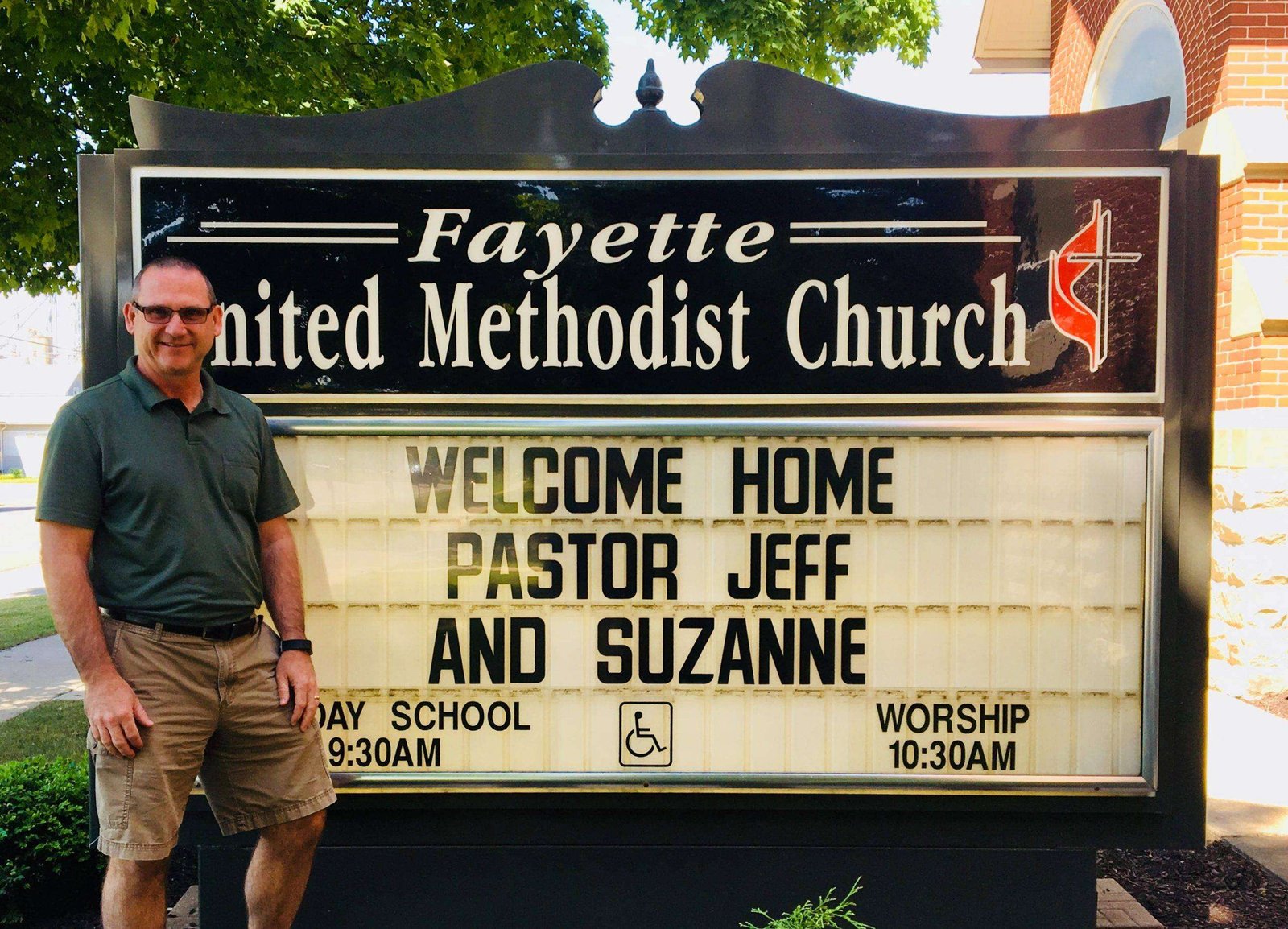 NEW TO THE COMMUNITY … Jeff and Suzanne Bandy began their ministry at Fayette United Methodist Church on July 1, 2018, one month after his Ordination as an Elder, and are happy to be here. (PHOTO BY REBECCA MILLER, STAFF)
---
(Story originally appeared July 11th, 2018)
By: Rebecca Miller
Joining the group of faithful folks who minister to those in the area is Fayette United Methodist Church's new pastor, Jeff Bandy. Bandy and his wife Suzanne hale from Circleville, Ohio and are feeling good about being placed here in Northwest Ohio for his first pastorate following his June 2018 Ordination as an Elder in the United Methodist Church. "It has been a long, 13 year journey since God called me to be a pastor," Bandy said, "but I am glad I hung in there and can now truly focus on the actual ministry."
Pastor Jeff was born to Sandy and James Bandy in Enon, Ohio in 1966 and grew up there, graduating from Greenon High School in 1984. He got his Electrical Engineering degree from Ohio University in Athens and began a 25 year career in that field. Following graduation from college, he met his wife and they were married in 1991. Suzanne spent her childhood in Circleville, where she was raised in the Methodist Church.
Jeff had been raised in the Catholic Church, but explained that when his parents divorced during his teens, he felt that his mother was abandoned and so he "quit any faith" at that time. "I was the youngest of three and the only one still at home during that time," he said, saying that it was a very hard experience.
Following their marriage, Jeff and Suzanne moved to Dayton as he had a position at Wright Air Force Base and began to attend a Presbyterian church at the invitation of her Aunt. When he got a job in Iowa City, Iowa they found another Presbyterian Church and attended there during those years. Both of their children, son Kale who is now 25 and daughter Kara who is 22, were born while they lived there.
When Kara was one year old they made the move to live in Suzanne's hometown and went to her childhood church home as well. "It was there where I really took ownership of my faith," Bandy said. "We grew in our faith together and as a young married couple, that was very powerful."
Suzanne got involved with the Children's Ministry and went to Seminary for her degree in Children and Family Ministry, eventually sensing a call into an Equipping Ministry. In this specific position she helped people find their giftings, talents and experiences that define how they can best minister as well. She stepped into a paid position around 2000 and has spent the last 18 years serving the church in this way.
During that time, Suzanne was experiencing a time of feeling worn out and attended a spiritual retreat weekend called Emmaus Walk. She came home inspired and renewed and encouraged Jeff to attend one also. In October of 2004 he went and the passage of scripture, James 1:22 ("But be doers of the Word, and not hearers only, deceiving yourselves.") kept convicting him, impressing itself on him. "I sensed God saying to me, 'I have something for you. Be listening,'" Bandy said.
A couple months later he was reading in I Timothy about the overseers of the church and sensed God speaking again, this time saying, "You need to be a pastor." In February or March he finally told his wife and she expressed that she was not surprised and agreed that he should pursue it. In May of 2005 he entered his candidacy for the position of Elder.
Bandy explained the hierarchy in the United Methodist Church: There is a Bishop over eight districts in the West Ohio Conference, which includes over 1000 churches and 900 appointments. Each District has a District Superintendent who is over approximately 150 churches. There are Elders, Local Pastors and Deacons who work in the local churches and Bandy felt led to apply for the position of Elder, as they are ordained and qualified for "Word, Order, Sacraments and Service."
Ashland Theological Seminary in Ashland, Ohio became his training ground for the next seven years, while working at American Electric Power, with very supportive bosses. While living in Ashland he and his family were very involved at Ashland First United Methodist Church.
In 2012 he graduated from Seminary but they chose to live there for two more years until their daughter graduated from High School.
During all that time, plus from 2014 to the present, while Bandy was pursuing the Call on his life, he did experience some moments when he questioned himself. "But every time that I questioned it, there would be some affirmation that kept me going," he recalled. The process of being approved was long and tough at times, but in 2016 he was affirmed by the Church Council and began his two year period as a provisional elder.
There were many opportunities for more training in specifics of church leadership, such as diversity and how to deal with conflict. There was lots of paperwork also and Bandy said with a smile, "I took 13 years to do this but even for those who do it 'quickly', it still takes 4 1/2 to 5 years! It feels good to finally have my Ordination."
As Jeff and Suzanne Bandy join the Fayette community, they are looking forward to getting to know people and to being involved. "My sense of the purpose of the church is to be relevant in the community," Pastor Bandy said. "We should bring hope and an impact. We want to be in relationship with the schools, local government, meeting needs, helping and looking for opportunities. We are not just passing through. We plan to be engaged."
Rebecca can be reached at publisher@thevillagereporter.com
---