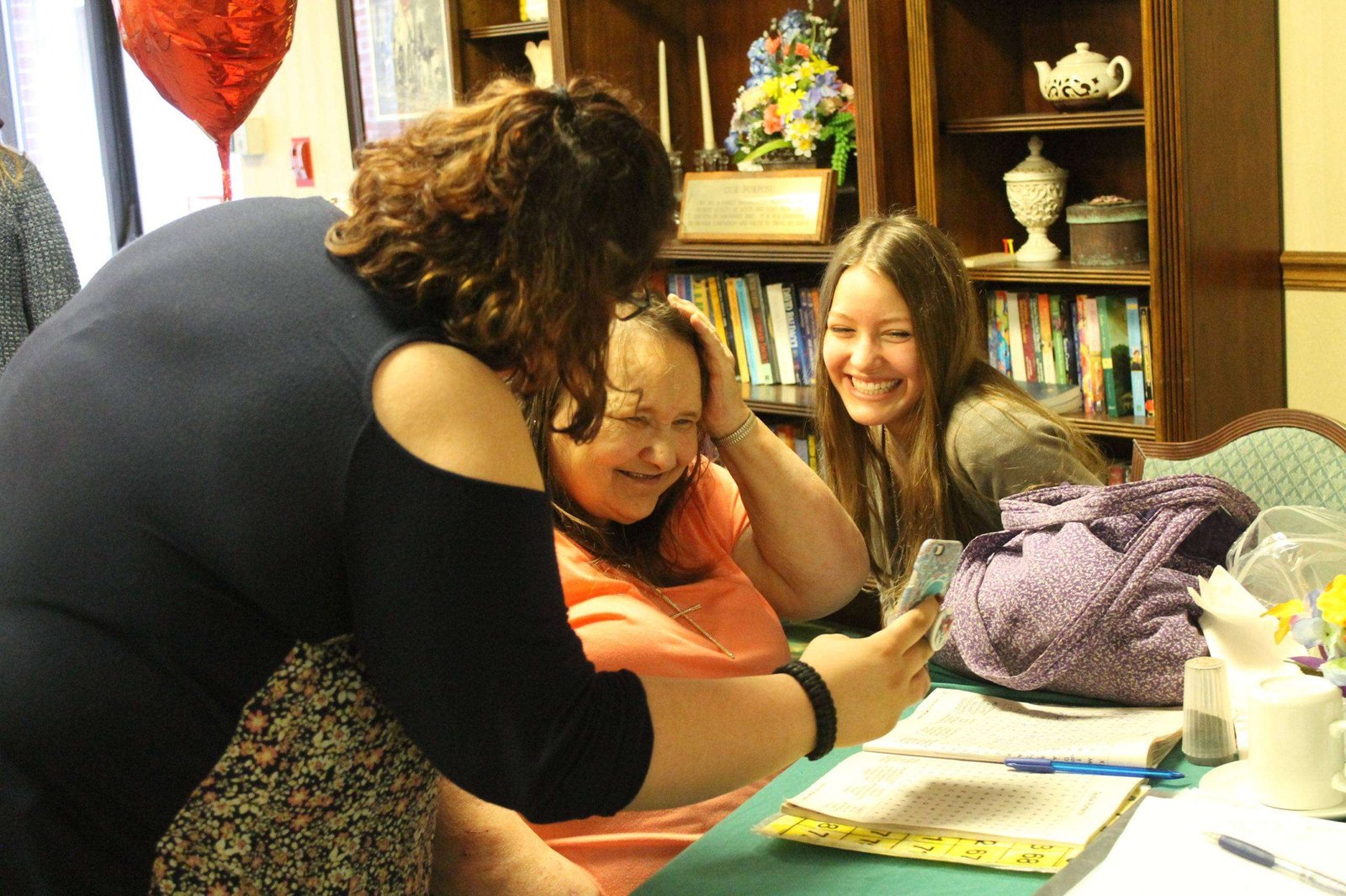 LEARNING LESSONS … Rebekah Liechty smiles while interviewing an assisted living home resident. (PHOTO BY CORY JOHNSON)
---
(Story originally appeared July 11th, 2018)
By: Cory Johnson
As Rebecca Dorosz prepared to teach her English 11 Honors course prior to the 2016-2017 school year at Pettisville High School, she decided to invest in a more real-world, and less cookie-cutter classroom, approach to discussing Realism.
The American Realism movement flourished through the mid-19th and early 20th century, depicting the way society really was in a post-Civil War, pre-Great Depression era. Writers such as Mark Twain, John Steinbeck, and Stephen Crane emerged as kings with a very tell-it-like-it-is, commonman writing style.
At the same time Dorosz was researching how to teach the unit in a way that engaged students past the textbook, she began following Brandon Stanton's Humans of New York series. For the past eight years, the photographer has chronicled the lives of New Yorkers and beyond- telling the stories of people from 20 different countries and gaining over 20 million followers on social media while archiving the stories into two best-selling books. Dorosz soon found herself hooked on stories of Syrian refugees.
"I thought about how much it was changing me reading the stories, and at the same time I was thinking through the Realism unit that we have and I thought 'Well, what does this say about Realism today?' It's not fictional, but it's the same way that realist writers wanted their audience to think about real life post-Civil War: 'What does it mean to be American? What does it mean to be a person?'," Dorosz said, "Can't we have that same conversation today?"
While her students analyzed the works of Mark Twain, they drew parallels with current topics such as race relations, immigration, and societal division- issues that seemed to be ripped from the headlines 150 years later. The class still craved a more live, first-person approach to Realism, though- and Dorosz had the perfect surprise in store.
Early one Monday morning, now in the project's second year, 22 groggy English 11 Honors students loaded up a bus to the Toledo area in pursuit of stories from two separate assisted living facilities. While the project was well-received in its first year and some soon to be interviewers were excited about the opportunity, a handful more were admittedly abrasive at how they would be received by the elderly residents, especially being part of the infamously doomed Millennial generation.
As soon as the students began asking questions from a list they previously prepared, they soon found that many of their subjects had been waiting to share their story for years. While some residents focused on their disdain for the available coffee, many more told stories of love and loss, fame and failures, and how to live a long, happy life.
One story touched junior Rebekah Liechty to her core. Her subject went through the unimaginable and chose to persevere: "When she was nine years old, one day she walked into the bathroom to find her mother had committed suicide. She couldn't remember anything before that in her life because that was such a pivotal moment."
"She stressed that you'll never know when you'll have to say good-bye to someone or which day will be your last. It was really amazing to me how she took that and made every day as special as she could," Liechty said.
After interviewing the residents, the students went back to class and wrote a narrative of the person's life just as they told it and from their subject's point of view. The end-product was a compilation of the profiles titled Life In Retrospect, offering unfiltered life advice from a declining population of wisdom-bearers.
One student captured the life of "Jim". The former alcoholic, Navy veteran, and born-again Christian immediately dismantled any of the students' fears of being misjudged or characterized as a teenager. An excerpt of his moving story read: "I am old now. You can't understand that until you get there, but let me say this, you are young now, living in a young body, and whether you know it or not, that is worth all the gold in the world and your whole future is ahead of you; and whether you know it or not, you will change the world for the better and there is no one else that God made that can change it. The government can't, science can't, education can't, but you can. So if somebody says you aren't worth anything you tell them that you are worth all the gold in California, cause kids, YOU ARE AMERICA!"
While the stories from the Humans of New York series impacted Dorosz, very few could have imagined the dramatic changes in the students. "I really noticed a change in their demeanor. They typically come back to class with a new focus," she said, "This year we could not have planned the day any better. It was a weekend that really focused on them- it was all about them for a weekend- and then we wrapped up that weekend with let's think about others."
"I noticed it really changed their perspective in a positive way. I think they can enjoy these moments [like Prom] and they can savor them. They should live their life, but understand that life is much bigger than what car you're driving or what you wear … I think it was good for students to remember that the world is much bigger, and if they have an opportunity to live a long life, it will be filled with not just joyful weekends."
While Dorosz would like to branch out in the type of interview subjects in the future, potentially including prison inmates, hospital patients, or immigrants, the project is only mutually beneficial to certain groups- providing memorable and important perspectives for students while giving the interviewees someone to hear them.
As student Morgan Leppelmeier learned, while many of the residents' memories were quickly fading, what they shared were the most important details in their history that stuck with them.
"I was just looking for someone to relate to; I think it was cool to see how they grew as a person and we are still growing. I had one lady whose husband got into a car accident and was in a coma and came out a completely different person."
"It was really cool to see that while it was really hard for her, she came back from that and stressed that we can go through things like that and get through it, too," Leppelmeier said.
Although students have since traded-in the halls of Pettisville High School for beaches, college visits, and employment over summer vacation, a group of 22 English 11 Honors alumni haven't quite left behind the lessons learned from the school year: as student Madelyn Krueger put it- "If you close your mouth and listen, you learn so much. It's hard for us as people to do that sometimes because we're so self-centered, but listening is so important,"- a valuable teaching not soon to be forgotten.
---