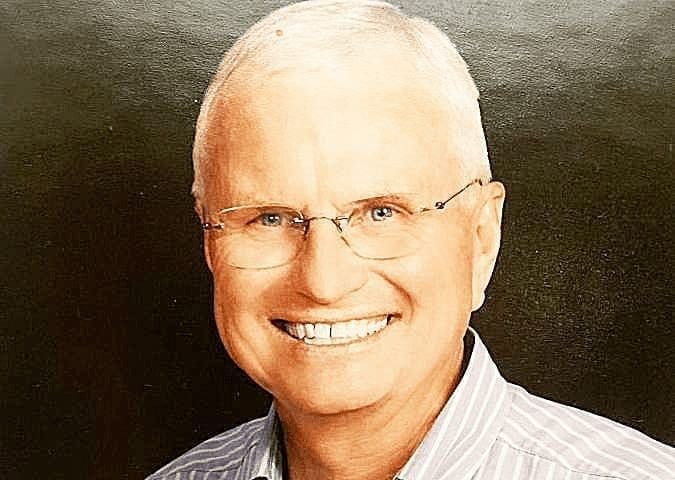 THAT INFECTIOUS SMILE … Hundreds of students benefited from the kind direction of Mr. Richard (Dick or Wally) Johnson as this smile was seen for many years in the Stryker High School Band room and in a great number of parades. Mr. Johnson passed away on November 1, 2022, but he will always be remembered. (PHOTO PROVIDED)
---
By: Rebecca Miller
Mr. Johnson's name will be connected with Stryker High School Band for many years to come, even though he retired years ago.
He was the backbone of an incredible marching band, regular band and other memorable instrumental groups such as Jazz Band and the Rube Band, in Stryker during the years of 1971 to 1979 and 1984 to 2000 when he retired.
The other thing he is most remembered for is his infectious smile. This thought, after his passing on November 1, 2022, was shared by not only his son, Stryker Schools Superintendent Nate Johnson, but by many of his former students who have shared their memories.
He is remembered as a firm but kind band director who expected and got the best from his students.
He believed in a band being loud enough to be heard, and students recall how surprised parade goers were by the sound intensity of the "The Big Brass Machine."
One of his students when he first arrived as Stryker's band director was Biz Strup Prichard.
Biz recalled when Mr. Johnson announced that he wanted everyone in the band to be in the marching band as well.
"Somehow, he dug up all of these trumpets for us to play. This was amazing for the ones that played clarinet, like I did."
"It was completely new. We made such an impact that year in the parades. People sat up and noticed!"
Biz continued, "Mr. Johnson opened up a whole new world for me, playing the french horn. He got me in contact with BGSU to take lessons there."
"He always had time for a student and would spend as much time as was needed. He encouraged my love of music and guided me to teach younger students the french horn."
"He was an integral part of me growing up and the absolutely best part of high school."
Some thoughts shared online included: "He strove for excellence and taught us to do the same. He was a wonderful teacher and he taught us much about life by his example….I am a better person for having been his student."
Jeff Storrer, also recalled the amazing band trips and said that when he graduated, Mr. Johnson gave him an atlas and told him to go see the world! Storrer said he has followed that advice.
"I was the Archbold HS band director from 1979 to 2002 and was always impressed with the quality job that Dick did with his Stryker Band. … he designed and built special tuba and baritone wall hanging compartments."
"I bought 8 of them for our band room which are still being used today. They were built so well that I fully expect them to be utilized for many more years to come", said Philip Hoverman.
"Thank you, Mr. Johnson for pouring into us. I speak for countless students whom you put up with for so many years to make us better people, because you cared enough to teach us excellence", commented Glenn W. Nofziger, SHS Class of 1996.
"He had a passion for excellence, a dedication to his students, and a great sense of humor."
Marc Grisier, SHS Class of 1976 also spoke of the long early rehearsals to prep for state of Ohio music contests, how it still makes him smile to remember people covering their ears along a parade route because of "the wall of sound that just hit them," and that the entire experience with Mr. Johnson was fun.
"Mr. Johnson taught me a lot, not only to love music but about life, how to deal with things and people….I would tell people about the trips we took as a band and they would think I went to a huge school", said Patrick Keller, SHS Class of 1999.
Parents and grandparents of children who had Mr. Johnson as their band director, remember well the inspirational influence that he had on their young ones.
Definite memory makers were the great band trips around the world. From Washington to NY, Florida to California, Hawaii to England, the students and their families will never forget them.
As well as being the band director from 1965 to 1971 at Hilltop High School and then with Stryker High School, Mr. Johnson was also co-owner of Woolace and Johnson's Inc. and those years from '71-'79 when he took a break from teaching music, were spent working hard in the family business.
In his eulogy of his dad, Nate Johnson shared that he taught his family "the value of hard work and serving the community as a tradesman."
He said that the memories they now cherish are of "handing dad tools, sweeping the shop floor, Christmas Eve service calls to help someone without heat, and the most fun of all – insulating crawl spaces."
Mr. Johnson, or Wally as many called him, loved fishing too and it was often a part of the family vacations.
Woodworking, boats, band directing, helping others and loving his family were all an outflow of the large character of this man with the "infections smile" and a kind word for everyone. Dick Johnson will be missed!
Rebecca may be reached at rebecca@thevillagereporter.com
---