---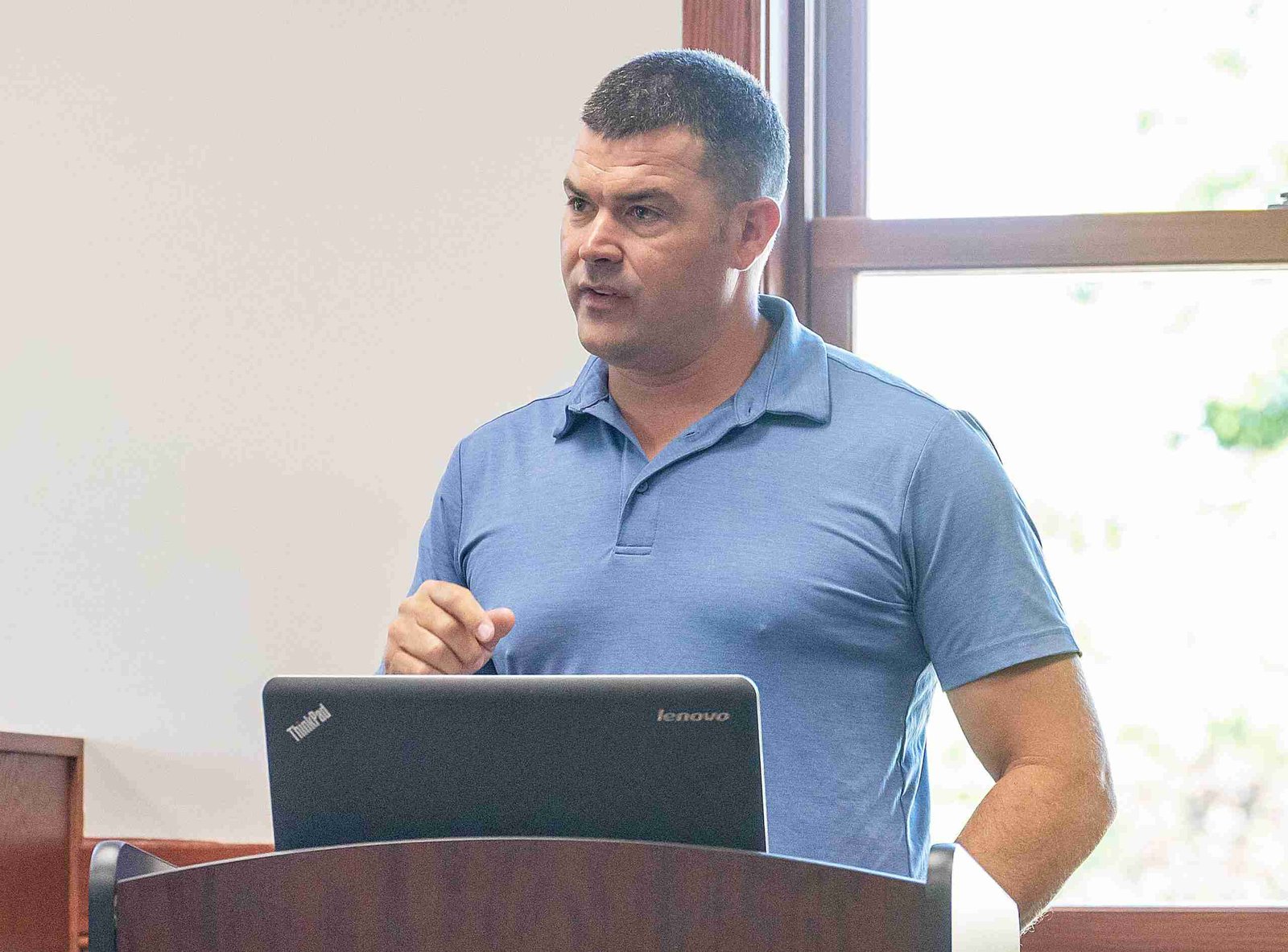 EMS COORDINATOR … EMS Coordinator Clayton O'Brien speaks to the Fulton County Commissioners in regard to his department update. (PHOTO BY JACOB KESSLER, STAFF)
---
By: Jacob Kessler
The Fulton County Commissioners held their first meeting of the week on Tuesday, June 21st. The meeting began at 9:00 a.m. with the Pledge of Allegiance and a prayer.
Commissioners first moved to approve the minutes from the June 14th meeting as well as the agenda and list of bills as presented.
Commissioners then reviewed a notice from the prosecutor regarding outside council. The following agenda items were then approved.
-Resolution 2022-430 for the increase and transfer of appropriations for various departments.
-Resolution 2022-431 to appoint members to the Regional Child Abuse & Neglect Prevention Council.
-Resolution 2022-432 to approve pay request #2 for Bryan Excavating for County Road H Sewer Project.
-Resolution 2022-433 to approve purchase orders and travel requests.
Commissioners then went into recess at 9:03 a.m. Upon returning at 9:15 a.m. Commissioners heard from JFS Assistant Director Amy Metz-Simon regarding a department update.
The annual family fun day took place on May 14th and saw over 600 people. The public assistance department will eventually begin an "unwinding" period. The State will notify the department when there is 60 left to reverify everyone on Medicaid to see if they still qualify.
It is believed by T.J that, once this happens, more people may re-enter the workforce due to many people no longer qualifying.
As of now, Fulton County has 20% of its population on Medicaid. The department is also fully staffed at the moment with plans to look for a part-time front desk receptionist.
Commissioners again entered into recess at 9:28 a.m. Upon their return at 9:32 a.m. Commissioners heard from Senior Center Director Sheri Rychener regarding a departmental update.
It was stated that at the end of May, 56,00 meals had been served with 887 seniors on the meal program.
Grab and go has been a big hit with 148 seniors using this option. Monthly grocery costs have seen an increase of between $2,000 to $3,000.
There may be a need to increase meal donations. Commissioner Jon Rupp stated that the Commissioners will get on that with their next agenda. The meeting was then adjourned at 9:41 a.m.
The second meeting of the week was held on Thursday, June 23rd. The meeting began at 9:00 a.m. with the Pledge of Allegiance and a prayer. Commissioners first moved to approve the minutes from the June 21st meeting as well as the current agenda.
A review then took place of the Engineers report for Annexation 2022-002 for the Village of Delta. Commissioners then considered a request for a meal donation increase for the Fulton County Senior Center.
With this consideration, Commissioners moved to create Resolution 2022-438 to approve an increase in the amount for meal donations for the Senior Center.
Resolution 2022-436 for the increase and transfer of appropriations was pulled due to there being nothing submitted for it. Resolution 2022-437 for the approval of purchase orders and travel requests was then approved.
Commissioners next heard a departmental update from Maintenance Supervisor Dave Lantz.
A project has begun in the Detwiler Building and work is progressing. CORSA insurance will be conducting an inspection of the courthouse soon.
Pressure washing work has started at the Airport and the beacon has stopped working. Insurance will be looked into for the beacon.
Next, a departmental update was given from EMS Coordinator Clayton O'Brien.
Mr. O'Brien stated that a lot has been going on since the recent contract started. This year's run volume (calls made for an ambulance) are more comparable to that of 2020 with 2021 seeing more calls at the same time last year than this year.
Changes to EMS billing numbers have been made with the amount being paid from people using ambulance services increasing.
This is mostly due to northern departments having more ALS service which is charged at a high-rate O'Brien explained.
Two new ambulances have come into service this year. The first one is located at the Central Station and the second one is located in Fayette.
The new Fayette truck has just gone into a trial service within the last week in order to get everyone trained on the new truck.
Right now, looking into purchasing new ambulances to continue current cycle will see a wait time of two years. There are two demo units which will be available next year which will help to ensure the cycles continuation.
There is an increased cost for ambulances at this time as well with each one costing around $300,000.
Commissioners agreed with the plan to not buy an ambulance this year, and to purchase the two new squads for next year. Discussions also took place regarding truck maintenance and supply chain issues.
With no further items to discuss from the agenda, Commissioners moved to adjourn at 9:39 a.m.
Jacob can be reached at jacob@thevillagereporter.com
---