---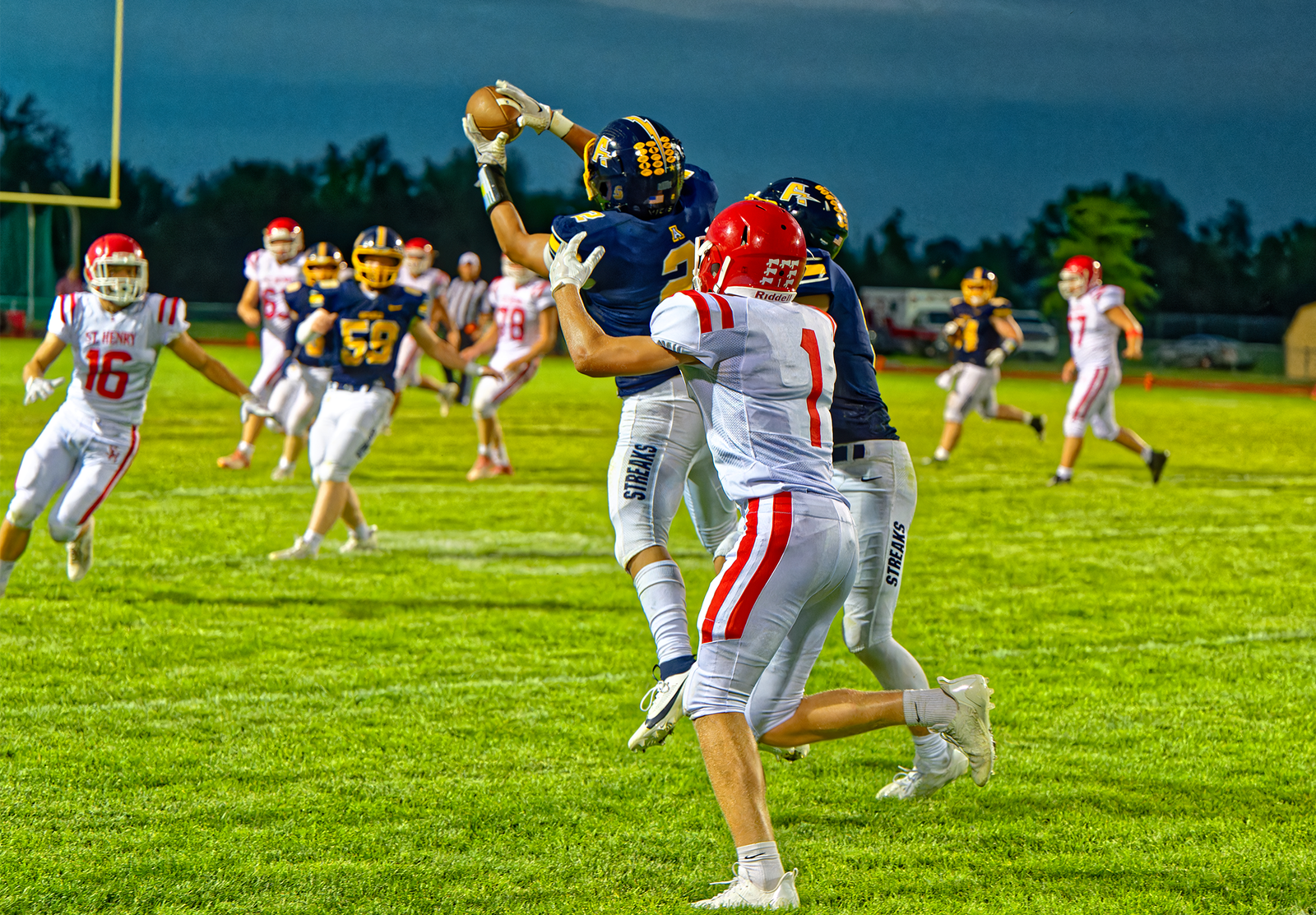 INTERCEPTION … Josiah Gomez picks off a pass for the Bluestreaks in a 29-0 win over St. Henry. (PHOTO BY JACOB KESSLER / THE VILLAGE REPORTER)
---
By: Daniel Cooley
ARCHBOLD (August 25, 2023) – The first two times St. Henry had the ball, they started their drives on the Archbold 29-yard line after an interception and then at the Archbold 27-yard line after a punt return.
But the Redskins were held scoreless both times. After that, the Redskins only crossed into Archbold territory once more, getting to the Archbold 40 in the second quarter. On that drive, St. Henry ended up punting.
Overall, St. Henry was held to 97 total yards, six first downs and suffered four interceptions. St. Henry quarterback Charlie Werling had just nine completions on 28 attempts, for 68 yards. The longest completion was a 31 yarder to Curtis Puthoff.
The next longest completion was nine yards to Hayden Boeckman, who caught six passes for 26 yards. Hayden Boeckman's completion was just for nine yards. Two of Werling's four interceptions led to 10 Archbold points, helping Archbold pull away to a 29-0 win.
Safety Stephen Diller had two of the four interceptions and caught six passes for 31 yards.
"Coach (Jack Downey), our defensive coordinator, coached us up all week about their offense and we knew we could get some interceptions and we got four," Diller said.
After throwing an interception on its first drive and punting the next two times, Archbold finally broke loose on a 60-yard touchdown run by Jack Hurst on third down and two yards to go, from its own 40.
Archbold scored again on their next drive, a long one, going 85 yards in 14 plays, to take a 13-0 lead at halftime.
Brodie Bailey caught a six-yard TD pass from quarterback Cade Brenner, to finish off the drive.
In the third quarter, after an interception from Josiah Gomez at the St. Henry 47, Archbold scored three plays later on Hurst's two-yard TD run. Hurst set up the score on a 24-yard run down to the two-yard line, on the previous play.
Diller's second interception then set up a 30-yard field goal by Lance Ramirez, to put Archbold in control, 23-0 after three quarters.
"Stopping St. Henry on their first two drives was big," said Archbold coach David Dominique. "Our defense answered the call and did it all night long. Our defensive line was able to put a lot of pressure on their quarterback and our defensive backs stepped up.
Stephen (Diller) is a heckuva player. He played free safety for us and was able to read the quarterback's eyes in making plays, so our offense could score points."
"It wasn't pretty football tonight, but a win's a win. And St. Henry's tough, they're well coached."
Next, after stopping St. Henry on downs from its own 47, Archbold scored five plays later on Hurst's eight-yard TD run, to put Archbold up, 29-0. Hurst finished with 73 yards rushing on seven carries.
Also, for Archbold, Brenner completed 16 of 22 passes for 161 yards. Lucas Dominique caught four passes for 49 yards and Josiah Gomez caught one pass for 31 yards.
UP NEXT: September 1st – Archbold (2-0) at Tinora (1-1) 7pm
SHHS       AHS
First Downs         6            13
Rushes-Yards  24-29      33-158
Passing Yards   68        176
Passing          9-29-4     17-25-1
Total Yards        97        334
Fumbles-Lost   1-0       0-0
Penalties-Yards  5-33     6-55
ST. HENRY    0 0 0 0 – 0
ARCHBOLD  7 6 10 6 – 29
A – Hurst 60-yard run (Ramirez kick)
A – Bailey 6-yard pass from Brenner (kick failed)
A – Hurst 2-yard run (Ramrez kick)
A – FG Ramirez 30yd
A – Hurst 8-yard run (kick failed)
Dan can be reached at publisher@thevillagereporter.com
---