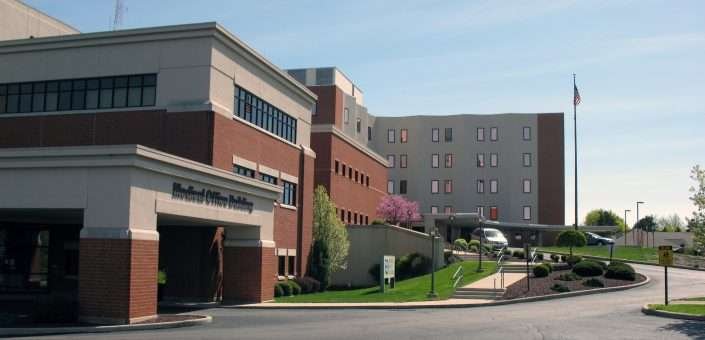 FULTON COUNTY … Pictured is the Fulton County Health Center located in Wauseon. The hospital has been experiencing tough times regarding nurse staffing and COVID increases. PHOTO PROVIDED)
---
By: Jacob Kessler
On September 23rd, Governor Mike DeWine gave an update on the state of COVID in Ohio. During that address he quoted Dr. Alan Rivera, M.D. who stated, "we are in a crisis mode."
This "crisis" is due to increasing COVID-19 numbers in the county as well as a shortage of nurses. Dr. Rivera stated that the hospitals current nursing staff "is down probably 50%. We have nurses leaving the field, retiring early, or finding jobs elsewhere because of the long hours and the emotional strain."
Steve McCoy, the Director of Market and Planning and the Public Information Officer at the Fulton County Health Center stated, "Most hospitals have been that way since the start of the pandemic."
Mr. McCoy went on to explain that the hospital has seen more than 50% to three times the activity that they were seeing previously. "As a health care organization in the past 2 months, we have seen a much higher increase.:
:We are seeing times now where our urgent care and ER is very busy. We are seeing our normal cases coming into the ER as well as more COVID cases and things like RSV which has symptoms very similar. The activity level is much higher than we would normally see," said Mr. McCoy.
The hospital is also worried about the coming winter when Flu season takes hold. "Experts are concerned that flu season will be very high. We had very few flu cases in Northwest Ohio last year, but now with increasing COVID numbers, and the flu which has symptoms that are very similar it is a concern," said Mr. McCoy.
Numerous discussions have been taking place regarding vaccinations and how well they work. Mr. McCoy explained that the hospital has seen some breakthrough infections but for most people it has not been an issue.
"Around 20 to 25 percent of our cases are showing as break through cases. But even with that being said, they are not getting as sick when compared to unvaccinated people. When you look at who is in the hospital and those that are dying, it is the unvaccinated," said Mr. McCoy.
Mr. McCoy went on to explain that the issues with staffing are a combination of COVID and retirements. Some have retired but many have been exhausted.
"Staff is tired, they have been dealing with heavy caseloads every day. It has been a different pace then what it used to be. We have also had some staff test positive. Some have gotten very very sick," said Mr. McCoy.
In addition to seeing a large increase in COVID patients being admitted into the hospital, a larger number of them are under the age of 19. Looking at numbers provided by the Fulton County Health Department, from September 1st to September 28th there have been a total of 694 confirmed cases in Fulton County.
Out of that, 157 are people aged from 0 to 19. In comparison, from September 1st to September 28th in 2020 there were a total of 124 cases with 18 of those being aged 0 to 19.
Mr. McCoy explained that they have been seeing more children come in than normal. "Pediatrics are getting sick. When they come in, they are transferred to a children's hospital in Toledo. Younger people have also been coming in with things like RSV lately and have been very sick with that as well."
According to the Fulton County Health Department, the age group in Fulton County with the highest percentage of hospitalizations currently is between 40 and 49 years old.
So far 98% of specimens sent in for sequencing in Ohio have been of the Delta Variant. Fulton County has not seen any difference in efficacy with the three available vaccines. 18,490 residents in Fulton County have completed their vaccination series out of a total population of 42,126.
The Director of Nursing at the Fulton County Health Center, Marissa L. Dopp, DNP, RN, says that prevention measures are needed now more than ever.
"We continue to see an alarming increase in cases and spread of the illness in Fulton County. Continued actions are necessary to limit the spread of disease in our homes, at work, and in the community."
"Those actions include, vaccination, respiratory protection (wear a mask) when indoors in public spaces (both vaccinated and unvaccinated due to high level of community transmission), stay home when you are ill, get tested if you are experiencing COVID-19 symptoms, isolate and quarantine when requested, wash hands often, sanitize high-touch surfaces, practice social distancing."
Currently, numbers in the State of Ohio are showing a possible plateau. While that may or may not be the case, Mr. McCoy explained that areas like ours have started this surge late, and it may last longer.
As time goes on, he explained, the Hospital will stand ready to continue to help the people of the community. "We hope that it does not get to a point like what we saw in Toledo where the hospitals had to go on EMS bypass. We are here to serve the community and will continue to do that," said Mr. McCoy.
Jacob can be reached at jacob@thevillagereporter.com
---