---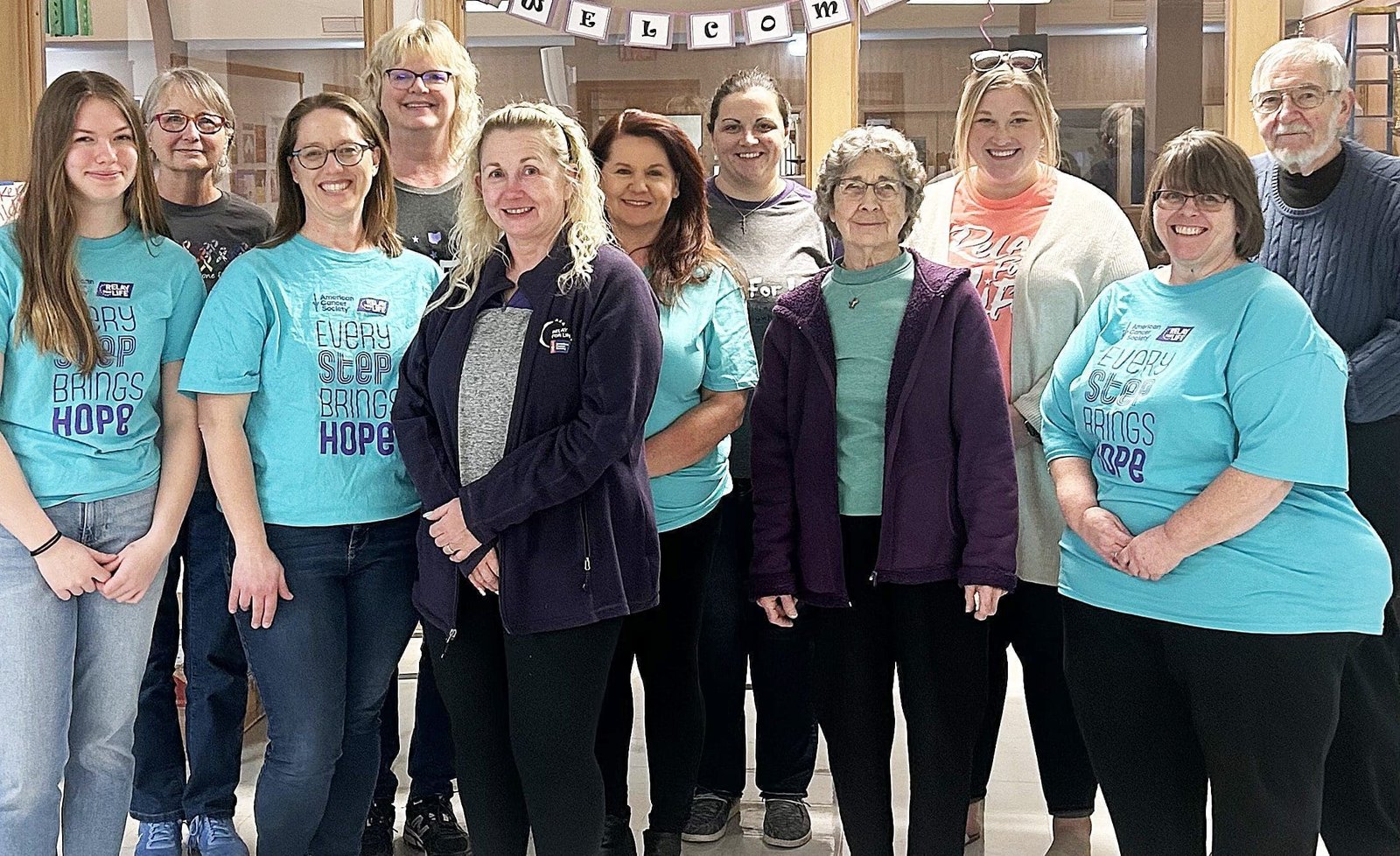 2023 FULTON COUNTY RELAY FOR LIFE COMMITTEE … Front Row L to R – Brynn Trumbull, Risa Trumbull, Christy Williams, Jennie Montoya, Elizabeth Yutzy, Becky Dickson. Back Row L to R – Judi Pike, Jane Patterson, Rachel Hildreth, Alli Schmitz, Lenny Breidenbach.
---
By: Amy Wendt
The Fulton County Relay for Life (FCRFL) geared up for its 2023 season with a kickoff at St. Caspar's Catholic Church in Wauseon on February 20.
According to event co-lead Risa Trumbull, this year the Fulton County relayers have a goal is to raise $65,000 for the American Cancer Society.
The theme for this 2023 is "One Hope.  Finding A Cure.  Fighting For All Cancers." Trumbull explained that their theme reflects that FCRFL helps all cancer patients, regardless of what type of cancer they have been diagnosed with.
As the American Cancer Society's most successful fundraiser and the organization's signature event, "the Relay For Life movement is dedicated to helping communities attack cancer."
"Through funds donated, time given, or awareness raised, our communities are teaming up – virtually or in-person – to make a difference," according to the RFL website.
The FCRFL Event will be held on Friday, June 9, 2023, from 4:30 pm to midnight at St. Caspar's Catholic Church in Wauseon.
The public is invited to attend the fun-filled evening featuring food trucks, games, fundraising raffles, and entertainment for the entire family.
At 6:00 pm, survivors and caregivers will be honored in a special recognition program. At dusk, luminaries dedicated to loved ones lost, patients currently battling, and survivors will be lit around the track during the Luminaria Ceremony.
If you would like to become involved with Fulton County Relay for Life, there are many ways to participate.
FCRFL will be holding additional informational meetings at Trinity Lutheran Church in Wauseon on Monday, April 17 at 7:00 pm and Monday, May 15 at 7:00 pm.
You may also reach out to the FCRFL Event Committee by sending an email to fultonrelay@gmail.com to request more information.
To sign up a team, volunteer, or donate online, visit www.relayforlife.org/fultoncounty.
If you or a loved one have been diagnosed with cancer, the American Cancer Society has many resources that can help.
You may call their cancer helpline at (800)227-2345 24 hours a day, 365 days a year.
Amy can be reached at amy@thevillagereporter.com
---