COLUMBUS, Ohio (Jan. 13, 2013) – Nine individuals from across Ohio were recognized for their outstanding support of local fairs during ceremonies at the 89th Ohio Fair Managers Association annual convention in Columbus, OH. Among them was Curtis Johnson from Fayette, Ohio for his service to the Fulton County Fair.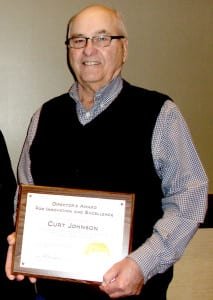 Curt Johnson's passion for the Fulton County Fair is evident to anyone who has ever come in contact with him. Curt served as a Director on the Fulton County Fair for 32 years, from 1981 thru the 2012 Fair. During his tenure, Curt continually looked for ways to improve the fair, increase efficiencies, and educate more people about our agricultural heritage and the important role agriculture has in our community and our nation.
One of his most visible marks on the Fair was the development of the yearly Agricultural Heritage Display, the first of which was in 2007, in honor of Fulton County Fair's 150th anniversary. Located in the southwest corner of the fairgrounds, exhibit themes varied from planting through harvesting, each encompassing over 100 items on display from hand-tools to modern-day machines.
Curt also looked forward to giving school children, including those from Toledo's central-city, tours of the fair. He enjoys educating children about agriculture and the origin of items found in the grocery store, starting with where milk comes from – children were able to experience a cow being milked.
Curt, a former dairyman, was instrumental in promoting dairy farming education by giving the Fair's milking parlor an accessible, prominent place, complete with a posted milking schedule, so fairgoers can be sure not to miss the action. Curt's other contributions to the fair include an antique tractor display which has well over 100 entries, a tractor maneuverability contest, the Junior Fair straw loading contest, and Curt's Kid's Corner box.
Curt Johnson and his enthusiasm for agriculture get the credit for involving a growing number of farmers in the Fair. He has encouraged them to bring their cows, display their tractors, and join the other friendly competitions at the fair. And, as a special bonus, over the years, Curt has produced his own professional-quality video of the Fair and the many displays as thank you gifts to those who have participated.
Curt started showing hogs at the Fulton County Fair when he was a young boy. He was involved in FFA and 4H, at an early age, and as an adult, he's a member of the Fayette UMC Church, Farm Bureau, a Farm Bureau Council and the Agricultural Society. He was also inducted into the Fulton County Agricultural Hall of Fame.
During his tenure as a director, he has come up with innovative solutions that include making bleachers mobile by installing casters and re-engineering current buildings for creating much-needed space. He looked at various aspects of the Fair for the sole purpose of improving accessibility and enjoyment by fairgoers. When there's work to be done at the fairgrounds, Curt was one of the first to jump in and help. In fact, while not officially on the Board, Curt answered the call at the 2013 Fair to help newer board members navigate all the responsibilities and tasks associated with preparing for the Fair, as well as pitching in during Fair Week. It's this kind of dedicated service and passionate commitment that enables the Fulton County Fair to continue to grow and improve. Curtis Johnson is the epitome of dedication, passion, and enthusiasm.
INFORMATION PROVIDED