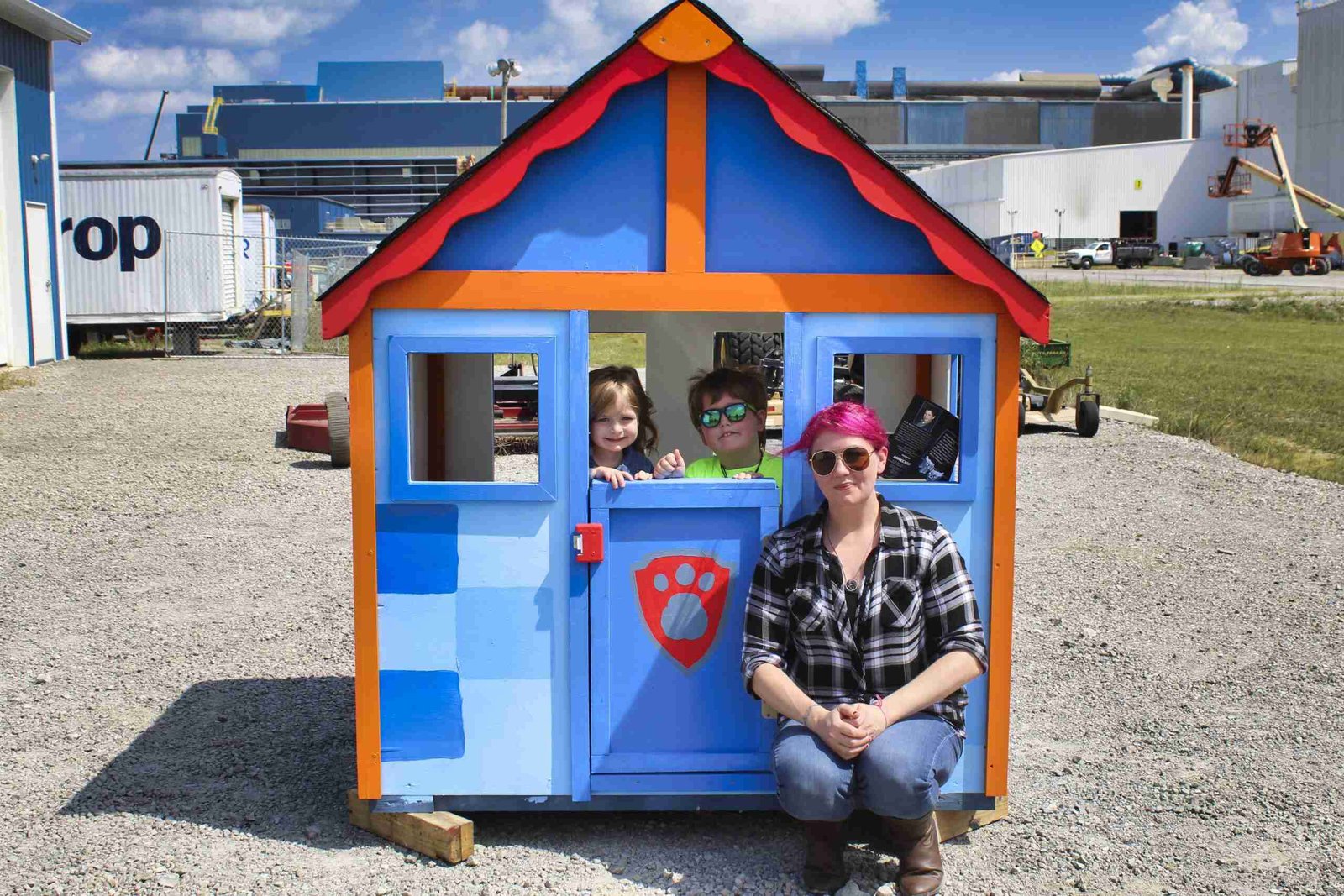 PLAYHOUSE … Danielle Helton and her children Grayson and Emmy Slone are excited to see their new playhouse. (PHOTOS BY JACOB KESSLER, STAFF)
---
By: Jacob Kessler
The Fulton County Habitat for Humanity, along with the Maumee Valley Habitat for Humanity out of Lucas County, teamed up with North Star BlueScope Steel to design, build, and donate a playhouse to a local family in Fulton County.
The project involved 18 volunteers with around half being from North Star and the other half being from the two Habitat for Humanity organizations.
Kirsten Fruchey is Head of the Community Relations Team at North Star and explained that the Habitat for Humanity organizations supplied all of the building materials for this project.
North Star personnel designed the house, and everyone pitched in when the time came to build it. "It is pretty amazing honestly, to know that this is going to a family that needs it and that there are going to be families out there that will get help from this and will get into a house that they may have not been able to have before."
"It warms your heart, and it will be great to see their faces when the time comes," said Kirsten.
The time to see their faces came and the joy that was visible on the children's faces was exactly what everyone was excited to see. Danielle Helton and her children Grayson and Emmy Slone came to North Star to pick up the playhouse.
The children immediately went into the house where they found some books and a few toys that were coming with their new playhouse. Danielle explained that this meant a lot to her and her children after a tough past few months.
"This makes me feel less alone. Their dad died at the end of May, and this has made me feel more connected with people and that we are not so alone," said Danielle.
Danielle and her family's story were shared to the Habitat for Humanity by a person involved in NOCAC. Danielle and her family were chosen for the new project to which Danielle stated she felt lucky.
The Maumee Valley Habitat for Humanity organization has been working on playhouse builds for community members for the past 3 years. North Star contacted Maumee Valley Habitat for Humanity and stated that they were interested in being a part of it.
Everyone saw an opportunity for the Fulton County branch to be able to start out and work on builds in Fulton County as well. A team was formed between the two Habitat for Humanity organizations in order to show the Fulton County branch how they conduct the builds so that they can continue to do them.
Both Habitat for Humanity organizations will be working with North Star on Thursday, August 26th to build and donate yet another playhouse to a family in need.
In addition to everything North Star does to help build and donate the playhouse, a donation was also made in the amount of $2,500 per house for a total of $5,000 thus far. Heidi Kern is the
Executive Director of Habitat for Humanity in Fulton County and explained that this is an important thing for the local area.
"Building small houses helps to show younger kids the importance of taking care of your home as well as having a safe home. It is a fund raiser ultimately for our full-sized home building projects, but it is also a friend raiser and helps with our community outreach," said Heidi.
At the end of a long day building the playhouse, a family received a much-needed gift and children's faces were filled with smiles.
Gestures of kindness in our communities are what keeps us all going. Whether the gesture is big or small, the end result is still happiness which is the most important thing of all.
For a family to no longer feel alone, shows just how much the community has stepped up to make sure that compassion and kindness won the day.
If you would like to donate or volunteer with Habitat for Humanity, you can go to their website at www.habitatfco.org and click on donate or volunteer up at the top.
Jacob can be reached at jacob@thevillagereporter.com
---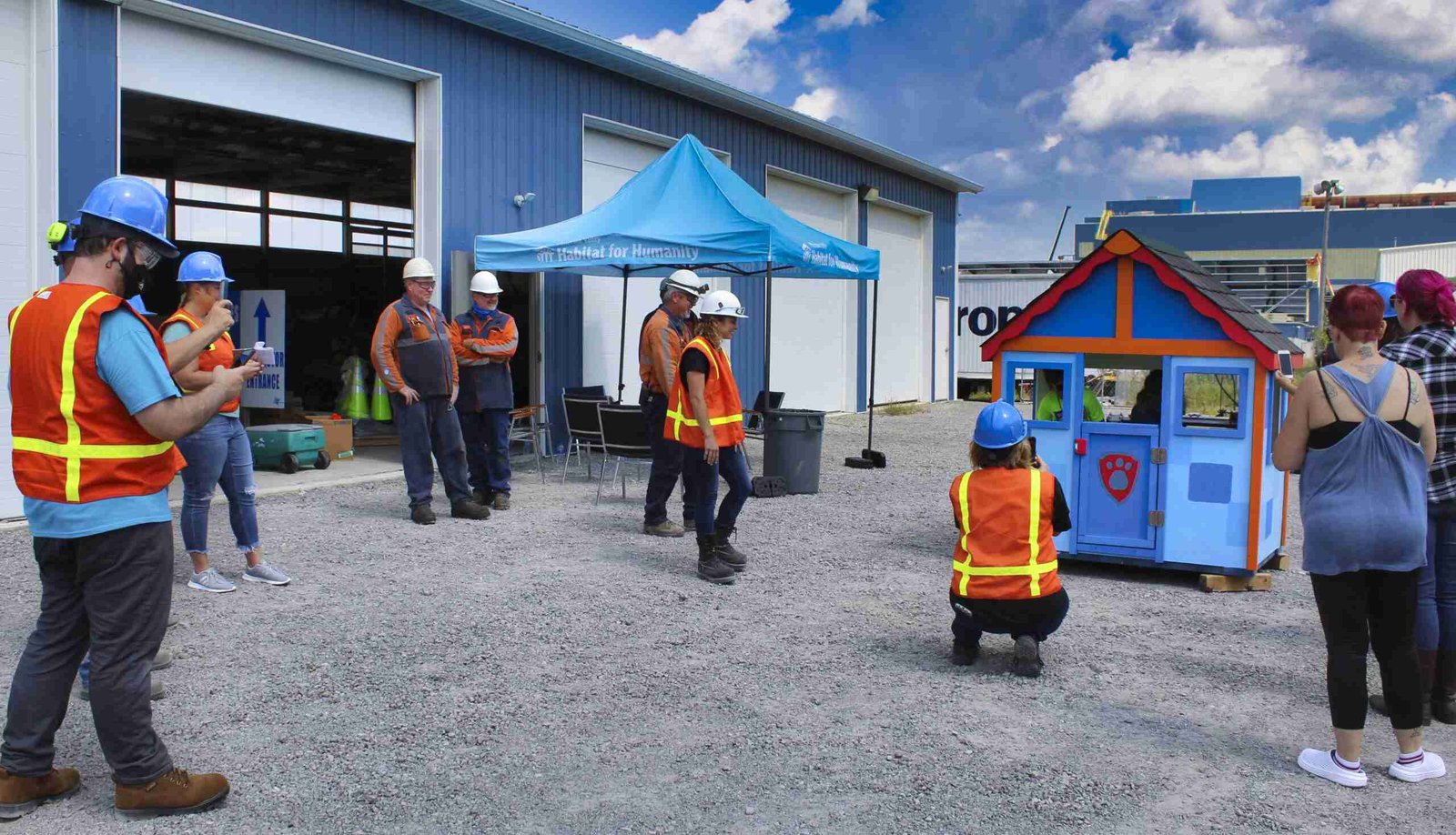 TEAM EFFORT … Members of the Habitat for Humanity organizations and North Star BlueScope Steel stand and watch as Grayson and Emmy Slone explore their new playhouse.
---