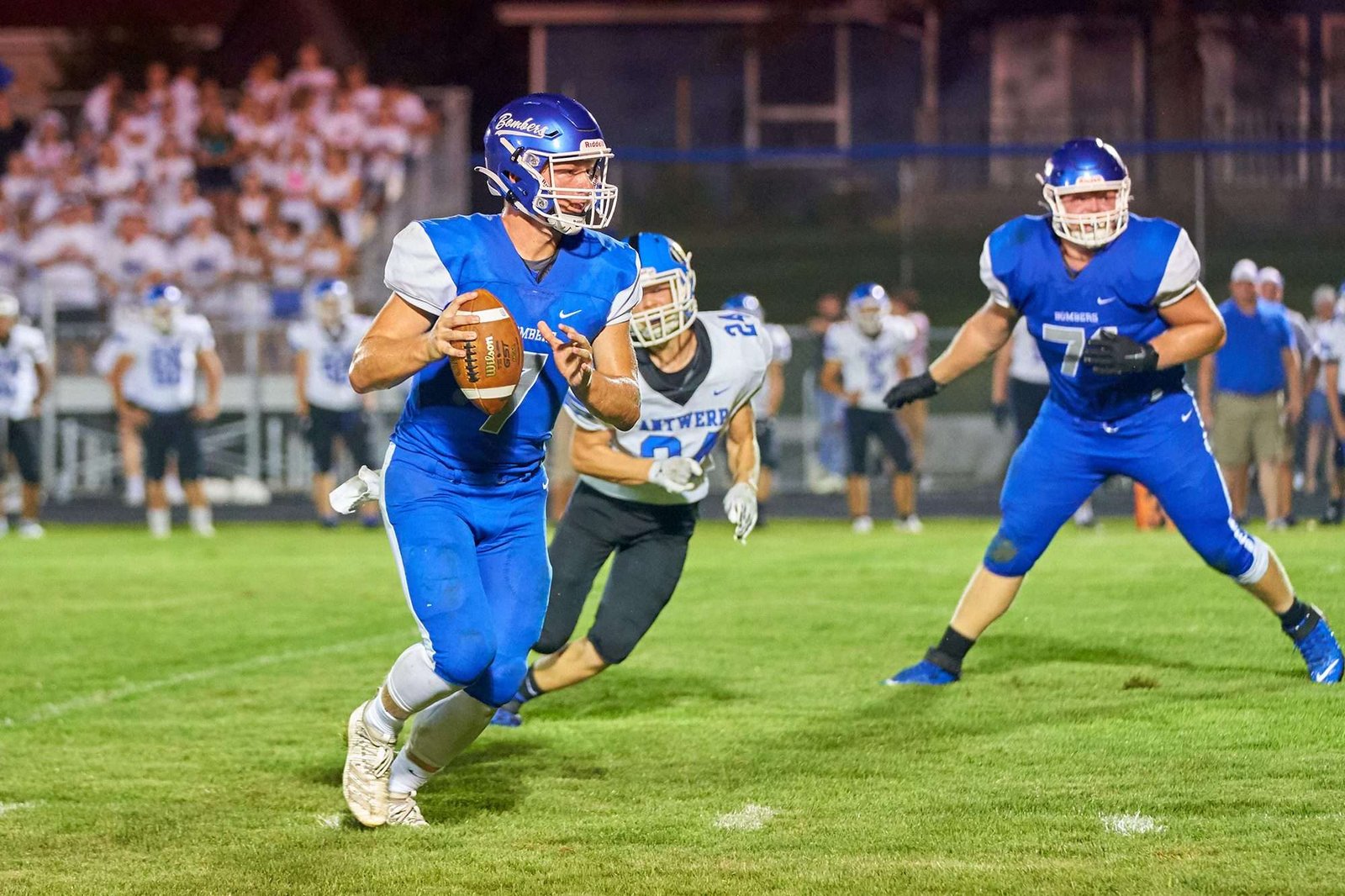 AIR RAID OFFENSE … Edon senior quarterback Drew Gallehue has guided Edon and their pass happy offense to a 4-1 start. Gallehue has completed 73% of his passes so far for 2,113 yards. (PHOTO BY RICH HARDING, STAFF)
---
By: Nate Calvin
Halfway through the 2021 regular season and the league races are becoming a bit clearer. Archbold and Patrick Henry are both 2-0 in the NWOAL and still must face each other. Bryan, Delta, Liberty Center, and Wauseon are all 1-1 with plenty of key contests yet to come, including two this week.
Tinora, Ayersville, and Edgerton are all undefeated in the GMC as Tinora and Ayersville square off this week. Edgerton finally was finally able to begin league play last week after their game the previous week with Ayersville was cancelled due to COVID.
The TAAC has been the hardest hit by COVID so far with Cardinal Stritch, Montpelier, and Northwood all having to cancel league games. So far, last week's Ottawa Hills-Hilltop game has been the only league game played.
GAMES TO WATCH:
Archbold (5-0) at Delta (3-2)
The Bluestreaks took a big step toward another league title with a convincing 41-7 win at home over Liberty Center. Archbold will face another run-oriented team in Delta, who runs a similar offense to the Tigers.
Delta looks to bounce back on their Homecoming night after a tough loss last week at Bryan. The Panthers had a 21-7 lead at halftime but were shutout in the second half as the Golden Bears rallied for the win.
Bryan (3-2) at Patrick Henry (4-1)
After a come from behind win last week, Bryan faces a road test as they head to Henry County to take on the Patriots.
The win over Delta evened Bryan's record at 1-1 in the league and was a big boost to their playoff chances in Division IV.
Patrick Henry is one of the surprise teams in the area so far has they enter the game with a record of 4-1, with their only loss coming to a very good Columbus Grove team.
The Patriots are in their first season of running a spread offense which has showcased the talents of receiver Landon Johnson and quarterback Nash Meyer.
Fort Loramie (2-3) at Edon (4-1)
The Bombers continue their string of quality non-league games as they host Fort Loramie on Homecoming night in Edon.
The Bombers offense has been as advertised led by Drew Gallehue who's completing 73% of his passes (129/177) for 2,113 yards, 33 TDs and four interceptions.
Gallehue has spread the ball around with Gannon Ripke leading the receivers with 34 catches for 672 yards and eight touchdowns followed by Hayden Dye (30 rec., 347yds, 4 TDs), Ethan Steinke (22 rec., 396yds, 6 TDs), and Caden Nester (21 rec. 430 yds, 6 TDs).
OTHER GAMES:
Fairview (1-4) at Edgerton (3-2)
Swanton (0-5) at Liberty Center (3-2)
Hilltop (0-5) at Northwood (1-2)
Fremont St. Joseph (0-3) at Montpelier (0-3)
Wauseon (3-2) at Evergreen (2-3)
Stryker (1-1) at Danbury (1-4)
Nate can be reached at publisher@thevillagereporter.com
---