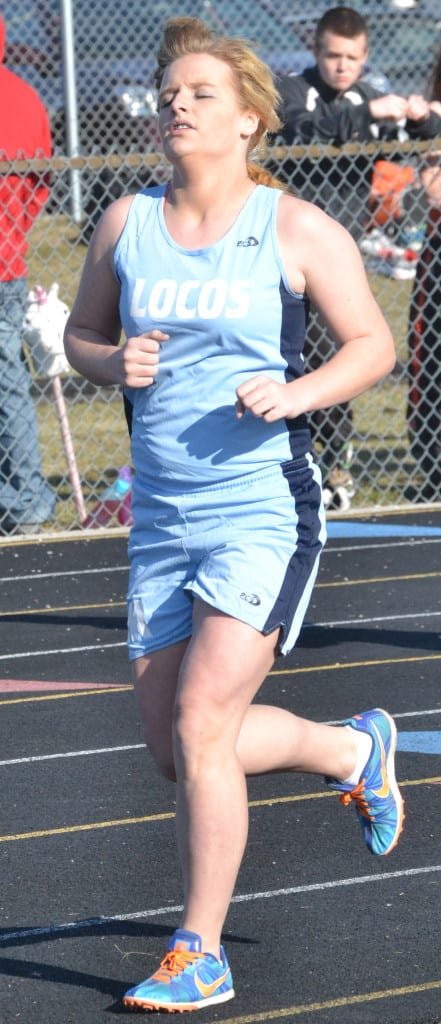 MONTPELIER – Track and field can be a little strange in the scoring department. You can have high-skill people, but your team loses if you cannot cover enough events. You can have low to medium skill athletes, and yet you can still contend for a team win if you can fill every event. The ladies of Liberty Center have both the skill personnel and the numbers, and on April 4, they unleashed them against the Pettisville Blackbirds and the Montpelier Locomotives.
[emember_protected custom_msg="Full content protected for online subscribers. Purchase a one week subscription from the top menu bar for just $1.99 to read all online content (full access). Longer subscription plans are also available. Subscriptions cover our costs to attend local events; bringing forth Hometown News Coverage to our communities."]
Liberty Center ran away with the tri-meet with comparative ease, racking up 113 points against Montpelier's second place 43 and Pettisville's third place 26.
The following Montpelier an Pettisville finishes were posted by event…
Discus
1st – Baylee Hageman – M – 104' 9"
Shot
1st – Baylee Hageman – M – 32' 0.5"
2nd – Brooke Waidelich – P – 30' 1"
High Jump
4th – Amber Loar – P – 4' 6"
Long Jump
4th – Kristen Burkhart – M – 13' 1.25"
Pole Vault
4th – Terryn Rupp – M – 8' 0"
4 x 800
1st – Pettisville – 11:30.9
2nd – Montpelier – 13:16.7
100 Dash
1st – Hope Scholma – M – 13.6
2nd – Ashley Gill – M – 14.0
4 x 200
2nd – Montpelier – 2:05.1
1600
1st – Alyssa Ramos – P – 6:32.7
4th – Kaley Adams – M – 7:02.5
4 x 100
2nd – Montpelier – 58.6
400
3rd – Graham – M – 1:24.8
4th – Jessica Earle – M – 1:27.3
300 Hurdles
4th – Steele – P – 1:03.3
800
2nd – Emily Eicher – P – 2:49.5
3rd – Alyssa Ramos – P – 2:52.6
4th – Hannah Jenkins – M – 3:12.7
200
1st – Hope Scholma – M – 28.1
3200
3rd – Carley Hoffmire – P – 14:34.6
4th – Kaley Adams – M – 15:57.5
4 x 400
1st – Pettisville – 5:09.4
2nd – Montpelier – 5:53.2[/emember_protected]