---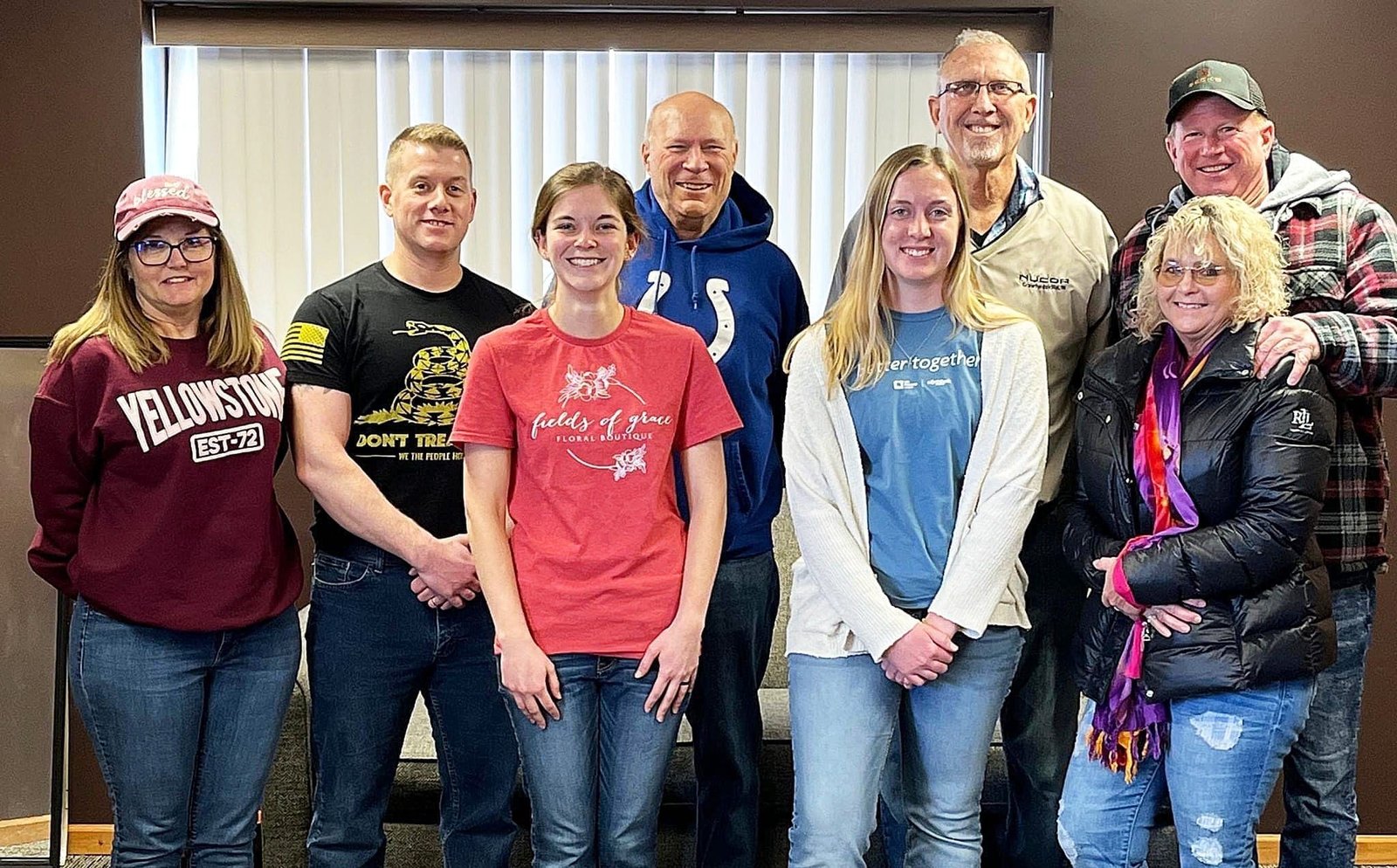 LLC FEBRUARY 2023 TEAM … In the back are the men who went on the LCC Dominican Republic mission trip, from left to right, Matt Gardner, Steve Mayer, Rick Stiver, and Mark Purk. The ladies who went were Angie Etchen Aleesha Wall, Allyson Fenicle, and Noreen Purk. (PHOTOS PROVIDED)
---
By: Rebecca Miller
Ever since 2016, Life Changing Church or LCC (formerly Life Changing Realities Fellowship – LCRF) in Edgerton (with second campus now in Angola, Indiana) has been sending Missions Teams to a specific village in the Dominican Republic (DR).
This all got started when some missionaries in Honduras were "chased out" by the equivalent of the mafia, who had demanded that they start paying for protection, LCC Cares Pastor Rick Stiver explained.
Instead of paying, they fled the country and went to a small village named Nigua, just outside of Santo Domingo, DR.
They had been building homes in Honduras so started to do the same in Nigua. LCRF/LCC got involved at that point in time and have been involved ever since.
Basically, Nigua is a former leper colony. There is still a large group of people there who did have leprosy and their families have been sent to the outskirts of Santo Domingo.
The electricity is spotty and life is hard, so those are the people for whom they build.
On February 3, 2023, the most recent LCC team left to start the building of the 11th house in Nigua built by this church.
Flying out of Detroit to JFK and then on to Santo Domingo, the group of eight led by Matt Gardner, jumped right in to their 8-day mission effort.
LCC Missions Pastor Nate Drown said that The Great Commission Church, with which they are connected, welcomed the new team and put them to work.
They stayed in homes and their hosts took care of feeding them well and keeping them from getting sick while there.
Stiver, who was on the team, said that during lunch time they would buy a sandwich, chips and a coke, but one of their favorite drinks was a frozen ice drink made with passion fruit called Chinolo.
Stiver also shared that since they have been going for so long and have been there so many times, they have built sweet relationships with many of the people in this little village.
Personally, this was his eighth time to go and he thinks of Dominican Republic as his second home. "Soon after we got there, while we were walking down a street," he recalled, "we rounded a corner and a group who knew us recognized us and threw their arms wide and with great big smiles shouted, "The gringos, the gringos!"
"We all hugged and rejoiced to see each other again, and the three new members of the team were surprised. 'Wow, you guys know everybody!' they said, and we all laughed."
Going to the same place strengthens old friendships and relationships that have been made over the years.
Being able to build relationships is one of the greatest benefits of choosing one specific place upon which to focus and really pouring their lives into it, Stiver said.
Life Changing Church's international focus is Nigua, Dominican Republic; regional focus is "Next Step Storm" in Birmingham, Alabama; and local focus is anyone who needs help, as they support local mission efforts and assist individuals and families.
The importance of building relationships has funneled them into having these specific ministries.
In Nigua, each house they build costs $8000 and is so important to LCC that it is in the church's budget.
This money pays for all the supplies and the local contractor, as well as the LCC mission trip team leader.
The rest, who go on the trips, are responsible to raise the $2000 that it takes to go and participate.
Everyone on each team has been given matching shirts and Stiver said that he is blessed by how those shirts help them get through the airport in Santo Domingo so quickly and easily, with very little questioning."
"They are known there as people who are wanted and are welcomed with smiles and a wave on through. The February 23 team shirts said, "Let Your Light Shine."
Each time they go, they either start a new house or finish the construction of one that has been started.
It is always a joy to see the completed homes and witness the smiles of the families who are living in them, Stiver said.
On this most recent trip, they got to see Big Ray's completed house, that was just a foundation and three walls when they left in 2022.
For the February 2023 effort, they tore down a house in order to build better one. It was what in America would be called a shack, but Stiver said that if there had been enough land available to build for this family, and they had left that house there, someone else would have been thrilled to move into it!
As they are short on available land to build, they tore it down. Everyone got involved as they dug a 10-foot-deep cistern for a septic system and began the laying of the new foundation.
The team was much bigger than just the eight of them, made up of the contractor and many residents of the area as well.
They mixed the mud (concrete) by hand and hauled it onto the site with wheelbarrows and buckets. It was hard work but a fun experience as well.
They dug trenches for the foundation, mixed and poured concrete, assembled the wood frame and enjoyed an ice cream break when the Ice Cream vendor came by.
"We bought him out with around 100 people getting an ice cream cone," Stiver said with a smile.
One day a couple free roaming cows walked right across the foundation area where they were working, bringing a laugh to the Americans.
Another day a news reporter rode up on his motorcycle and tearfully thanked them for all they do for the village.
When asked what they could do to help him, he said that some money for gas would be great, and they blessed him with an amount which in DR is a great deal. He rode away with a huge smile and more tears.
Building a new home is not the only thing they do while there. Before leaving they asked for donations from others and were able to take along around $4000 to give away, due to the great generosity.
"I am part of a men's group," Stiver said, "and I told them 'I'm going to Dominican Republic. I want your money. I'm going to give it away, and you get no credit.' They blessed me with $1300!"
Pastor Rick was the designated person who "had the blessed experience" of giving away the money. In the DR, $100 of American money translates to about 5500 Dominican Pesos.
While going around the village, they had a lady who was their translator and also led them to the homes of those in need, explaining the situation to the team.
The group would pray for the individuals and families, and then Rick, while giving them a hug would slip 6000 pesos into their hand.
Then the group would turn and leave with smiles and goodbyes, leaving them to discover how much money it was.
Rick explained, "So, we spoke of Jesus, loved on them, prayed for them, and blessed them with physical blessings in the form of money to help them with their needs."
Pastor Nate shared that the team also took along 20 Chrome Books (computers) which were donated by Refreshed Tech, a local business in Angola.
When they were given out, the receivers were also given their first typing class at the Great Commission Church child development center.
This will most likely be seen in a video presentation which is being prepared to show little pieces of the trip to the rest of the church.
Much ministry happened also at a children's hospital in Santo Domingo where the team was able to make quite an impact.
"That is a pretty bleak situation," Drown said, "as basically all the children who need medical attention come from all over the island with their parents."
"This hospital is only a couple blocks from the church so is a great place to share the love of Christ."
The hospital visits were a highlight, Stiver said, and shared a number of stories of God's moving to guide them to those to whom they were to minister.
They were at the hospital and saw a man with a Life Changing shirt on from the "Call of Duty" series that was preached years ago.
They spoke with the man wearing it and he had been at the hospital for fifteen days with his son who had not been able to eat for twelve days.
They went to see his son in a hospital ward. Despite the serious complications and the fact that he had not been eating for 12 days, they were blessed to see him finally eating.
The shirt was what had drawn them to this father, and Team leader Matt Gardner was able to relate to the parents because of a health issue in his family.
They got to bless him financially as well and he "bear hugged" Rick without even knowing how much money was being slipped into his hand.
They left this family, "after a fantastic time" Stiver said, and went to handout food and gifts in the cafeteria of the hospital.
There were around 100 people in the emergency room and they all were given a ticket to claim a sandwich, chips and drink plus a gift from the team.
As they arrived there to give out the food and gifts, after ministering to the little boy and his family, a Dominical Republic lady ran straight up to Rick and was talking quickly.
They got an interpreter to help and found out she wanted them to pray for her son, too, who was back in the room where they had just been.
Rick told her they were happy to go back and as they were walking down the hall, first time team member Allyson Fenicle said, "This is it. This is my dream! There is going to be a child with pink on and a duck somewhere."
They got there and it was a little boy who had on a pink shirt. On the wall was a poster of Donald Duck.
They conversed with the parents and learned that the little boy was very sick. The mother asked Pastor Rick if he could pray for him, but Rick motioned to Allyson that she should pray.
She immediately stepped up and laid her hands on the little boy and prayed for him. They blessed that family also with some money while hugging them goodbye.
While walking back to the cafeteria, Allyson spoke "by faith", "that little boy is going to be healed today!"
"We will never know this side of heaven," Stiver said during the interview, but it was a great experience.
Besides the hospital ministry, the building of a new home, and giving away money and Chrome Books, they also had the great blessing of baptizing a little girl from the local church.
---
CONSTRUCTION CREW … While there in Nigua, Dominican Republic, the mission team of eight from Life Changing Church who attend either in Edgerton or Angola, were joined by the Contractor and a team of DR residents. They all worked together well in the demolition of this house and in starting its replacement.
---
The baptism took place in a gorgeous pool at the estate of Major League Baseball great, Ervin Santana, who is presently #54 with the Minnesota Twins.
They got to eat pizza, have a cookout, swim in the pool and wade in the Caribbean which was in the back yard. It was a delightful and refreshing day.
The plan is for at least two more and maybe three more trips in 2023. He and Pastor Nate plan to go, just the two of them, and spend some time ministering to the missionaries.
"While we were there, we realized that the missionaries are struggling just like everyone else does and we want to bless them with some emotional, spiritual, mental and relationship counseling."
"As Cares Pastor here, I do a lot of marriage and family counseling and want to help them with their marriages and relationships with their children."
There is also a plan in place for teams to build at least the 12th house and maybe the 13th yet this year. It is only March, so they have plenty of time to get all that happening.
The last thing Pastor Rick mentioned was what a joy it was when World Vision came to get gifts ready to go around the world and he recognized the names of some of the kids would be receiving a gift in Nigua.
"I recognized some of those kids!" he exclaimed.
That is proof right there that going back to the same place often and building relationships really matters.
Rebecca may be reached at publisher@thevillagereporter.com.
---