---
THANKS … West Unity Mayor Don Leu gives a short thank you speech to everyone involved who worked so hard to make the splash pad happen. (PHOTO BY LINDSAY PHILLIPS, STAFF)
---
By: Lindsay Phillips
After years of planning, fundraising, and waiting, the grand opening of West Unity Memorial Park Splash Pad occurred on Wednesday, July 27 at 5:30 p.m.
Although it has been open for a week, the official grand opening brought community members to the park for a small celebration.
The celebration began with West Unity Mayor, Don Leu giving a small speech regarding the efforts of the splash pad.
Mayor Leu shared, "With everyone's help, all these people here, this was a community activity, it took a lot of people to get this project done."
Money for the splash pad came from a generous grant from the State of Ohio and donations from the Millcreek-West Unity Area Foundation and the Bryan Eagles.
Mr. Leu stated, "With those three entities giving us all that money, the town itself did not have to put a penny into it except the water."
Mayor Leu introduced State Representative, Jim Hoops and added, "Without him we probably wouldn't have the splash pad."
Mr. Hoops shared, "I just want to congratulate all of you, parents and the young men and women, who looked like they were having fun when I arrived."
Also introduced by Mayor Leu was Millcreek West Unity Area Foundation Trustee, Lewis Hilkert. Mr. Lewis informed those in attendance a bit about the foundation and stated, "This is the largest donation we've been able to make for a project, as we continue to grow, I hope we can put more money into the West Unity Millcreek area."
Mayor Leu thanked the town employees for all their hard work on and during the project. Leu stated, "The whole entire town worked on getting this thing in."
Following recognition of all those involved, six eager to splash students participated in a red ribbon cutting ceremony. All in attendance were welcomed to cookies and popsicles afterwards.
Lindsay can be reached at publisher@thevillagereporter.com
---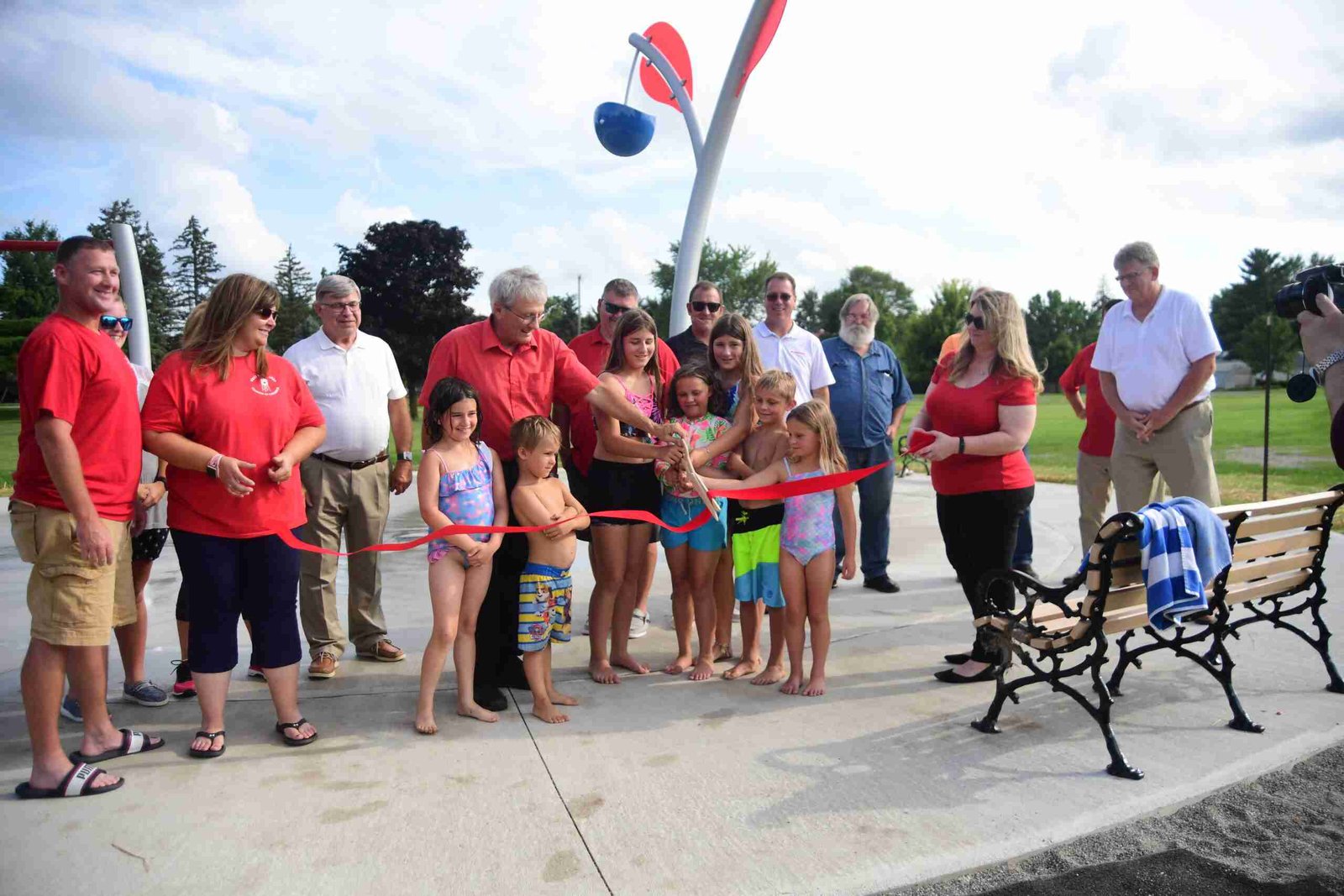 RIBBON … Those who helped make the West Unity splash pad happen, including local students gather around on the splash pad in a red ribbon cutting ceremony.
---