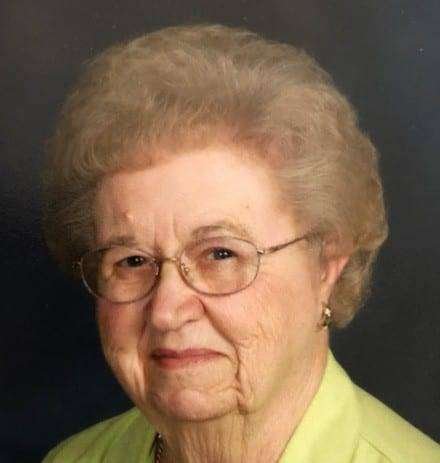 Lois Ann Heer, age 96, of Archbold, and formerly of Stryker, Ohio, passed away on Wednesday, November 8, 2018, at the Fairlawn Haven Nursing Home in Archbold.
Prior to her retirement she had owned and operated, along with her husband, Richard, Heer Electric in Stryker since 1954. Lois had also been a Registered Nurse, having graduated from the St. Vincent Hospital School of Nursing in 1943.
Lois was born in Springfield Township on August 17, 1922, the daughter of Charles F. and Emma (Coy) Gentit. On April 20, 1944, she married Richard A. Heer, and he preceded her in death in 2010.
Lois was a long-time member of St. John's Christian Church in Archbold. Lois and her husband, Richard had traveled extensively, worldwide. They were well known for their travel documentaries from many trips abroad. She was a 1940 graduate of Stryker High School, a member of the former Stryker Garden Club, and a member of the Gideon's International Auxiliary.
Surviving is one son, James (Elizabeth) Heer of Milford, Michigan; one daughter, Carol Heer of West Unity, Ohio; three grandchildren, Andrew (Kelly) Heer, Emily (Nkrumah) Hutson, and Kathryn (Clay) Schultz. She is also survived by four great-grandchildren, David Heer, Danielle Heer, Noah Hutson, Oliver Hutson, and one great-granddaughter, soon to come!
Visitation for Lois will be held from 2:00 P.M. until 5:00 P.M. on Sunday, November 11, 2018, in the Chapel at Fairlawn Haven Nursing Home. Funeral services will be held at 11:00 A.M. Monday, in the Chapel at St. John's Christian Church in Archbold, with Pastor Erich Christman, officiating. Interment will be in the French Cemetery, near Stryker. In lieu of flowers, the family requests that memorial contributions be given to St. John's Christian Church Missions.
Online condolences may be offered to the family at www.grisierfh.com. Grisier Funeral Home in Archbold has been entrusted with arrangements.
---