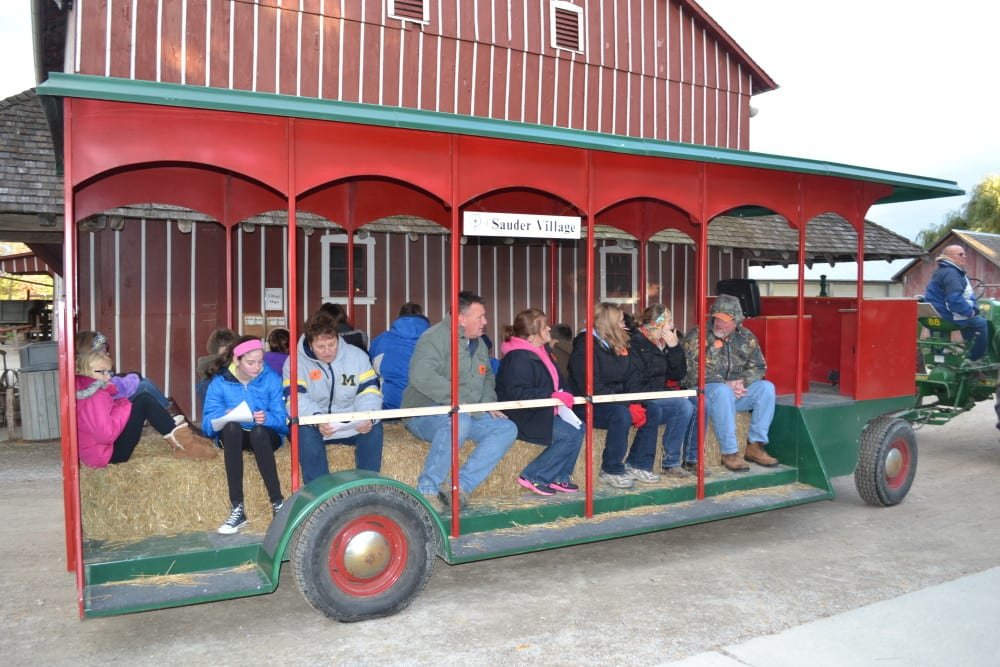 Archbold, OH – On October 16 and 17 families from are invited to celebrate fall at Sauder Village by taking an evening train ride, decorating pumpkins making a fall-themed craft and much more! Reservations are now being taken for the sixth annual Fall Family Fun Nights – a memorable way to enjoy the beauty of autumn in northwest Ohio.
"There is something magical about being in the Historic Village after hours," shared Kim Krieger, Media Relations. "This evening program provides families with a special opportunity to create special memories while enjoying traditional fall activities at Sauder Village."
The evening program includes a train ride on the Erie Express and a hay ride in the tractor driven trolley to visit the 1920s Grime Homestead. Throughout the evening guests can make a fall-themed craft to take home, enjoy pumpkin decorating and play a pumpkin prize game! Guests can warm up with hot cocoa and help make a fall sweet treat. The Village Gift Shop will also be open in the evening for guests to enjoy unique shopping.
Pre-registration and pre-payment are required for this special fall program that will be held from 6:00-8:30 p.m. each evening. The program cost is $13.00 for adults, $7.00 for students ages 4-16 and children 3 and under are free. Special rates are available for members, lodging guests and groups of 14 or more.
For more information or to register for the Fall Family Fun Night Program visit www.saudervillage.org or call 800.590.9755.
There are many other activities planned at Historic Sauder Village through the end of October. Some of the special fall events include Fall on the Farm and Scout Day October 11, Community Health Day/Fulton County Community Appreciation Day October 17 and Woodcarver's Show & Sale October 24 and 25.
For more information phone 1-800-590-9755, visit www.saudervillage.org, like Sauder Village on Facebook or follow us on Twitter @SauderVillage
INFORMATION PROVIDED