---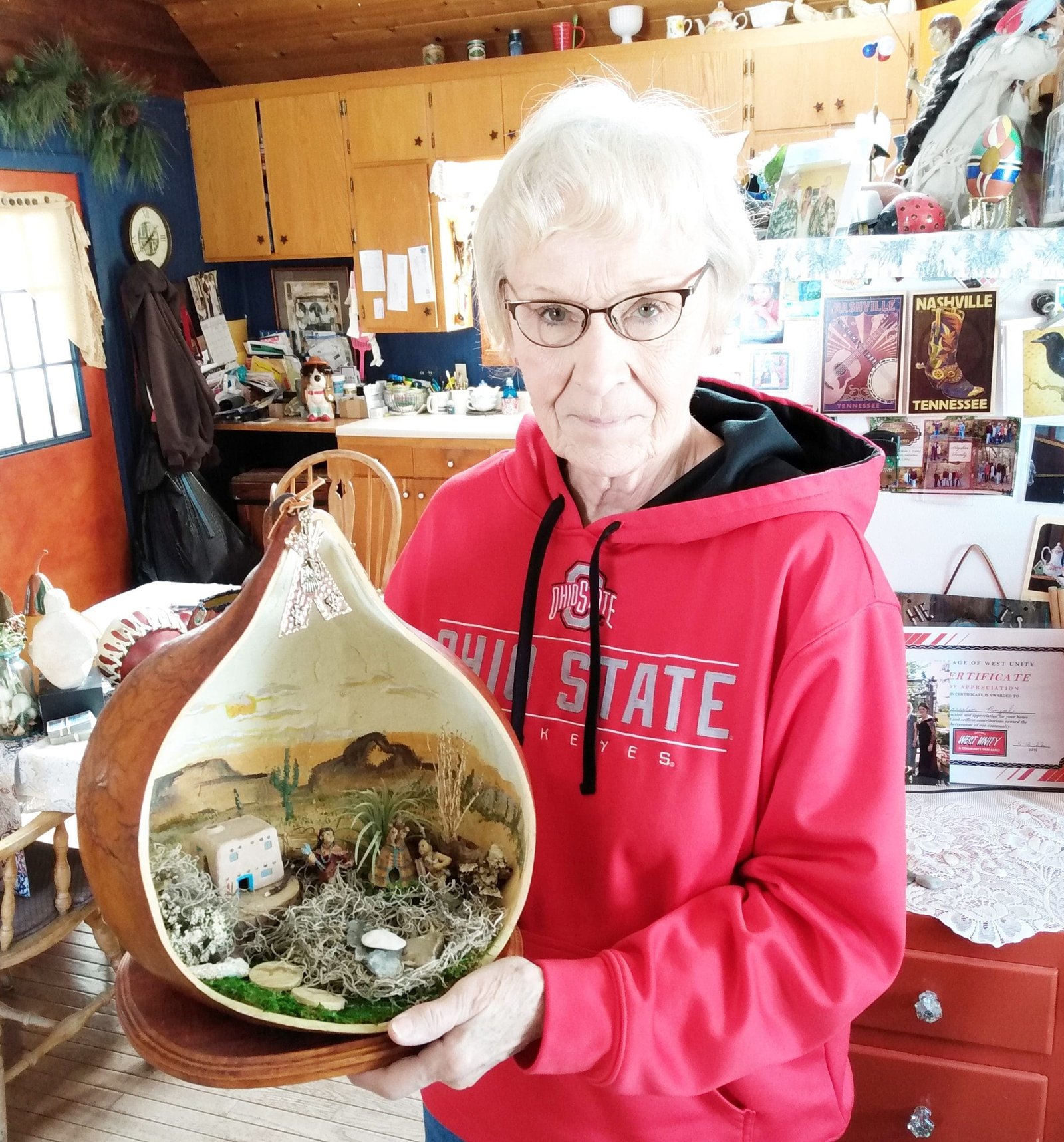 DISPLAYING ARTWORK … Marilyn Royal poses next to works of art made from gourds. (PHOTOS BY ANNA WOZNIAK)
---
By: Anna Wozniak
Marilyn Royal, a West Unity resident, is heavily involved in her community. In-between volunteering with the "Jaycee-ettes," working as a chamber member, and being on the zoning board for West Unity.
Marilyn has pursued her passion for art for over 20 years. Some of her many professional works can be found within the infrastructure of the surrounding area, with artwork in homes and businesses alike.
Marilyn's impact has been taken note of by the community, with Mayor Don Leu presenting her with a certificate of appreciation for all of her contributions to the West Unity area in 2022, and awarding her Outstanding Citizen of the Year for 2023 for her work in the restoration of Ring's Cemetery.
Important to this work is garnering donations for the upstart and maintenance costs. Marylin is also passionate about education and sponsors the St. Joseph Indian school.
A member of the Black Swamp Art Guild and the Ohio Gourd Society, Marilyn is no newbie to the art community.
Drawing inspiration from other local artists like Stan and Sheila Whitlock and Bobbi Schlosser, Marilyn has devoted her time to learning how to perfect her artistic techniques.
Marilyn used to be most invested in etching glass, however time and arthritis have made the heavy equipment this job requires hard for her to handle.
She is currently focused on showing her creativity through the use of gourds and has many different processes and techniques she has mastered to help her do this.
From scenery, to masks, and even to instruments Marilyn is focused on making "whatever hits" her.
"Beyond the birdhouse" is a term that Marilyn describes as "using gourds to make artwork that is so much more than just the typical birdhouse that everyone thinks about when you mention working with gourds."
This drive for ingenuity has led to Marilyn creating breathtaking works that include decorative masks, lamps, instruments, and jewelry.
Many of the gourds feature holes that are carved all the way through, creating a three- dimensional effect.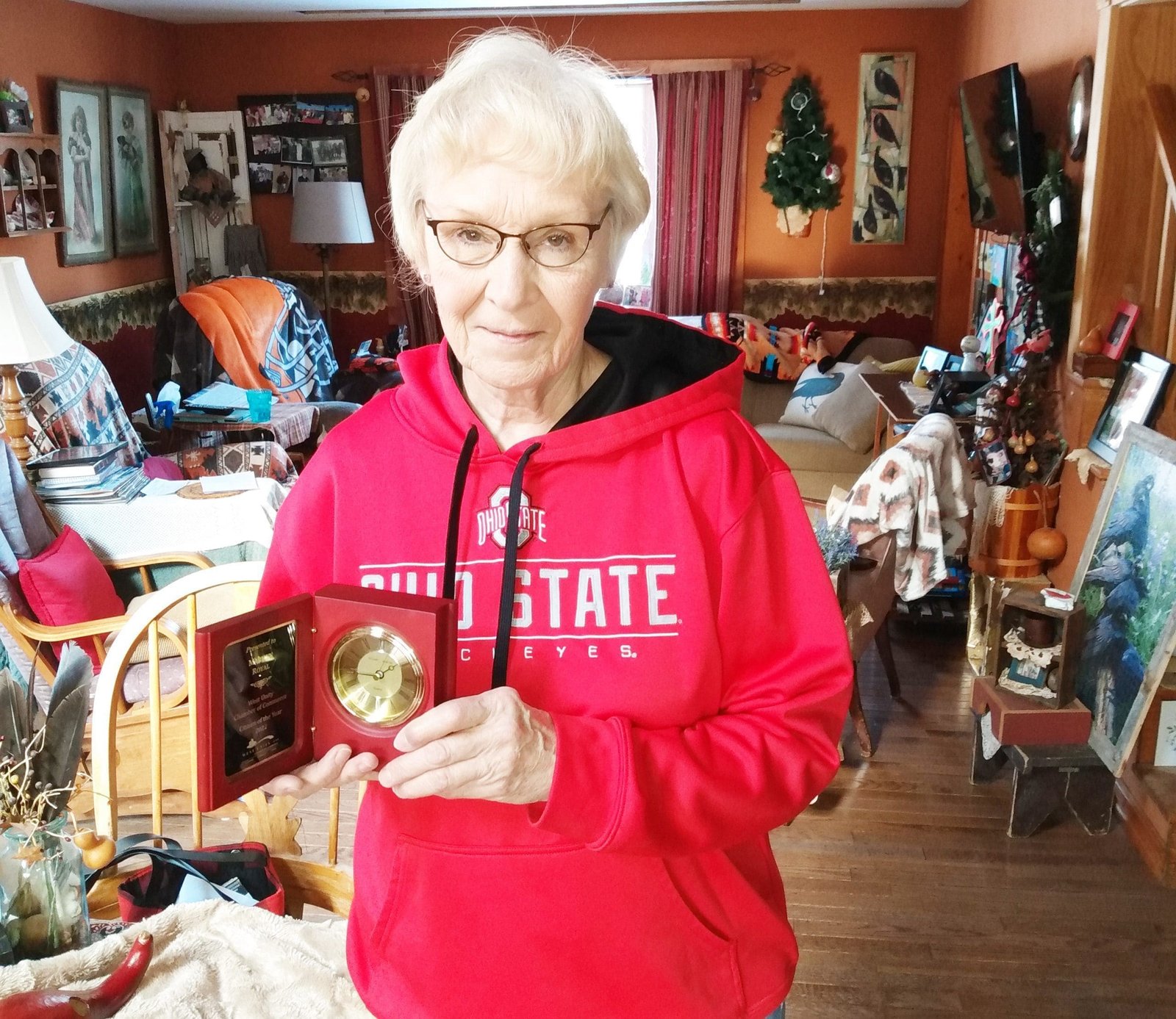 CITIZEN OF THE YEAR … Marilyn Royal poses with West Unity Chamber of Commerce Citizen of the Year Award 2022 plaque.
---
Scenes ranging from storybook fairy tales to Arizona deserts are carved out from other gourds, showing the versatility of a good gourd.
Marilyn stresses the importance of a good gourd, as they can take over a year to dry out. Marilyn gets most of her gourds from Arizona or California, as "they grow thicker and dry out much nicer!"
While Marilyn wants to encourage everyone to take on working with gourds, she also stresses the importance of extra care when you are allergic to mold and/or asthmatic.
The drying process of gourds makes them layered in mold, and the insides are filled with spores that can be harmful.
What Marilyn has accomplished shows that a passion for art can lead to a lifelong relationship with others in the community.
Keeping Marilyn and her accomplishments in mind, be sure to visit the Ohio Gourd Show October 5th-7th at Delaware County Fairgrounds to see what this wonderful community is all about.
When Marilyn isn't at art classes, shows, or city hall, she can be found at home with her husband, Tom Royal, and their dog -spoiling her great grandchildren or starting on her next project.
Those that love Marilyn would describe her as "artistic and loving," and as you walk into her house and see smiling photos of loved ones alongside wonderfully unique creations it's easy to see why.
Anna can be reached at anna@thevillagereporter.com
---