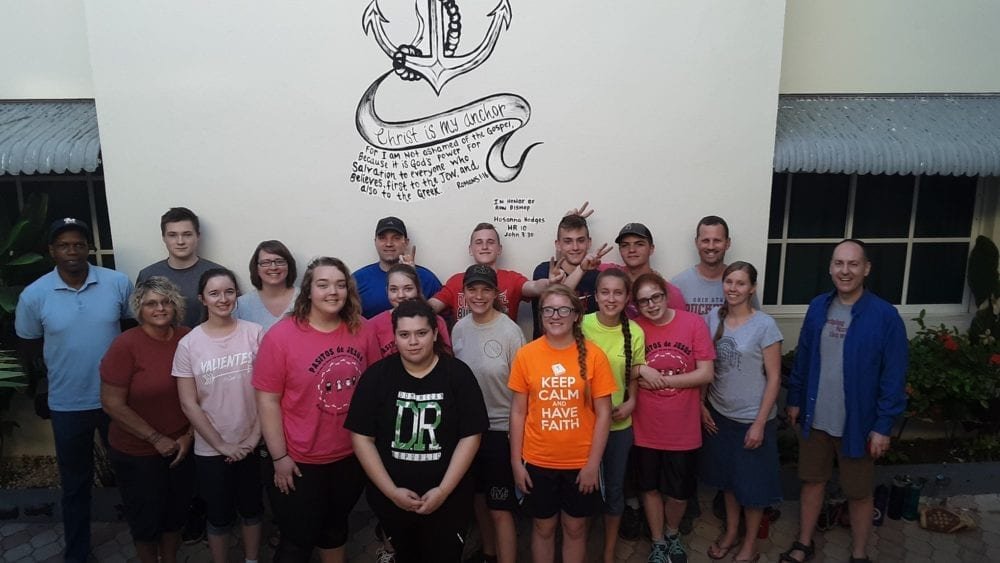 ---
From February 28 through March 7, Sheldon and Gina Sutton led a team of twelve students on a missionary trip to the town of Juan Dolio in the Dominican Republic. Ten of those twelve students were from the Fountain City Christian School in Bryan.

According to Gina, "It was something that my husband and I basically felt the Lord's leading to offer to head up a mission trip for the high school students there at Fountain City. So we had met with the administrator, and he was definitely on board with that. It was their desire that their students would have that opportunity, and worked in collaboration with us in doing that. Our children attended Fountain City Christian School last school year. That's how we developed good friendships and relationships with students there."

This was not a sightseeing cruise, but the sights did open the eyes of the students. Gina said, "Actually, our purpose was to encourage and mobilize the youth from our local area and churches to identify their God-given gifts and abilities, and how those can be used around the globe. We did a variety of different things to expose them to different needs that exist, and that allowed them to then explore how they can be a part of God's plan, and using them in His Kingdom."

The itinerary was packed with ministerial activities for the students. "We went to several different orphanages," Gina explained. "I think the one that a lot of the kids found most impactful for them was a special needs orphanage. They were able to go to a local supermarket and just load up grocery carts of various foods, and take it to the orphanage to help with their physical needs."
INTERACTING WITH THE CHILDREN … FCCS Freshman Kenzie Eitniear spends precious moments with a child at the special needs orphanage, Casa de Luz.
---
"But then they were also able to spend time there at the orphanage providing a sense of touch…holding hands for those kids. All these kids are bedridden; most of them can't communicate, so it was a tough place for the kids to be emotionally. But I think they found that just their presence there was a pretty big deal to those who run the orphanage and to the kids, even though the kids can't express it."

"They went to a separate girls orphanage," she continued. "They were at a boys orphanage. They were out in a couple of different sugarcane villages. One they spent some time with the children of the village, and then obviously it was a faith based trip, so they were able to share the gospel and some of their testimonies. They helped with one of the local pastors, painting their church. Some of the boys participated in some sports ministries."
"They visited an anti-human trafficking safe house, where they got to hear from one of the women who had been involved in prostitution, her story of what had happened in her life. They got to support some of the ministries that help those women come off the streets, come to a safe house, and be able to learn other ways of earning a living. It really was a wide variety of things that we did."

These ten kids from Northwest Ohio flew down to the Dominican, but it was ten emotionally changed kids that boarded the flight home. Gina explained, "Yeah, I think one of the things we noticed the most was one of the girls…said, "It wrecked my world." I think what she was saying with that was that she was exposed to things she had never seen or thought of. It was so far from what was normal here, and just opened up so many avenues of thoughts, that it really changed the direction for what she was considering as far as after graduation."
"We had four of our older students that are considering going back and doing what's called a 'gap year', or a program in between high school and college, where they go down to the Dominican, and they spend basically the length of a school year taking Bible courses, studying the language and helping with ministries for that school year. We had four students who are very seriously considering going back and doing that. Three of them are seniors this year, and some of them already had plans to go to college but are considering postponing those plans or changing those plans a bit because they were so impacted by what they had seen."

---
Gina continued, "There was a lot of emotional processing that was going on the whole time, and we were just trying to encourage them. You know, think about how God wants to use the natural talents and giftings He's given you, how you can use those to serve others, and that it doesn't always look like what we think it looks like here in the U.S. That's some things that we saw changing. Their mindset, their thoughts that they were expressing to us, really revealed to us that their whole thought process was changing."
"Our group had a verse that we used from the Bible, kind of our 'team verse', and it was I Peter 4:10. It talked about each one should use whatever gift he has received to serve others, faithfully administering God's grace in its various forms. So really, the whole focus was, 'What gift has God given us, and how can we use that to serve others, whether it's in the Dominican, or somewhere else internationally, or whether that means domestically in the culture that we're familiar with?'"
Mission accomplished.
---