NEW HIRES FOR MONTPELIER … Dakota Benner (above) is joining the Street Department and Alex Lehsten is now a part of the Electric Department. Both were introduced to council at the October 25, 2021 meeting by their supervisors, Denny Bishop and Kevin Mercer. (PHOTOS BY REBECCA MILLER, STAFF)
---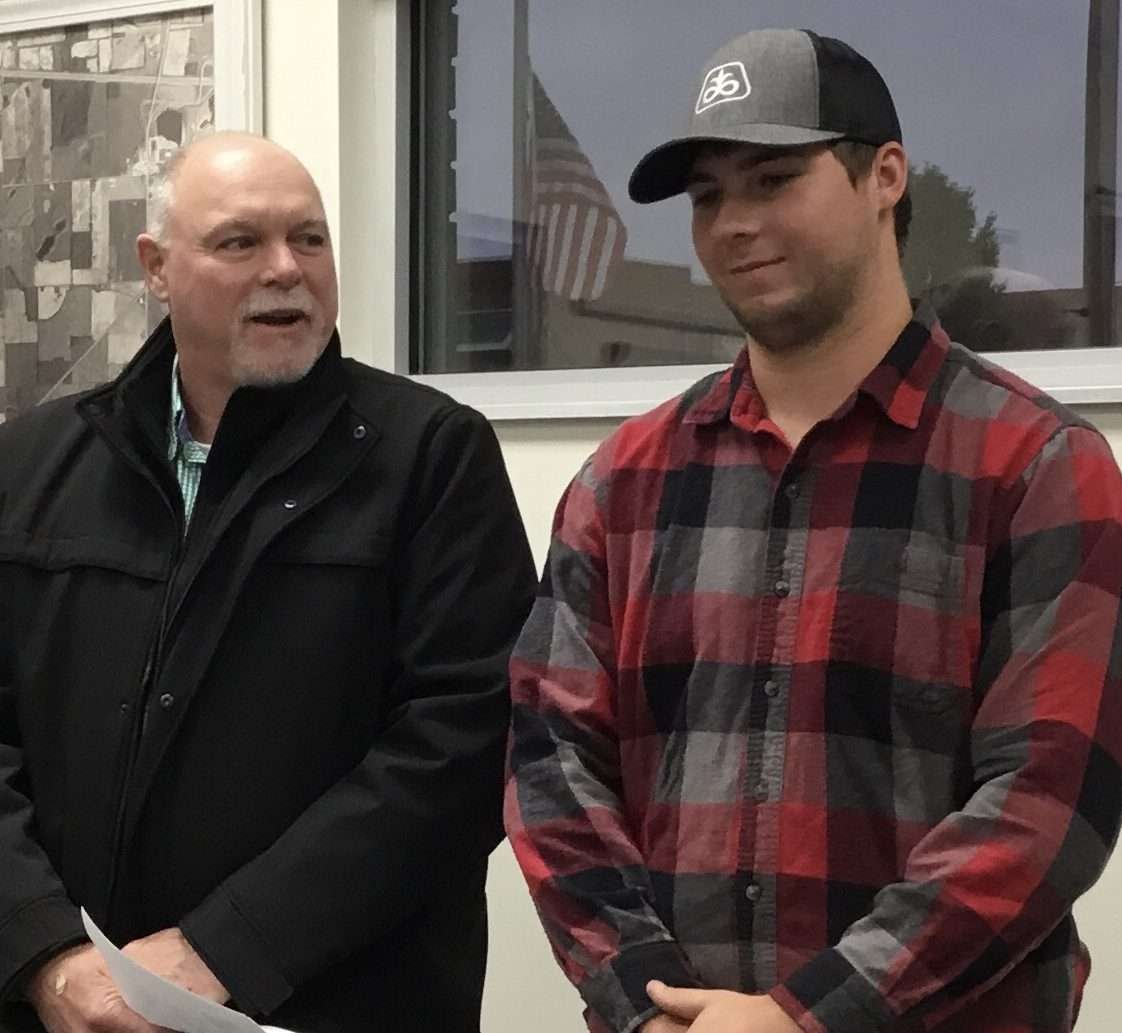 ---
By: Rebecca Miller
The Monday evening, October 25, 2021 Montpelier Village Council was held at 6 p.m. following an hour long Work Session for discussion of the 2022 Budget. Council voted to approve the agenda as well as the minutes for the October 11 council meeting before moving on to the Introduction of New Employees.
Denny Bishop from the Street Department introduced Dakota Benner and Kevin Mercer from the Electric Department introduced Alex Lehsten. Council and all present welcomed the two young men.
Council member Kevin Motter honored Orren VanZile who was has passed away and was a former Fire Chief in Montpelier. He said there were six or seven firefighters at his funeral and Motter said, "I don't think he ever really got the recognition he deserved. He was a great guy."
Melissa Ewers, council member, shared some thoughts on research she has done over the committee meeting notes for the past six years. She explained that certain committees are more active than others and it might be a good idea to blend two committees with one active and one less.
She said that it would make it easier for council members to be on fewer committees but everything would still be taken care of. Mayor Steve Yagelski mentioned how hard it is to find time to hold committee meetings, so either canceling some committees or blending a few might be a good idea. Melissa said it is very important to form a Community Relations Committee.
Yagelski feels that it is better to have people come to council meetings instead of to a committee or to let Personnel Committee handle the Community Relations.
Ewers disagreed and said that Personnel deals mostly with wages and this should be a separate committee. Personnel and Safety Committee is a rather active committee so it would double their workload.
Concerns were raised that residents would be better served by having a "liason" between the public and the council (in the words of council member Nathan Thompson.) It was brought up that having the town hall type meetings was helpful for feedback and should be held again soon.
Council President Chris Kannel suggested putting Utilities, Budget, and Finance Committees into one committee. He also suggested that he and Melissa work up a proposal on Committees to give to council at a future meeting.
His hope is they can structure and streamline so that all needs are met and the committee load to council would be having three fully active committees instead of three active and two not very active. Ewers thanked the council for the discussion and thanked Chris for offering to work on it with her.
Another topic Ewers brought up was about decorating for Halloween. Sandy Gordon said any citizen is free to set up at any park in Montpelier to distribute candy for Halloween. It was clarified they should call Village Hall or Sandy Gordon with the Park Board to let them know they plan to distribute candy.
No plans this year, Kevin Motter said, but they hope to in the future. Sandy suggested cars be parked by the sidewalk so that the grass doesn't get muddied up and so that the children are safe on the sidewalks.
Mayor Yagelski commented on the amount of rain recently and streets being flooded. He urged everyone to NOT RAKE LEAVES IN THE GUTTERS as the leaves then wash into the storm sewers. Please leave them up on the curb.
Jason Rockey reported that they have 14 tree grates to put in the village auction as well as other items. A motion to approve the Village Auction made and approved. The schedule for 2022 meetings was also approved along with:
-2022 Superior Two. Fire Contract in the amount of $40,978.38
-Adding a change order
-Resolution 1326 Transfer Police Pension (suspend and pass)
-Resolution 1327 First reading of 2022 Appropriations
-Resolution 1328 Authorize the purchase of Valve Controller and Wye Body its for the Water Distribution Department (suspend and pass)
-Ordinance 2257 Amending certain sections of the Codified Ordinances (2nd reading)
In his Village Manager report, Rockey reported that he and Nathan Thompson met with Nathan Stolzfus, the young man who is hoping to do a project in the wetlands, and Stolzfus is close to having RFP (Request for Proposal) ready for that project and plans to be at the November 8th meeting to answer questions.
Tree Commission with be planting only eleven trees this year, with the E3 program, which means younger people will be there to dig the holes. The MARCs radio system is up and running and communication with the county has been good. Chief McGee said it is working well.
Council went into Executive Session to discuss Acquisition of Property and Personnel – employment of a public employee.
Rebecca can be reached at rebecca@thevillagereporter.com
---