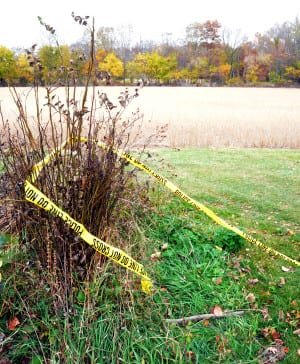 October 27, 2015 – On October 25, 2015, the Montpelier Police Department was alerted to a possible homicide that occurred somewhere along the St. Joe River Trail, which is in Montpelier, Ohio.
Through cooperative effort, the body of an adult male was located in the area of the trail in Montpelier. The victim's name is being withheld until full and positive identification can be completed.  The body has been released to the Lucas County Coroner's Office  pending autopsy.
Suspect 22 year old Bradly S. Gilbert of Montpelier was apprehended by Surry County, North Carolina, Sheriff's Deputies.  This case remains under investigation.  Bradly Gilbert is currently being held in North Carolina pending one count of Aggravated Murder stemming from this case.
The Montpelier Police Department would like to thank BCI and I Bowling Green, the Montpelier Fire Department, the Williams Co. Coroner's Office, the Williams Co. Prosecutor's Office, the Williams Co. Sheriff's Office, the Fulton Co. Sheriff's Office, the civilians search assistants, and the Surry Co. NC Sheriff's Office for their assistance and cooperation with this investigation.
There will be no further comments on this case at this time; however, we will be scheduling a press conference in the near future.
INFORMATION PROVIDE BY THE MONTPELIER POLICE DEPARTMENT