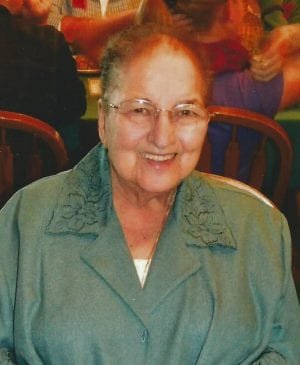 Nancy Joan Walz, 84 years, of Alvordton, passed away Thursday evening, September 22, 2016 at Hillside Country Living, Bryan with her family at her bedside. Nancy was born October 10, 1931 in North Baltimore, Ohio, the daughter of the late Harold LaVerne and Erma Belle (Northrup) Parsons. She was a 1950 graduate of Edgerton High School. She married Richard A. Walz on December 27, 1950 in Williams Center, Ohio, and he preceded her in death on February 7, 1991. Nancy worked as a Nurse's Aide at Hillside Country Living for 10 years. She also provided care as a Private Nurse's Aide for several years. In addition to this, Nancy was a farmer's wife, helping operate the family farm. She was a member of the Kunkle United Brethren Church, Kunkle, where she ran the Good News Club. She was an excellent cook and baker. Nancy collected salt & pepper shakers. She loved to attend her children and grandchildren's academic and athletic events and going to Shipshewana with Richard.
Surviving are her four children, Karen Walz of Alvordton, Randy (Pam) Walz of Bryan, Millie (David) Young of Rockport, Illinois and Robert (Lynn) Walz of West Unity; nine grandchildren, Michelle (Robert) Gibbs of Montpelier, Andrew Walz of Edon, Sarah (Mark) Merhoff of Marthasville, Missouri, Joseph (Jill) Young of Robinson, Illinois, Rebekah (Adam) Wilt of Shelbina, Illinois, Caleb (Annie) Young of Belleville, Illinois, Derek (Wendy) Walz of Montpelier, Douglas (Kari) Walz of West Unity and Nicole (Jeremy) Bowers of Alvordton; 25 great-grandchildren; two sisters, Mary Erby of Lufkin, Texas and Verna Hutchison of Coldwater, Michigan; one brother, Charles "Buck" Parsons of Bryan. She was preceded in death by her husband, Richard; twin brother, Billy Parsons and one sister, Arlene Musser.
Visitation for Nancy Joan Walz will be held from 2;00 – 8:00 p.m. Monday, September 26, 2016 in the Oberlin-Turnbull Funeral Home, 202 North Liberty Street, West Unity. Funeral services for Nancy will be held at 10:30 a.m. Tuesday, September 27, 2016 at the Kunkle United Brethren Church, 400 East Angola Street, Kunkle, with Pastor Dan VanArsdalen officiating. Interment will follow in Shiffler Cemetery, Bryan. Visitation will also be held one hour prior to the service on Tuesday at the church.
Those planning an expression of sympathy are asked to consider memorial contributions be made to Kunkle United Brethren Church, 400 East Angola Road, Kunkle, Ohio 43531.
Condolences may be sent to the family or the online guest book may be signed at www.oberlinturnbull.com