---
---
On Monday, May 15, 2023, Mary went to St. Mary's to give her end of the year talk, "Making a Difference," to the 6th grade class.  The PowerPoint presentation contains several slides reminding the students that they all have the ability to make a difference in this world.
There are well know people on the slide show, including Mother Teresa, Thomas Edison, Walt Disney, just to name a few, along with several others, including some young students who have made a profound difference in this world.
The talk also presents topics such as bullying, being kind, believing in your dreams, and praying for God's guidance.
Some of the people she talked about had been told in school that they would never be able to accomplish their dreams, including Michael Jordan.
Through determination and perseverance, these individuals proved that they could, in fact, make their dreams come true.
Mrs. Betsy Hug is the 6th grade teacher there, who also helped in the conversations, reassuring her students of their talents and abilities.
Mary handed out NLGM drawstring bags for the students, along with a "Jesus Calling for Kids" devotional, a NLG t-shirt, scripture page, amongst several other items in the bag. Her hope is that all the students will go out into the world and "Make a Difference."
Pictured is the 6th grade class at St. Mary's Catholic School, along with Mary Juarez, founder of Never Let Go Ministries.
---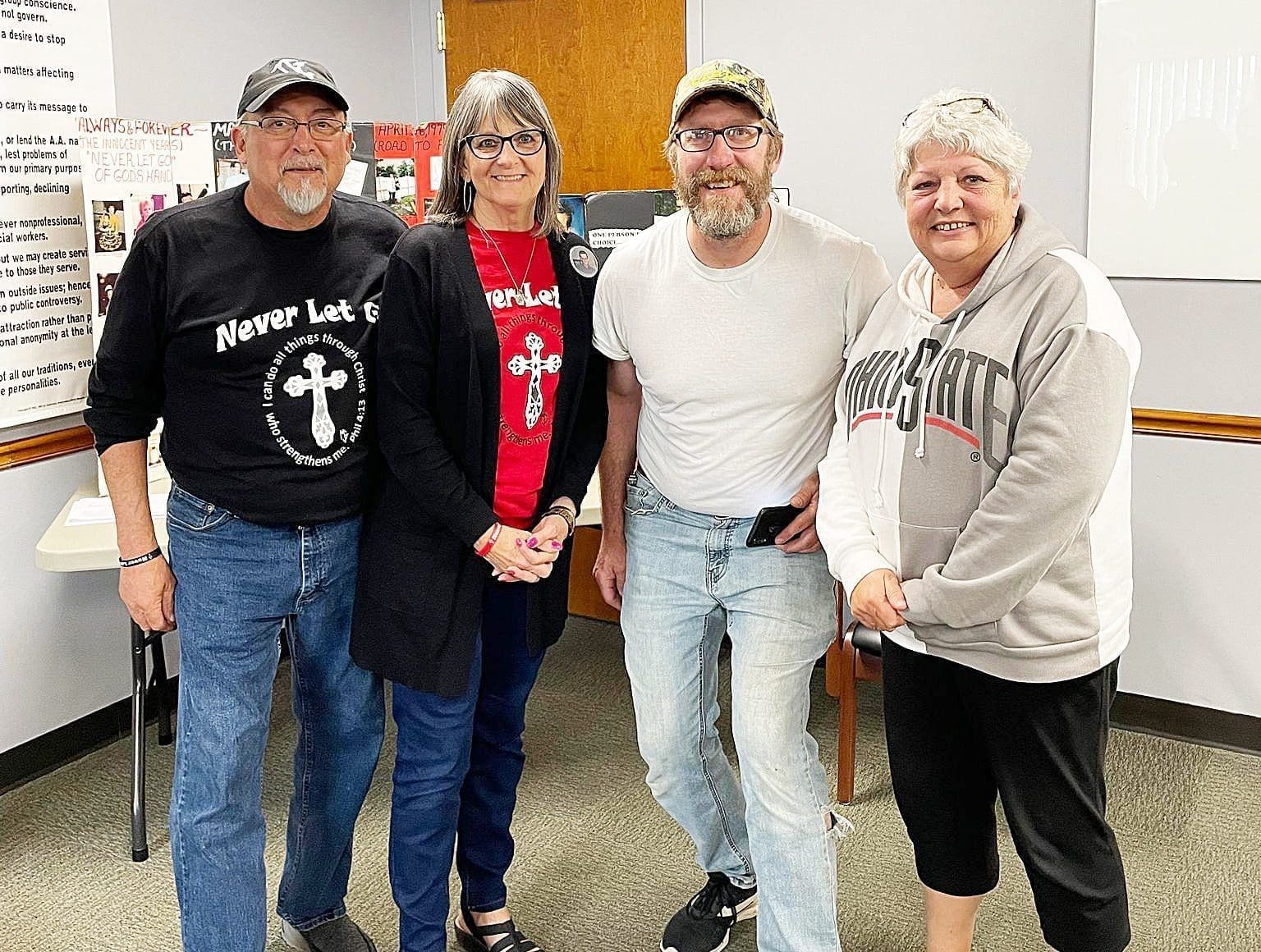 On Thursday, May 18, Victor and Mary Juarez of Never Let Go Ministries traveled to Napoleon to present Marjoe's story to the men in rehabilitation at the Renewal Center.
The men were very appreciative of their story and talked to them afterwards on how it had affected them, and how many areas in their own lives that they knew needed to be changed.
After the talk, Victor and Mary handed out the "serenity" devotional and also some door prizes of their NLG t-shirts.
Pictured are from left to right, Victor and Mary Juarez, founders of NLGM, along with staff members, Chad Wieland, "Therapist", along with Denise Damron, "Residential Specialist."
---