---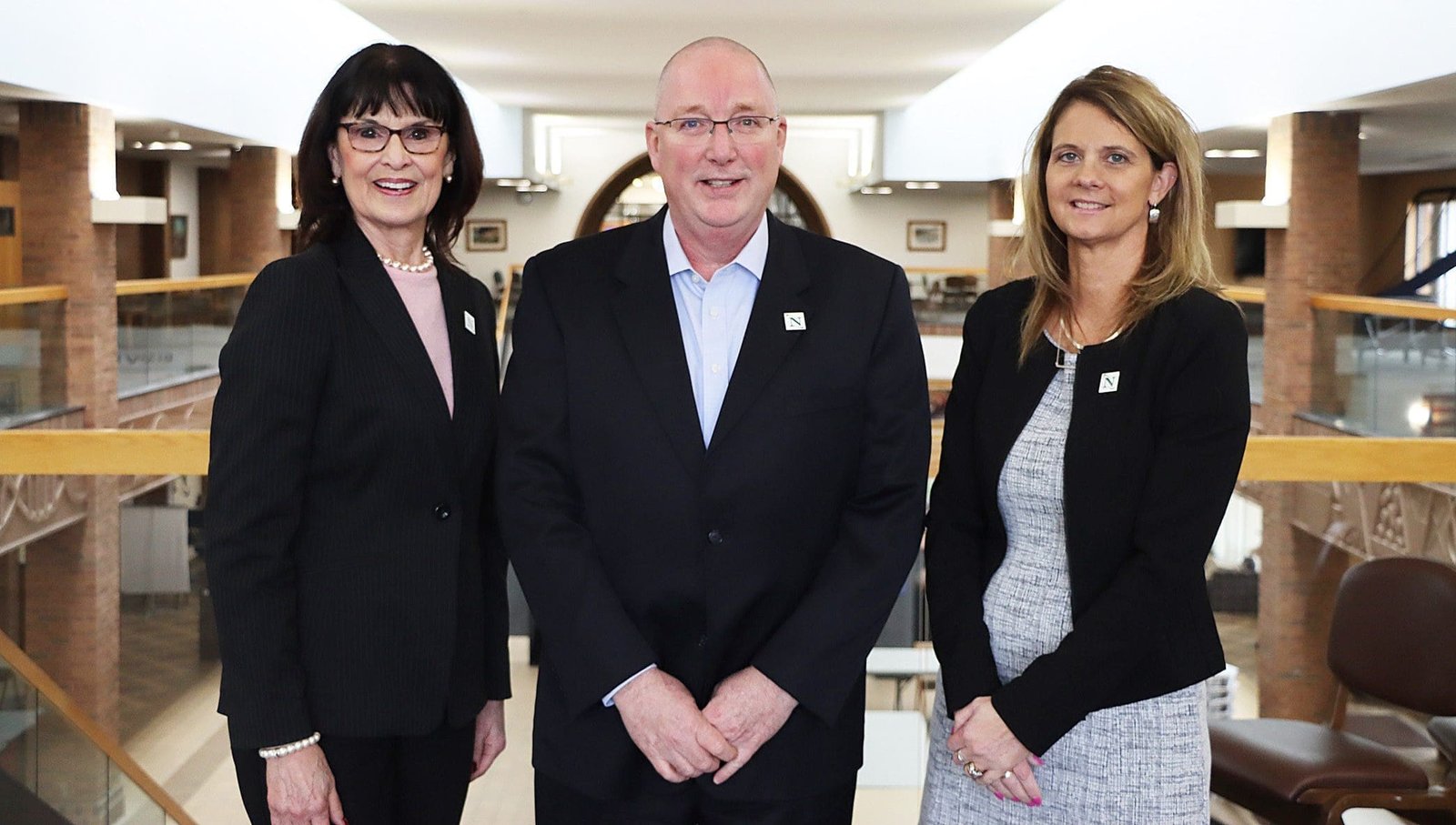 BOARD OF TRUSTEES … The Northwest State Community College Board of Trustees elected its 2023-2024 officers were Sandy Barber (Vice Chair), Scott Mull (Chair), and Katrina DeGroff (2nd Vice Chair). (PHOTO PROVIDED)
---
Archbold, Ohio – The Northwest State Community College Board of Trustees met in regular session on Friday, February 24.
As part of the meeting, the Board held its annual election for the positions of Chair, Vice Chair and Second Vice Chair.
Scott Mull was elected to assume the duties of Chair, Sandy Barber was elected to serve as Vice Chair, and Katrina DeGroff was elected to serve as Second Vice Chair.
All officers will serve in these positions for the period of February 2023 through February 2024. College administration congratulated the officers and thanked them for serving in these capacities.
ADJUSTED 2022-2023 BUDGET HIGHLIGHTS
As part of the regular meeting, the adjusted 2022-2023 fiscal budget was presented and approved.
The revised budget total is just over $30.3 million, with the following highlights: Revenue adjustments were -$5.2 million, due to a $6 million capital reduction.
Expenses were highlighted by a reduction in personnel adjustments (-$330k), an increase in operating adjustments (roughly $1 million), and the (-$5.92 million) capital adjustment.
The capital reductions included the two planned renovation operations for the 'B' building on the Archbold Campus, as well as renovation on the E. Sycamore St. Campus in Van Wert.
Those projects have begun; however, the majority of the capital expenditures will occur in the next fiscal year, so it was appropriate to remove them from the current fiscal year's budget.
In other Board action:
Approved the employment of Cynthia Roehrig as Assistant-Student Accounts Receivable, Denise Pollard as Payroll Accountant, Samantha Thiel as Financial Accountant, Joseph Golden as Manufacturing Training Manager, Diana Howey as Youth and Community Program Coordinator, Eliza Avers as Registrar Assistant, Matthew Kibler as Director of Business Development, Fredy Rodriguez as Faculty-Sociology/Social and Behavioral Science, Abby Calvin as Controller, Keira Christman as Admissions Recruiter, and Tom Kelly as Workforce Sales Coordinator.
Approved the transition of Albert Lewis, Jr. to Chief of Staff/Executive Vice President
Approved the promotion of Tori Atkinson to Executive Director-Client Services, Logan Badenhop to Operations Manager, Nicole Hand to Operations Coordinator, Tom Pierce to Training Manager-Commercial Driver's License (CDL), and Katrina Adams to Events Coordinator.
Approved Duplicate Program Report for the Ohio Department of Education.
Appointed Sandy Barber and John Bridenbaugh as delegate and alternate from the Board of Trustees to serve on the Governing Board of the Ohio Association of Community Colleges (OACC).
Approved affirmation of textbook selection policy (from section 733.20 of HB 110).
Approved "Testing Your Faith Act" (religious accommodations for students) policy (from section 3345.026 of Ohio Revised Code).
Approved miscellaneous employment contracts.
Approved one resignation and one retirement.


---