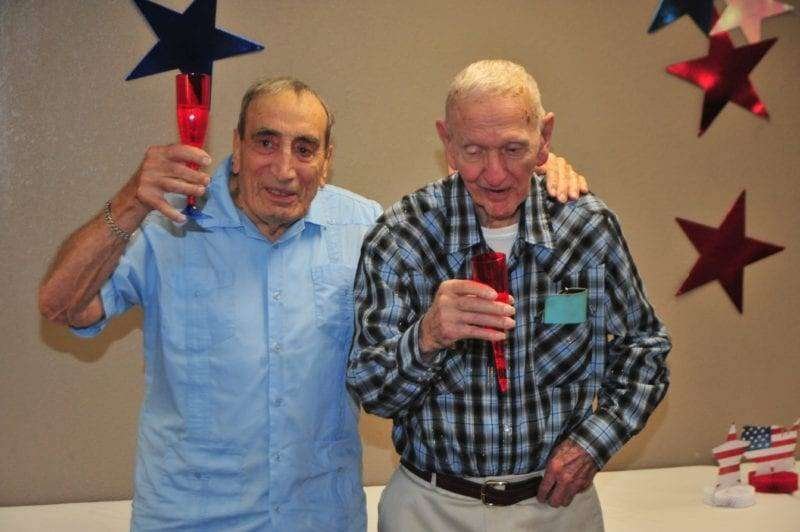 ---
By: Timothy Kays
As reported earlier in The Village Reporter, June 23-25 saw the annual reunion of the members of Company B of the 202nd Combat Engineer Battalion, this year being held at the Quality Inn in Holiday City. Of the 183 original members of the Company, only four remain, and of those four, only two were able to attend…Russell Oxender of Pioneer, and Ernest 'Ernie' Petti of Cleveland. Although the story of the 202nd was told then, there remained a lot to the story of Russell that was untold, until now. He is the prototypical member of America' Greatest Generation, a fast disappearing demographic.
Born to Alva J. and Vera Marie Warner Oxender in Kunkle, Ohio on August 13, 1924, Russell was one of six siblings. A member of the Kunkle High School Class of 1942, Russell says that he, "…was a homebody. I had two brothers and two brothers in law in the service. So when I turned eighteen, if I would have actually wanted to go…I couldn't. My mom wouldn't have let me. It didn't take long though. When I was eighteen, I got my (draft) card." Russell was about to leave his job on a bridge gang for the Wabash Railroad out of Detroit, to go wherever Uncle Sam was sending him. The first stop was unforgettable in its own right.
Russell and his newfound brothers in arms of the 202nd Combat Engineer Battalion were sent to Camp Shelby in Mississippi for basic training. Located just southeast of Hattiesburg, Camp Shelby is about 60 miles north of Gulfport. There was just one small detail to the assignment… despite being established in 1917, for all intensive purposes, Camp Shelby existed only on paper; it had yet to be built into a modern training facility. The first major construction project for the 202nd was to carve out a section of the northwest corner of the De Soto National Forest, reclaim it from the swamp, and erect a military camp…all while getting their basic training. "We had to build our training camp before we could do training," Russell said with a grin. "Camp Shelby was that well developed!"
By the time that they graduated basic training, they had become proficient in marksmanship as well as in construction, all while wading through mud whose depth was often measured in feet. Their construction training taught them the usual, but they also became proficient in the highly unusual…silent construction in the pitch darkness of the dead of night, a skill that would pay dividends later. It was now early summer in 1944, and the 202nd was off for England.
Operation Overlord took place in the predawn hours of June 6, 1944, and the horror stories of establishing beachheads under constant German fire on D-Day were the first steps to cracking what had become Fortress Europe. Fifteen days later, Russell and the men of the 202nd Combat Engineer Battalion were crossing the English Channel, headed for Omaha Beach where his new noisy neighbors were trying to hold on against the Allied invaders. "Our first night when we got off the boat," Russell said, "…we dug our foxholes, pitched our tents over the tops of the foxholes, and that was our home for the day…just one day."
"It hadn't been dark very long when our tents started bouncing up and down, and we couldn't hear ourselves think…it was ack-ack guns. Next morning, we found that they were in the next field over. We had no idea that they were there until they started firing. We were too busy just doing what we were told… digging foxholes. There was still a lot of those people around, and we hightailed it out of there the next day."
Now nineteen years old, Russell was on his way across Europe to Germany. The travel plans called for efficiency, with comfort nowhere on the docket. "Each engineering company, and each squad had a truck. Everything that we owned was on the truck. We went across France in that truck. Drive. Stop. Dig your foxhole. Go to sleep. Get up the next day. Go to work. We had a really good cook. He'd trade rations for food…REAL food. He'd get eggs from the French farmers, and we'd get scrambled eggs. We ate pretty good. That cook was my buddy. When I got put on KP, he always had a job for me. I didn't do any dishes. All I had to do was make him shelves or cupboards for around the kitchen. I had it pretty easy on KP."
As the Allies advanced to the east, the retreating Germans bought time by destroying bridges behind them, and harassing the advancing Allied infantry from a vantage point across from where the bridges once stood. When that happened, units like the 202nd were called in to construct pontoon and Bailey bridges. The Bailey bridge is a type of portable, easily assembled truss bridge.
Developed by the British during World War II for use by the military, the Bailey bridge had the advantages of requiring no special tools or heavy equipment to assemble. Transportation of the necessary parts was easy, as the wood and steel construction elements were small and light enough to be carried in trucks, and lifted into place and assembled by hand. The bridges were quick to assemble, yet strong enough to carry tanks. "It's kind of tough to build a bridge at night," Russell said. "You had to be quiet. There was American infantry in the ditches beside us, telling us to be quiet and saying, 'They shoot at sounds.' We were being as quiet as we could, because that was a part of our training. We trained at night, and we were ready to do our work at night, or whenever we had to do it."
When it came to Bailey assembly, it was all done by hand, with joining pegs driven in by rubber mallets. When asked if he had power tools that he could use, Russell just smiled and said, "What's that? We did have power tools. I just don't remember seeing all that much of them." On one occasion, Russell's Company B put up a Bailey bridge across a quarry, but the Germans destroyed it. Unfazed, the engineers erected another bridge, and again the Germans brought it down. The third time proved to be a charm though. "They found a German spotter in a bucket across the way in the quarry yard. He would call back to announce the bridge being built, and they'd blow it up. After the second bridge was blown, he was spotted, and they got rid of him." There was no third attempt on the bridge. Problem solved.
Just because their primary designation was construction doesn't mean that the 202nd didn't see heavy action. They were, after all, called 'combat engineers', and for good reason. The 202nd Combat Engineer Battalion was the only battalion of WWII to be attached to five armies (1st, 2nd, 3rd, 9th and 15th), to take part in five major campaigns (Normandy, Northern France, The Ardennes, Central Europe and the Rhineland), and receive five Battle Stars for their actions."We were called a 'bastard outfit', Russell explained. "Whoever needed us is who we went with, and we were assigned to different armies."
General George Patton and his 3rd Army grabbed all the headlines, but their dash across France would have been slowed or stalled had it not been for engineer battalions like the 202nd that went before the armor and the infantry to build the bridges that allowed for their advance. Being shuffled through the U.S. First Army in December of 1944, the 202nd found themselves in the unenviable position of being nearly dead center of one of history's most famous battles.
Against the advice of his senior officers, Adolph Hitler ordered four armies, the Seventh, the Fifteenth, the Sixth Panzer, and the Fifth Panzer, into a major offensive through the Ardennes. Just north of the center of this surprise offensive, members of the 202nd were near the First Army headquarters in Spa, Belgium, when pressure came from divisions of the Sixth Panzer Army under the overall command of SS-Oberst-Gruppenführer Sepp Dietrich, that had crossed the Roer River, and smashed through Allied lines comprised of the Seventh Armored and 82nd Airborne Divisions to the east.
Spearheading the drive of the Sixth Panzer Army was the most experienced and battle-hardened unit of the entire German Waffen-SS, the First SS Panzer Division Leibstandarte Adolf Hitler, along with the Second SS Panzer Division. A unit of this force carried out the infamous 'Malmedy Massacre' where 84 American prisoners of war were gathered together, then machine gunned to death.
With the Fifth Panzer Army to the south driving the Allies back even further, completely surrounding and besieging the American forces at Bastogne, the German offensive rearranged the front in a way that resembled a bulge pushing into Belgium. "The Battle of the Bulge wasn't any picnic," said a straight faced Russell. "We were right in the middle of it. We were right there when they (soldiers of the First SS Panzer Division and the Sixth Panzer Army) came in. We had guys on crossroads and bridges. We had guys directing traffic and spotting. It was in the winter, and it was cold."
With the Germans advancing, Allied command posts had to be moved, and rear guards established. On December 29, the 202nd went into direct support of the 87th Infantry Division and the battalion command post was moved to Bouillon, Belgium. Work with the 87th consisted of just about every type of engineering work possible. Russell's B Company quickly constructed a barrier line to protect the left flank of the division on New Year's Day, 1945. The A company constructed two bridges over the main supply route of the division. Eventually, the logistics failed Hitler, and the four armies, along with the German First Army to the far south, fell back across the Roer.
The days of the Third Reich were numbered, and the Allies on both fronts were rolling toward Berlin. Russell and his brothers of the 202nd were advancing through the German countryside when the word came down…Hitler was dead. Germany had surrendered unconditionally. Russell was relieved and ready to go home, but there remained one final obstacle…Japan. He thought that he was going to be sent back to the States, not to go home, but to train for action in the Pacific Theater.
With the end of the war in Europe, Russell had a few details to cover over the summer months of 1945 before being sent home. "I guarded prisoners of war in Brussels," he said. "After the war was over, they had a POW camp, and we had guards on the camp. I went to town every night to roller skate. We got passes because really, we didn't have to do anything when our work day was done." The Japanese Empire officially surrendered on September 2, and Russell was sent back to the States, arriving home on December 7, 1945, four years to the day that Japan attacked Pearl Harbor and brought the U.S. into WWII.
It took time for Russell to readjust to peacetime civilian life. "I felt older than what I was," he said. Taking advantage of the GI Bill, Russell enrolled at The Ohio State University where he majored in Industrial Arts, and later got his Masters Degree in School Administration. He returned to his old stomping grounds to teach at, and become the principal of the old Kunkle School. "I've been retired longer than I worked," Russell said. "I taught for thirty years, and retired in 1981."
While coming home with a friend from Defiance College, Russell met Ms. Roberta Schnarre, who became his wife in 1948. Together they had four children…Pam, Penny, Joan and John. Roberta was taken by cancer a few years ago, but Russell continues as the patriarch of a family that has added 11 grandkids, 16 great-grandkids, with another two expected before the end of the year. He keeps his mind sharp by doing jigsaw puzzles, practically a puzzle a day. Russell was the Charter President of the Pioneer Lions Club, and a Past District Governor. He has a reputation as being an active trader of Lions Club pins. "I met a lot of nice people trading pins," he said. "Good fellowship. Good people."
To this day, Russell Oxender remains a dyed-in-the-wool Buckeye fan. Now 93 years old, he reads, does jigsaw puzzles and watches TV, especially the Big Ten Network. His mind is sharp, but even with hearing aids his hearing is very poor…but it does not seem to bother him. "If it is important, they will tell me again," he says.
With all that is happening today, from civil unrest to NFL players refusing to stand for the National Anthem, Russell has been getting upset. Although his love for America is unquestionable, the generation of today seems to have abandoned that in which he and his comrades stood for 75 years ago. "They're unpatriotic. They've never been in the service. We did not question authority; we followed directions. I don't care about the NFL… there's too much money." Sadly, he shook his head and said, "This is not the country I fought for."
On the evening of June 24, the champagne glasses were being filled as Russell and Ernie came to the front of the room. There, they led a toast to absent comrades and friends of Company B of the 202nd Combat Engineer Battalion, to each other, and to the widows and their families. There are only four of these brothers in arms remaining, and each one is a treasure trove of knowledge. They were the ones who built the bridges that allowed the advance units behind them to move forward. They set the pace of the fall of the Third Reich, one bridge at a time. Beginning in the United States and ending in Germany, Russell and his brothers of the 202nd left the footprints of their construction work in a total of ten countries.
They don't just know the history, they lived it, and they made it. Who are we to question it? Who are we to rewrite it in order to fit a new, politically correct narrative? Our task is found in neither, but rather to honor those like Russell and Ernie, and the values and standards that they fought for, and so very many of their comrades died for, so that no American soldier should ever have to again utter those words, "This is not the country I fought for."
Is that so hard for us to do?
Timothy can be reached at tim@thevillagereporter.com
---
© 2019, Newspaper Staff. All rights reserved.