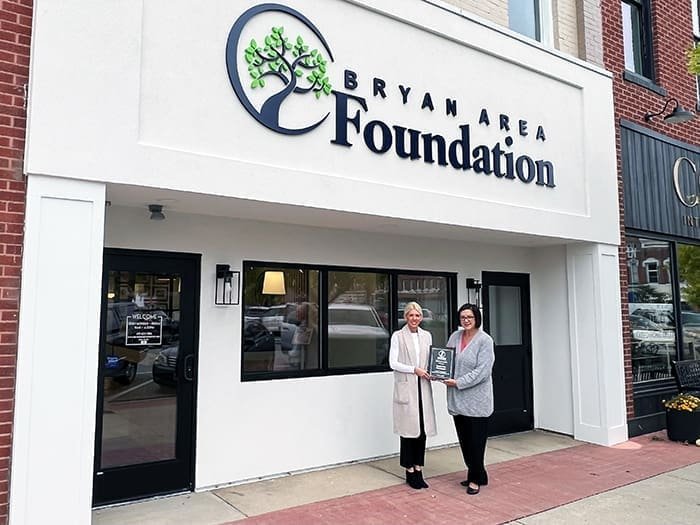 ---
To recognize local investment in buildings, landscaping, events, and other improvements, Bryan Development has created a monthly "Spotlight Award."
October's recipient is the Bryan Area Foundation, whose new office is located at 124 South Lynn Street.
After 53 years of moving from donated space to leased occupancy, the Bryan Area Foundation took ownership of its own building in downtown Bryan in August.
This move took place thanks to the generosity of many donors, including two Foundation and lifelong community members, Dr. George, and Julie Brown, who generously donated the funds to purchase the 124 South Lynn Street building.
Renovations at the building included: Reworking the facade, complete with new signage, windows and doors; Removal of first floor carpet to expose original concrete floor that was then polished; Painting of all walls and trim; Installation of new lighting fixtures; Constructing glass paneled walls to create offices and a small conference room; Providing an ADA compliant restroom; Added cabinetry and a custom reception desk; Converted unfinished garage into a large conference room; Installing new carpet on the second floor; Creation of a hospitality area with sink and raised bar.
Bryan Area Foundation proudly used all local contractors and businesses for the design and construction of the building including, Beilharz Architects, Siebenaler Construction, Stark's Plumbing and Heating, Owen's Electric, Partee's Flooring, and Leever Glass.
Renovations to the building were made using a combination of donations from Foundation members, retained operating funds, and in-kind donations from community members.
This physical investment also reinforced the Foundation's commitment to reinvesting in Bryan's historic downtown square.
Special thanks to those that donated to the Bryan Area Foundation Building Renovation: Dr. George and Julie Brown, Ohio Art Company (Member Martin Killgallon), Karen K. Gallagher, Larry and Mona Harsila, David C. Newcomer, Michael A. And Jane M. Shaffer, C. Gregory Spangler, Christopher and Elizabeth Cullis, Thomas and Susan Herman, Michael L. and Cheryl Johnson, Bruce A. and Marty Manett, Mark A. and Kimberly J. Miller, Ryan and Andrea Miller, Ryan and Amy Miller, William and Pamela Steel, J.T. and Georgia M. Stelzer, Kirkland and Sarah Vashaw, Stephen and Kelly Voigt, David E. and Janice L. Batt, Beth Ann and Tim Hollabaugh, Christopher Malanga , Tri-State Vision Center, Inc. (Member Jason Kunsman), Howard B. and Ann E. Vreeland, Glen and Ann Newcomer, Bill and Donna Martin, Linda Rosswurm, Ken Richer, Buehrer Modern Finishes (Dan Buehrer), and Office Partners (Cookie Lehman).
Bryan Development's mission is to enrich the community by encouraging economic activity, preservation and community pride.
The BD presents the Spotlight Award to a resident, business, industry, or institution that has invested in new construction, preservation, restoration, or beautification efforts, in Bryan.
Spotlight Award recipients are recognized by Bryan Development with a plaque and through social media and local news outlets.
The community is encouraged to submit Spotlight Award Nominations at developbryan@gmail.com.
---