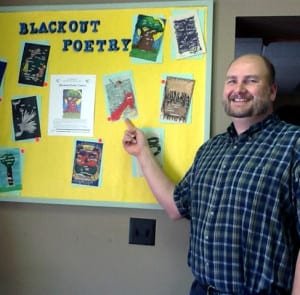 In celebration of National Poetry Month in April, Pioneer Library held a Blackout Poetry Contest. Pioneer Branch Library patrons have chosen Brian McCaskey's "Hero" poem as the winning entry in the Blackout Poetry Contest. Brian received a $15 gift card for his winning entry.
His poem read:
"The hero's skin is pale
His expression unchanged
He looked around in silence
The eye of a dragon looks to him
mocking him. "
For the Blackout Poetry Contest, teens and adults were given a page cut out from a withdrawn paperback book. Then, using the words on the page, they created a poem by blacking out, coloring, and using artistic talents to feature words that made a poem on the page. The poems were then featured on the bulletin board at the library, and library patrons voted for their favorite poem.