---
(PRESS RELEASE) – The November "Welcome a Guest Night" was successful with seven new faces added to the 21 members of the Pulaski Garden Club. Members and guests shared "What worked best in your garden this year?" Many good ideas were shared.
Treasurer Kay Beck updated our finances and collected payment from members for our catered Christmas party to be held December 2nd. The Christmas committee is Cam Miller, Rhonda Obus, Michelle O'Dell, and Connie Simmons and will feature a decorated wrapped gift contest.
Kay Beck created the arrangement for our meeting titled "Joseph's Coat". Using a colorful striped background and woodruff and cone flowers within a frame, completed the design.
The program "Plants of the Bible" was presented by Michele Kleinhen of Studio 17. She has been a florist for 47 years, growing up with two grandmothers who were serious gardeners, crossbreeding lilies and other plants.
Michele totally covered this subject, noting that the word flower is listed 159 times in Bible, stating the Fig tree first, known as "Tree of Life of knowledge".
The Rose of Sharon, meaning grown in village of Sharon and that the Almond tree means purity. She explained other plants and their meaning in the Bible.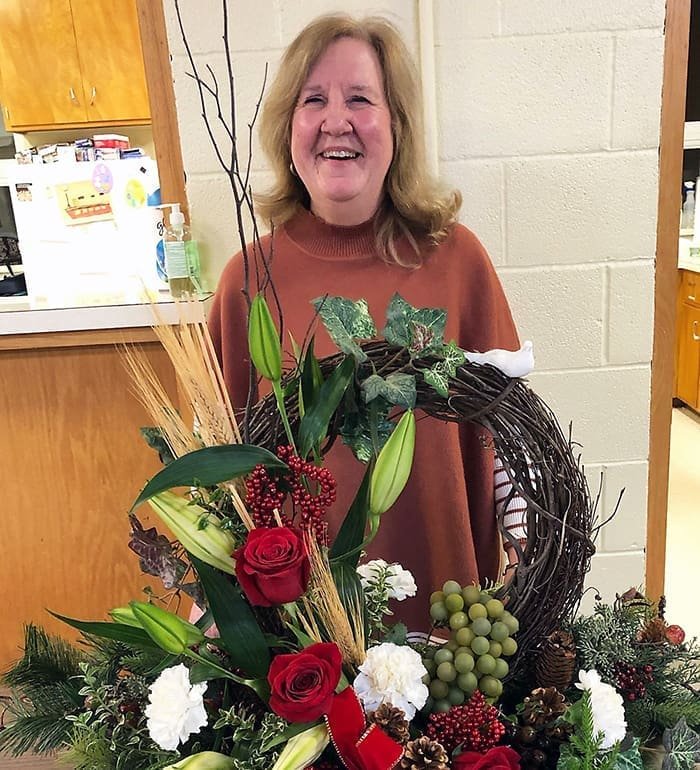 ---
Michele went on to create a floral arrangement while explaining each flower and branches meaning. The arrangement contained a small tree branch representing "bare hope of the world', wheat meaning "humble birth of Christ" red rose meaning "blood of Christ" also adding carnations, doves, pinecones, grapes, holly, boxwood, and many other things presenting a beautiful arrangement at the end of her presentation.
Cam Miller's provided information on the succulent of the month Sanseieria, also known as a Snake plant or even "Mother-in-Law's tongue". Cam noted there are 100 variations.
Place this plant in a bright light area, it could produce blooms but then those leaves will die off. An important part of watering is to leave the plant dry out.
When watering, place under the water tap soaking until water runs out then leave to dry out before watering again. The worst way to water is to water a little here and there. Propagation tips were also demonstrated.
Fifteen members were available to attend the November Region 1 Fall meeting. Topics on "Raising the New Roses" and "Birds" were enjoyed.
The Williams County Fair Show Committee will be meeting on Tuesday, November 21st at 6 at Regina Partee's house to plan next year's show.
JoAnn Beucler had a shared Saffrom Crocus, which blooms in mid-October and is about 2 to 3 inches tall and needs to be planted in full sun.
Carol Wheeler presented information on the "Photo Contest" for 2024. Titles for the contest are Family Tree, Vacation, Edible Fruit, Color Purple, and Out of the Box. Rules for the contest were distributed.
The Community Service of cleanup at the fairgrounds has been scheduled for Friday November 17th at 1:00 pm. Members are to bring Christmas colors of spray paint for the dried hydrangeas under the Bell Tower at the Fairgrounds.
The door prize was brought by JoAnn Beucler and won by Tina Lopez. Refreshments were served by Regina Partee and Cathy Sharp.
---