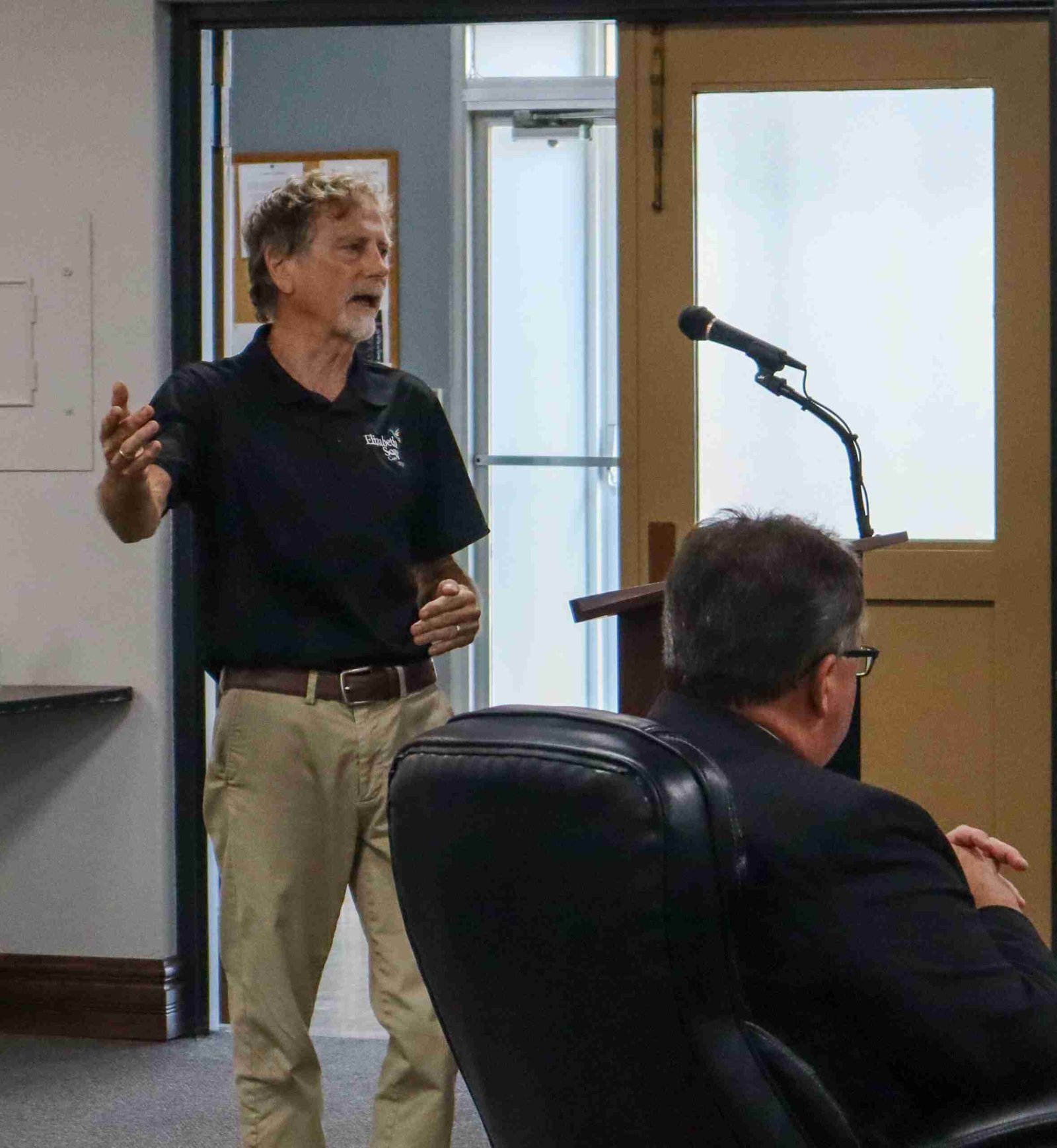 ROB MCSURLEY … Mr. McSurley speaks to council regarding the flooding issue with homes on Pelton Drive. (PHOTO BY JACOB KESSLER, STAFF)
---
By: Jacob Kessler
The Delta Council Held a Special Meeting on Monday, August 30th. The meeting was called to order followed by the Pledge of Allegiance and roll call.
Council first moved to approve the minutes from the Special Meeting on August 16th as well as the regular meeting that also took place on August 16th. Council then moved to hear concerns from present members of the public.
Milton Ruble went first and wanted to discuss the issue of parking on Main Street. Mr. Ruble stated that he did not see a need to eliminate the street parking on Main Street due to parking already being limited.
He continued by offering the suggestions of extending the speed limit further down the road or by hiring another police officer to patrol and enforce the laws that are already in place.
Mayor Frank Wilton explained to Mr. Ruble that the speed limit on that street is controlled by the State of Ohio and that they have already tried to make changes but have since been denied.
Rob McSurley spoke next regarding a flooding concern. Mr. McSurley stated that he is a fairly new resident of Delta but that his father-in-law has been living here for many years.
He also stated that he believes he is speaking for all the residents on Pelton Drive in regard to the storm sewer problem. He went on to explain that water is coming into the homes throughout the houses and basements.
"As it has been raining, we have seen the water gushing up through the drains. It was coming up like a geyser," stated Mr. McSurley.
Carol Donaldson then spoke regarding several issues. Her first issue was in regard to the same issue described by Mr. McSurley previously.
She started off by explaining that they have lived at their house for 13 years and have never seen anything like this. The flooding started around May and has persistently gotten worse.
At one point there was over 13 inches of water in her basement with it continuing to come in. She also explained that she knows several of her neighbors that have been having similar issues and that she has seen many people post about it on Facebook.
In regard to all the flooding, she also requested the Village look into an additional unlimited trash pickup due to the amount of property they are having to throw away.
Mrs. Donaldson went on to also request something be done about the drive with there being no outlet.
She stated that she see's drivers come down the road all the time and get angry that there is no exit and that they then drive fast back to get out. She stated that she is worried about all the children that live on that drive. There is a no outlet sign before coming in, but no one seems to notice it.
Bill Heckler then spoke. Mr. Heckler is the father-in-law to Mr. McSurley who spoke earlier. He stated that after his time living there, he had noticed that there was a sewer pipe under his house that he was not made aware of until after closing on his house.
It had to be repaired at one time and believes that there may have been damage done to it and was not sure if it was properly fixed. He also proceeded to ask if the line was adequate due to there being 3 manholes on the road.
Mrs. Donaldson then wished to add something to what she had stated earlier. She proceeded to say that they had water fill up the lower portion of their fridge and had to throw away a lot of their food as well as their microwave.
She has since gotten 2 new pumps and another pump in order to try to keep up with everything but is not sure if it will be enough.
The Village Administrator Brad Peebles then informed everyone that the village will be putting a camera down into the system to check for blockages and cracks.
He also stated if there is an issue of it being undersized or any other issue it will have to be addressed. The cameras will be getting put into the system that coming Wednesday, September 1st. With no correspondence to discuss, the council then moved on to hear a report from the Village Administrator.
Mr. Peebles informed the council that as far as they are aware Pelton Drive is the only one with issues right now other than one address on North Adrian Street which has been an ongoing issue. Council then moved to approve the bills for the village.
With the Law Director having nothing to discuss the council moved to hear a report from the Police Chief Nathan Hartsock.
Chief Hartsock stated that the village's new patrol car should be delivered to the dealership in the middle of September and that they should be able to take possession of it in the next couple months.
He also informed everyone that the Back the Blue BBQ is scheduled for the 18th and that tickets are available now.
Council then discussed a land purchase from the village. An interested party had placed a bid on a piece of land bought by the village.
This land has no value to the village and is on a flood plain. The property was purchased under a land contract with Alan Investments and must now have the purchase signed off by them. This sign off is a partial release agreement and will need to be done before the sale can continue.
The council proceeded to old business. The second reading of Resolution 21-13 went first and is in regard to providing the establishment of a new fund consistent with the requirements of ORC 5705.09. A motion was made, and the resolution was approved.
The second reading of Resolution 21-15 then followed and was in regard to authorization for the Village Administrator to enter into an agreement with Peterman & Associates for a preliminary layout and evaluation of existing facilities, and cost estimates for the replacement of the public pool within the Delta Community Park. A motion was made, and the resolution passed.
In new business council heard the first reading of Ordinance 21-11. This ordinance is in regard to the supplementation of appropriations for the current expenses of the Village of Delta for the fiscal year ending December 31st, 2021.
A motion was made to suspend the rules which passed followed by a motion to approve the ordinance which also passed. The first reading of ordinance 21-12 then took place and was in regard to the elimination of parking on Main Street between Wood Street and Madison Street.
Some council members stated that they would need to see some sort of an example of which spots exactly would be getting removed in order to vote on it. A motion was made to table the ordinance for now which was approved.
With no more questions asked by anyone the mayor stated that they next meeting will take place on September 13th at 5:30 p.m. Council then voted to enter into executive session.
Later that evening, council exited executive session with nothing being approved and adjourned for the evening.
Jacob can be reached at jacob@thevillagereporter.com
---